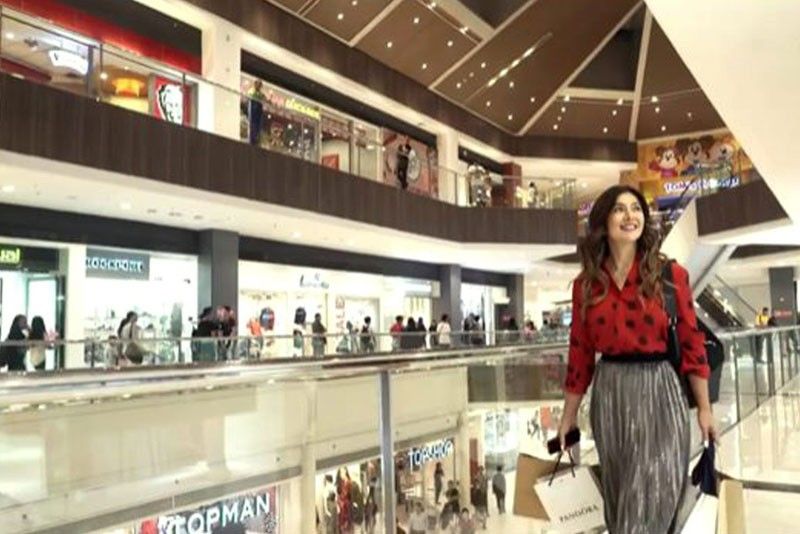 Viral video: Actress Alice Dixson shops in the new Robinsons Galleria in the ad campaign "Alice in Galleria Land."
Photos by Ernie Penaredondo
Walking in Alice Dixson's footsteps
'Alice was really relevant in the early '90s — same with Robinsons Galleria — and she was able to reinvent herself now, just like Robinsons Galleria.'
Woody Allen once said, "Comedy is tragedy plus time," and nowhere is that more true than in Robinsons Galleria's viral video "Alice in Galleria Land."
Released on the mall's Facebook page last Halloween, the ad shows actress Alice Dixson shopping in Galleria's Robinsons Department Store (RDS) — probably for exclusive private labels like Stella or Liberte.
Dixson goes to the fitting room and is dismayed to hear snakelike hissing. When she opens the curtain to see what's making the noise, she laughs in relief as a boy in a green reptile costume runs past her to his mom.
A parody on the urban legend we all grew up with involving Robinsons Retail Holdings, Inc. president, CEO and director Robina Gokongwei-Pe, a snake and a dressing room, the video started trending, has gotten 1.2 million views on Facebook, and was even picked up by CNN.
Roseann Coscolluela-Villegas, Robinsons Land Corporation's (RLC) director for corporate public relations, says it was deputy marketing communications director Kaths Laudit-Chong's idea to play on the urban myth for the new ad campaign.
"Madame Robina is very candid about it," says Chong. "She sent us her photo with a plush toy snake, and she had a full collection during the Year of the Snake at Robinson's Department Store (RDS) of bags and shoes with the snake theme."
When Chong pitched her idea to Gokongwei-Pe and the RDS team, after two days Robina gave the go signal.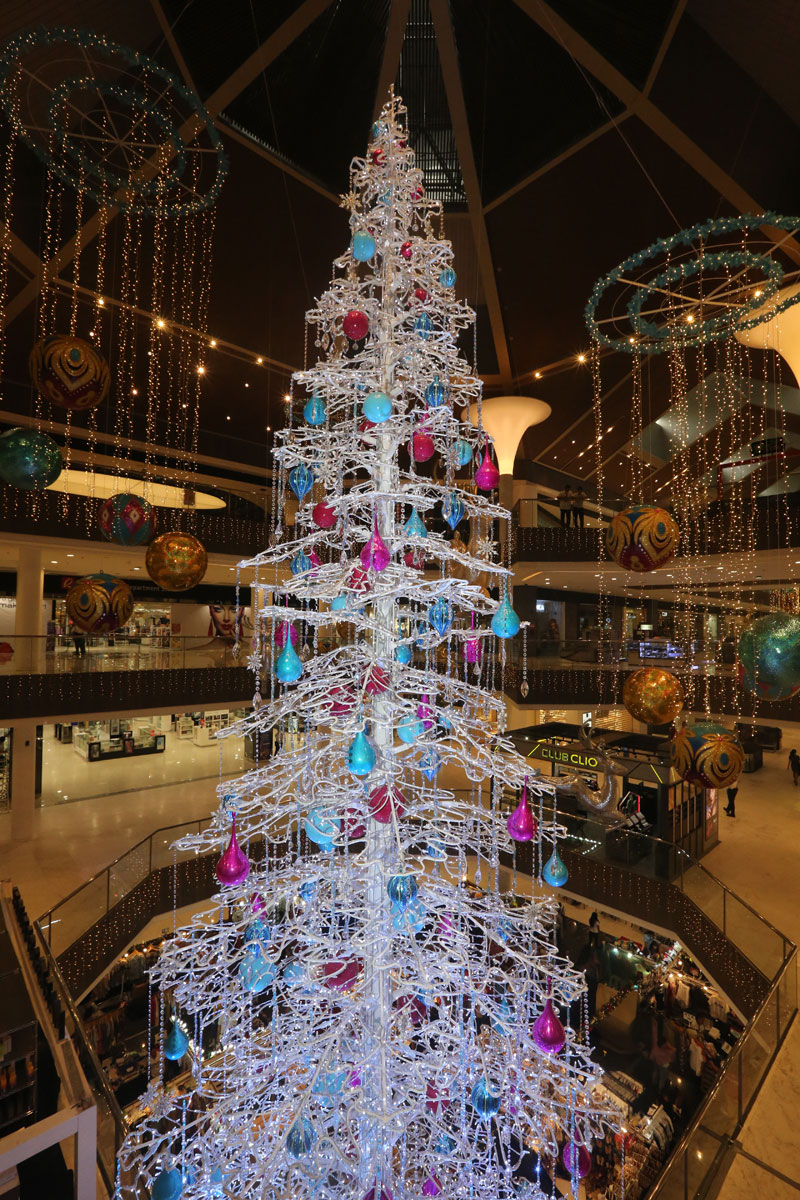 The heart of Robinsons Galleria: A 38-foottall Christmas tree from Belgium dominates the central atrium.
"Alice (Dixson) was really relevant in the early '90s — same with Robinsons Galleria — and she was able to reinvent herself now, just like Robinsons Galleria," Chong says.
The Mandaluyong mall, which officially opened on Nov. 19, 1989 (though the supermarket started operations a year earlier), has undergone extensive renovations for the past three years.
"Galleria was reputed to be the first mixed-use development in Ortigas," Villegas says. "We expanded the East and West wings, and this is the third renovation. After 30 years it has truly evolved. I was very young PR practitioner at that time, and having Alice Dixson being eaten up by a snake was such a terrible PR nightmare for me, but after 30 years I can laugh about it."
Tragedy plus time, I tell you. "It's a nice story to tell my daughter, who also frequents Robinsons Galleria," Villegas adds. "I have a lot of personal memories here: This is where I first met my husband, and we've been together for 18 years."
Robinsons Galleria has been the site of many such heartwarming stories. My memories involve partnering with my brother Gary on a Spanish food-court outlet called Cucina, and I worked at Galleria until I got pregnant with my daughter, Isobel.
Though I eventually went back to the STAR fulltime in 2005 and Cucina subsequently closed, it's interesting to note the stalwarts who have stayed on after 30 years, like Max's, Pancake House, Jollibee, McDonald's, Shakey's, Dunkin Donuts, the very first tenant — National Book Store — and clothing outlets Karimadon and Folded & Hung.
"We started renovations last quarter of 2015, and it took so long because they had to work after mall hours," notes Villegas.
In the zones
In "Alice in Galleria Land," Dixson goes to RDS's home section and takes a selfie on a bed. We discover that they now have "Curated Home" — three collections by designer Ito Kish: Retro Geo, featuring edgy pieces with geometric shapes; Simple Harmony with muted earth tones, and Terrazzo, offering marble and granite to homeowners.
Dixson then gets her hair and nails done at a new zone in Galleria devoted to beauty and wellness.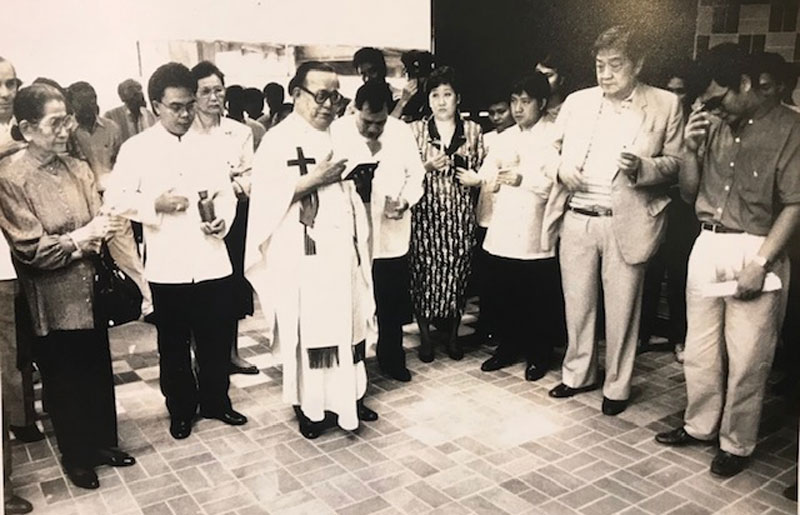 At the blessing of Robinsons Supermarket in Robinsons Galleria are Joahn Gokongwei Jr. (second from right) with his mother, Juanita Marquez Lim (left); wife, Elizabeth Gokongwei (sixth from left) and Robinsons Supermarket executives
"We try to group all the same concepts into one, so when you come to the mall, you just look for this zone," says Myron Lawrence Yao, Robinsons Galleria's regional operations manager. "We call this 'Pampering Point,' for massage, to facials, to haircuts, nails, and brows. We also have dental clinics and aesthetic clinics."
Dixson goes into an aesthetic clinic called Substance Laser & Skincare, presumably to get a procedure like their Holy Grail Laser, which lightens age spots, acne marks, and dull skin. I also noted a branch of Karada, which offers Japanese chiropractic massage.
From food court to eat street
Since I knew Galleria's old food court almost by heart, it was interesting to see Dixson at Eat Street, the new name for the renovated food court, which bears very little resemblance to the old one with its brightly lit slatted ceiling, wooden floors, and new dining concepts.
Inspired by the food streets of Singapore, China, and Hong Kong, "We expanded it to create more leasable space," Yao says, "and have brands that are not part of the typical food court, like Sincerity, Buffalo Wings, Manilachon, and Maxi Mango."
The first mall in Ortigas: The old façade of Robinsons Galleria, which officially opened on Nov. 19, 1989
Maxi Mango is a Robinsons Galleria success story in itself, founded by Pinoy Big Brother alumnus Miki Arceo-Velasquez from Davao. "She's in her early 30s, educated, and took up nursing," Villegas informs us. "For a while she and her husband were OFWs in London, then they came up with this business because Davao is very rich in mangoes."
What sets Maxi Mango apart is its soft-serve mango ice cream, which Velasquez makes herself from mango puree. "It's been a blockbuster in Galleria ever since she first joined as part of an exhibit, pulled out and put up her own kiosk," Villegas says. Opened just last month, people are lining up — sometimes for up to three hours — for the P65 mango float and other mango treats. Now Velasquez is expanding to other malls, and Villegas says, "Her vision is to do other versions but using different Filipino fruits."
We had the Maxi Mango float for dessert after gorging on an international buffet of food from Eat Street's Hainanese Delights, Wild Wild West, Sonoya, Savory, Yoshinoya and Sbarro, just like Dixson.
Instagrammable dining?
To sate the Pinoy market's demand for international food concepts, Yao says they beefed up their F&B from nine percent to 20 percent. "Part of the zoning was to make not only Eat Street, but also the Level 2 Veranda a premier casual-dining market," he says. "All the must-have dining brands are here, from Ramen Nagi to Fat Fook, Kumori, Mary Grace, Botejyu, and Mangan."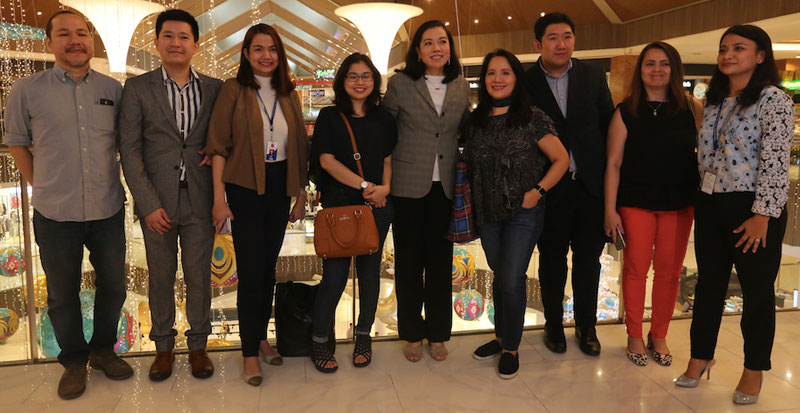 At the media launch of the new Robinsons Galleria: (from left) Pierre Calasanz, jgsummit.com.ph editor-in-chief; Gerald Tan, Robinsons Galleria lease manager; Vanessa Magno, Robinsons Galleria assistant mall operations manager; Zsarlene Chua of Business World; Roseann Villegas, RLC director for Corporate Public Relations; author Therese Jamora-Garceau; Myron Lawrence Yao, Robinsons Galleria regional operations manager; Ma. Theresa Gonzales, Robinsons Galleria group marketing manager, and Joan Egot, RLC Corporate Public Relations assistant manager.
Adds RLC leasing manager Gerald Tan, "We're opening Ajisen Ramen, Mann Hann and Birdhouse fried chicken next year. Cabalen will open a Filipino-Asian buffet serving Japanese food like tempura and sushi."
The Galleria team noticed that the millennial market liked the ambience of eating outdoors and taking photos "for the 'Gram," so they built a waterfall, placed more outside seating, and made the environment more Instagrammable with wooden elements and flooring.
From Kawaii stuff to pet lovers
In the video we see Dixson boxing at Galleria's UFC Gym; we didn't work out but our hearts got a workout at the first Pet Lovers Centre (PLC) in the Philippines. Founded in Singapore in 1973 and now occupying a large space on Galleria's Level 3, it has everything you need for pets both furry and finny, from hard-to-find food to animal treats.
We also stopped at Daiso Japan, which has a new fuchsia logo with the current theme "Sakura." The storefront is pink, with kawaii Hello Kitty cosmetics displayed front and center. "Before Daiso was small but it expanded due to demand," notes Yao.
Handyman was next. With a section devoted to Christmas décor, lights and gifts, we were told it's not just a hardware store but also a home-improvement store and gift shop.
The heart of Galleria
Balloons in hand, Dixson strolls through Galleria's brighter, more expansive interiors. We didn't need balloons to feel a sense of wonder as we gazed at the 38-foot Belgian Christmas tree decorating Galleria's Atrium. The heart of the mall looks different: the dancing fountain is no more; the scenic elevator has been moved to the side to give way to grander, more unobstructed space. "It doesn't look cluttered, it's more open," Yao says.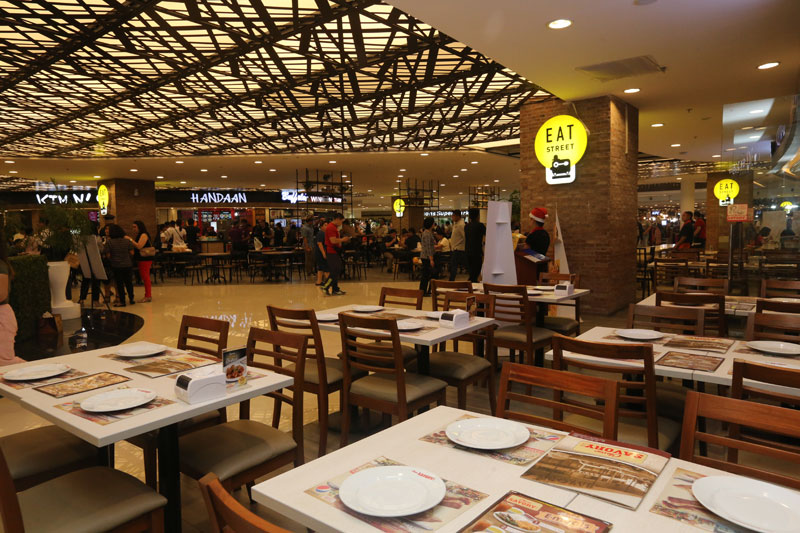 Eats so good: Called Eat Street, the renovated food court is brighter and hipper, with new international food concepts.
Level 2 features international must-have brands like H&M, Uniqlo, Dorothy Perkins, Topshop, Topman, Lacoste, Penguin, Pandora, and Owndays.?"Their storefronts are very high; it's premium-market storefront design," Yao says. "We also incorporated a lot of contemporary, hip materials to complement, like natural wood. The old Galleria was a bit dark, so now we balance natural sunlight with lots of lights. Four pillars are the new symbol of the mall."
That's Entertainment
In the video Dixson entertains herself by flying a drone and singing karaoke. I'm more of a movie person myself, so the news that Robinsons Movieworld is also undergoing a makeover is exciting.
"Filipinos love to watch movies, so we're upgrading our cinemas," Yao says. The lobby is now bright, and Cinema 6 is being converted into a VIP cinema with Dolby Atmos, 100 leather recliners, and unlimited popcorn and drinks. "If you're 18 and above there also might be beer," Yao promises.
The nine other theaters are also being renovated: screens, chairs, and theater environment will all be improved.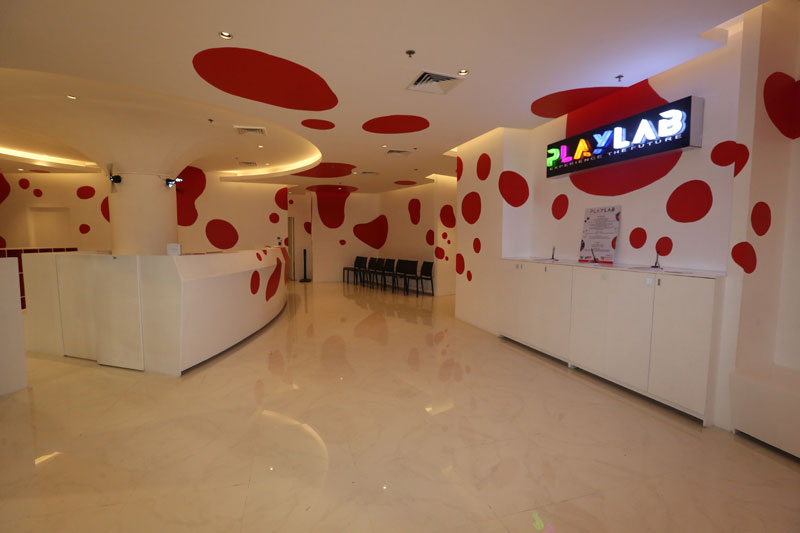 That's edu-tainment: Playlab is the first ever digital playground for kids.
The Level 4 tenants neighboring the cinemas include perennial favorites Icebergs and Pancake House, plus new concepts like Mad Mark's and Go! Salads.?For some young fun Dixson goes to Playlab, which Robinsons built to capture the kids' market. Playlab is the first digital playground in Manila, where kids can learn while having fun at 14 interactive attractions. Next door is Kidzooona, an indoor edu-tainment park originally from Japan.
"We're trying to add more playgrounds so this level is more on family bonding," claims Yao.
'Time to make new stories'
Dixson's last stop is Robinsons Supermarket, where she does her groceries.
The affiliate, which is currently highlighting its holiday fare with special promos, opens at 9 a.m. and is located near EDSA, thus getting the heaviest foot traffic. Yao says they put numerous kiosks for food and household items in front to serve these customers.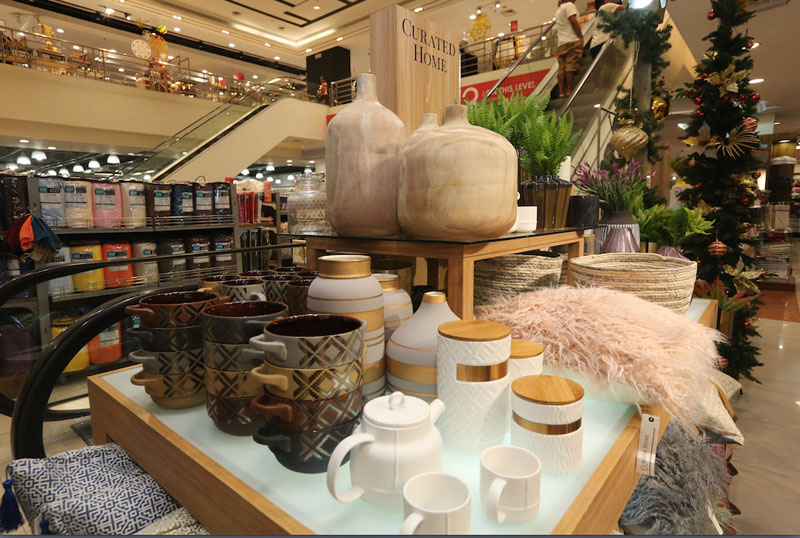 Home sweet home: Robinsons Department Stores Curated Home section offers three collections by Ito Kish.
When Dixson exits Robinsons Galleria the tagline "Time to make new stories" pops up. Indeed, the mall's story is far from over. Future plans include six-floor steel parking that will be able to accommodate 250 cars and 250 motorcycles, and a Terminal Center where you can park your car and catch a bus that goes straight to the airport.
According to Villegas, Robinsons Magnolia is gearing up for a major expansion, and more malls will be upgraded and renovated. "A new mall will open in Valencia, Bukidnon, next year, as well as three or four more malls," Villegas says.
And who knows, maybe Alice Dixson's viral video will have a sequel. "We wanted to have a face-off between Robina and Alice sana," Villegas says. Robina was so amused; she's so game."
* * *
Follow me on Instagram @theresejamoragarceau.