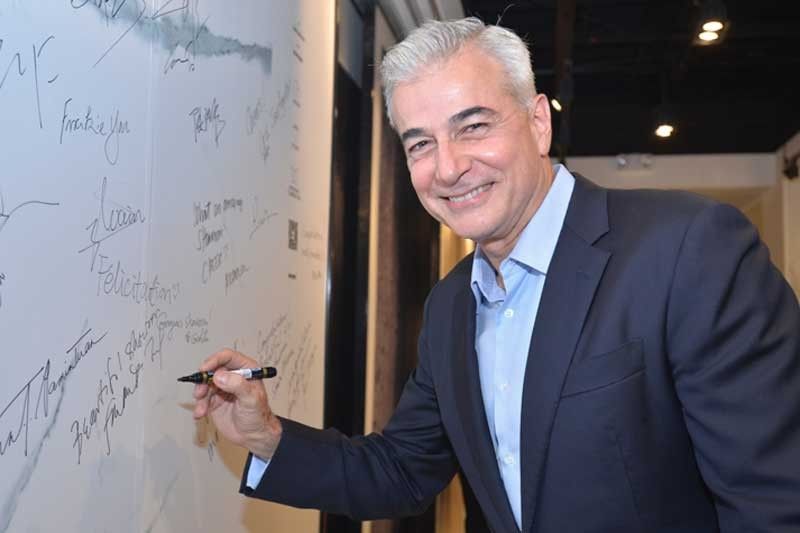 Ayala Corp. president and COO Fernando Zobel de Ayala signs the guest wall at the opening of Ayala Land and Nenking Group's Esta Galleria showroom at Glorietta 3.
Ayala Land goes into the tile business with the Nenking Group of Foshan, a city renowned for its thousand-year ceramic tradition.
If architect Conrad Onglao didn't tell me otherwise, I would have thought that the wall he's showing me is marble — a beautifully veined stone that lends the space a luxurious feel. In reality, the wall is covered with porcelain tile.
The new 745-sqm. Esta Galleria showroom that Conrad designed at Glorietta 3 is all about tiles. Unlike the way you normally see them in home depots — stacked by size and design in one section — this showroom highlights their application in different rooms: in the kitchen, toilet and bathroom, living and dining rooms, bedroom and outdoor area — as flooring and wall, whether porcelain or engineered stone.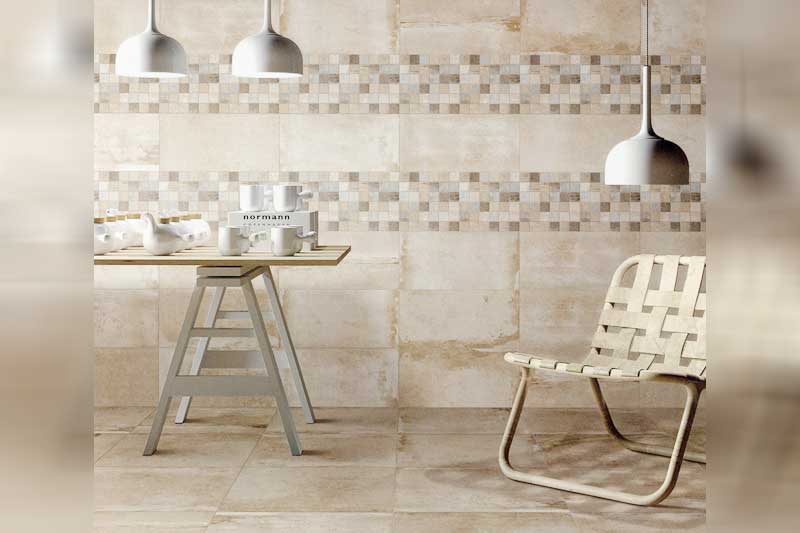 Low-maintenance and easy to clean, Esta Galleria tiles give warmth to a space just as well as wood does.
And you know this is not just another showroom when Ayala Corp. president and COO Fernando Zobel de Ayala attends the opening. Present also are Ayala Land president and CEO Bobby Dy, Ayala Land board member Antonino Aquino, and Ayala Land Malls Synergies president Rowena Tomeldan, who is also Esta Galleria chairman.
Rowena, the woman who knows everything there is to know about retail and who spearheaded the expansion of Ayala Malls for decades, is now in a different kind of selling: by bulk and to architects, designers, contractors and developers.
"Nenking Group was Ayala Land's partner for a residential project in Foshan, China in 2007," she says. "We saw the high-quality tiles they were distributing and we thought, we should bring these tiles to the Philippines. So we reconnected with Nenking and decided to partner with them for Esta Galleria. We will definitely be using these tiles in future Ayala Land projects."
Nenking Group is a Chinese conglomerate based in Foshan with businesses in real estate, property management, financial services, investments abroad and pharmaceuticals.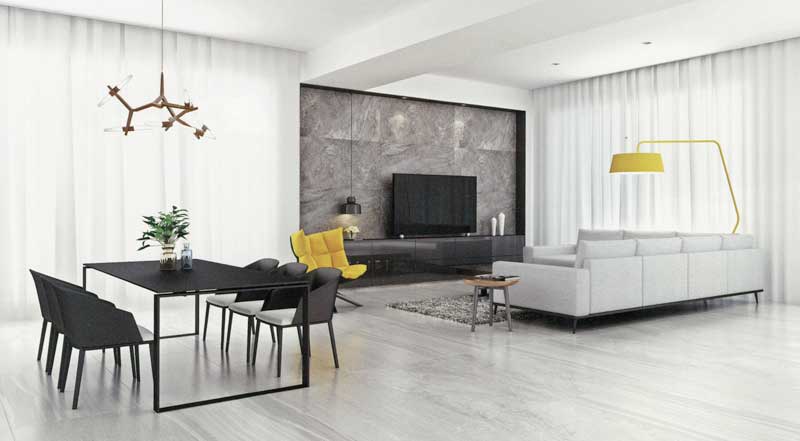 Porcelain tiles and engineered stone are some of the materials of Esta Galleria.
Rowena says that they won't be selling to individual homeowners since it's a wholesale business — but that architects will be bringing their clients to the showroom so they can visualize their spaces and to choose.
Manufactured in Foshan, one of the oldest ceramic capitals in the world, "Esta Galleria builds on tile-making traditions and utilizes modern technology to create dynamic tile ranges that are exported to 120 countries around the world."
Showroom architect Conrad Onglao — who has designed some of the most beautiful homes in the country and also Ayala Land's Seda Hotels — says he wanted to create a "lifestyle center highlighting the different ways you can use the tiles. Some people think that tiles are cheap products or inferior to stone, but they can be used in high-end homes and buildings too — these are tiles like you have never seen before. They're made so thin and even if you drop them they won't break," he says. "Esta Galleria is a one-stop shop, the staff can teach contractors and developers how to cut or treat the tiles; they're also selling the grout and cement to use with the tiles."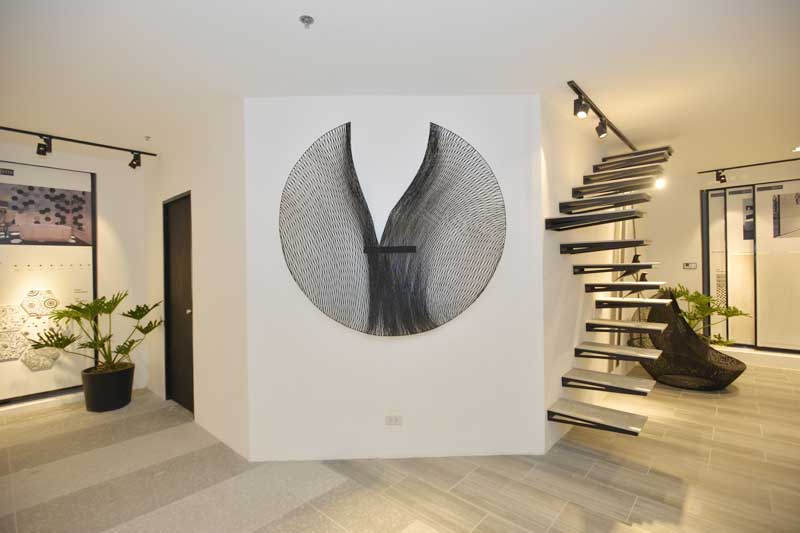 Esta Galleria's showroom, designed by architect Conrad Onglao, also displays the works of wire sculptor and furniture designer Ann Pamintuan.
Known for its strength and elegant finishes, Esta Galleria tiles are produced in 10 large manufacturing plants that use the most advanced large-scale press machines and ink-jet printing technology from Italy and Spain.
"Esta Galleria is synonymous with quality, durability and excellence," says Gabby Katigbak, Esta Galleria general manager. "Its selection is ever-expanding, ranging from the essentials to the unique and handmade. Esta Galleria aims to be one of the most trusted brands in construction and the first choice among developers as they offer affordability and versatility in design — from dry granular, lappato, soft polishes and high-definition-ink jet printing."
Materials include porcelain, cement and stone, with a range that features wood designs. The porcelain tiles, in particular, are the most popular as they are more durable, offering lower water absorption and better resistance to acids and alkalines, ensuring that color balance is maintained.

Esta Galleria GM Gabby Katigbak; Austen Capital Management Limited executive director Payne Fung; Ayala Land president and CEO Bobby Dy; chairman Zhong of Nenking Group; Ayala Corp. president and COO Fernando Zobel de Ayala; Makati Mayor Abigail Binay-Campos; chairman Fok of New Zhong Yuan; Swiss Asia Investment Management managing director Frankie Yau; Esta Galleria chairman Rowena Tomeldan; Esta Galleria marketing manager Gail Santos; Ayala Land SVP and head of Commercial Business Group Junie Jalandoni; and Esta Galleria president Patrick Avila. (Right) Architect Conrad Onglao.
Esta Galleria tiles are available in versatile colors such as white, cream, black, gray and brown. They're also one of the few brands that carry tiles as big as 1.2x2.4m. Its BIG+ series, the premium and distinguishing line of Esta Galleria, features Italian design elements, printed using eight-channel ink-jet technology. It boasts large-scale restoration of the natural texture of natural stone and spatial pattern, resulting in a distinguished design.
V-LIFE, on the other hand, uses high standard porcelain antique technology, which creates a surface that is soft and glossy. For this range, the shapes are unique, with the thickness of tiles measuring 7.5mm. The V-Life collection, which also includes the Loft Line, is extremely light and helps to define the exquisite.
"Esta Galleria's big stone slabs are made using an 16,800-ton pressing machine, which is comparable to the normal pressing machine that shapes tiles at 4,200 tons and 7,800 tons. In addition, Esta Galleria tiles are sealed with Torrecid, the best ink and glaze produced in Spain."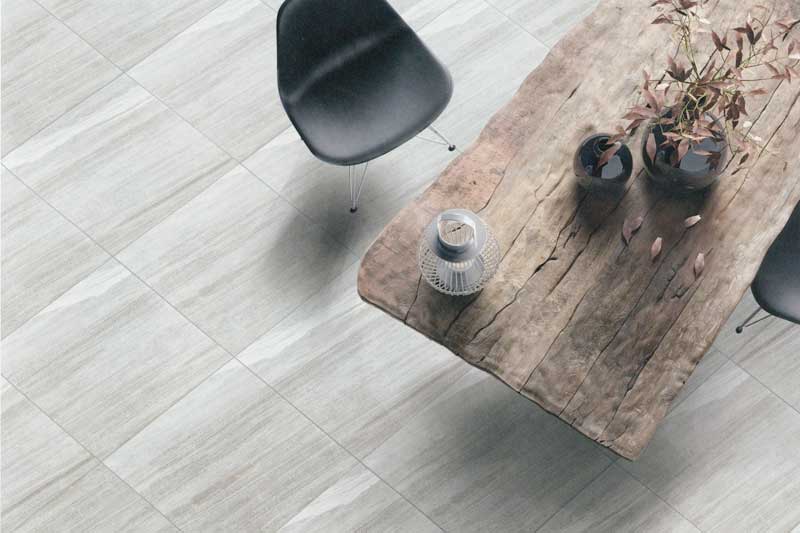 Textures can bring harmony and materials show contrast. Esta Galleria's showroom is located at the third level of Glorietta 3.
* * *
Visit the author's travel blog at www.findingmyway.net. Follow her on Instagram and Twitter @iamtanyalara.
Esta Galleria's showroom is located on the third floor of Glorietta 3 in Makati City. Follow them on Facebook and IG @estagalleria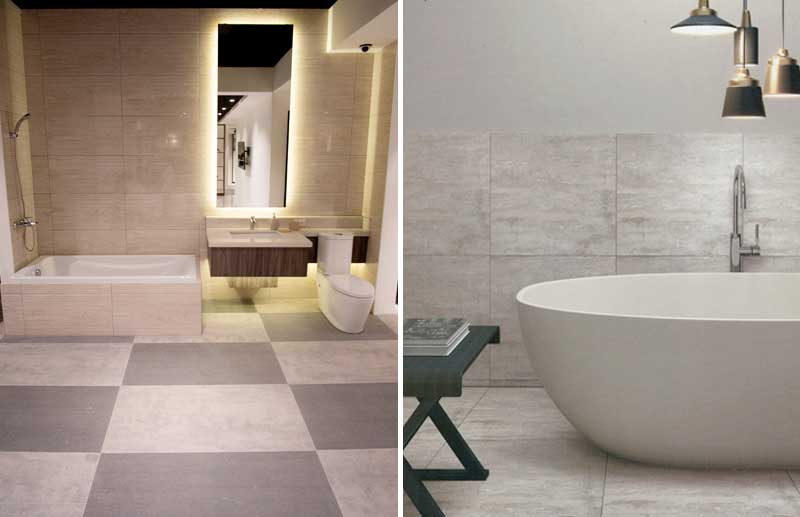 High-traffic spaces like toilets and bathrooms need durable flooring.