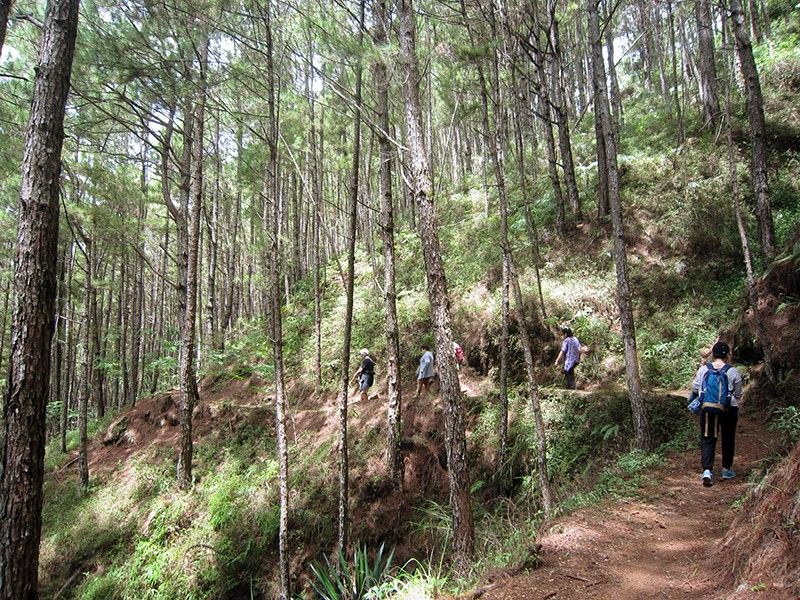 The three-kilometer trail has narrow paths, muddy spots, exposed tree roots, moss-covered rocks and wet slippery stones.
Photos by Julie Cabatit-Alegre
'We are reviving the city of Baguio as a wellness destination with forest bathing as a major tourism activity,' says DOT-CAR regional director Venus Tan.
MANILA, Philippines — Forest bathing" does not mean taking a bath in the forest, out in the open-air, although that would not be such a bad idea either. Called shinrin-yoku (pronounced with a silent 'R') in Japan where it originated, it literally means 'taking in the forest atmosphere.'"
Department of Tourism-Cordillera Administrative Region (DOT-CAR) regional director Marie Venus Tan explains: "Basically, 'forest bathing' refers to the leisurely visit to a forest, to cleanse and renew yourself with the natural life force energy of the forest. Getting wet is not a requirement. Like sunbathing, this is another kind of bathing."
Just being in the presence of trees has a calming, relaxing and rejuvenating effect. In Japan where the phrase shinrin-yoku was first coined by the forestry ministry in the 1980s, it has become part of a national public health program. They saw the medical benefits of walking in the forest.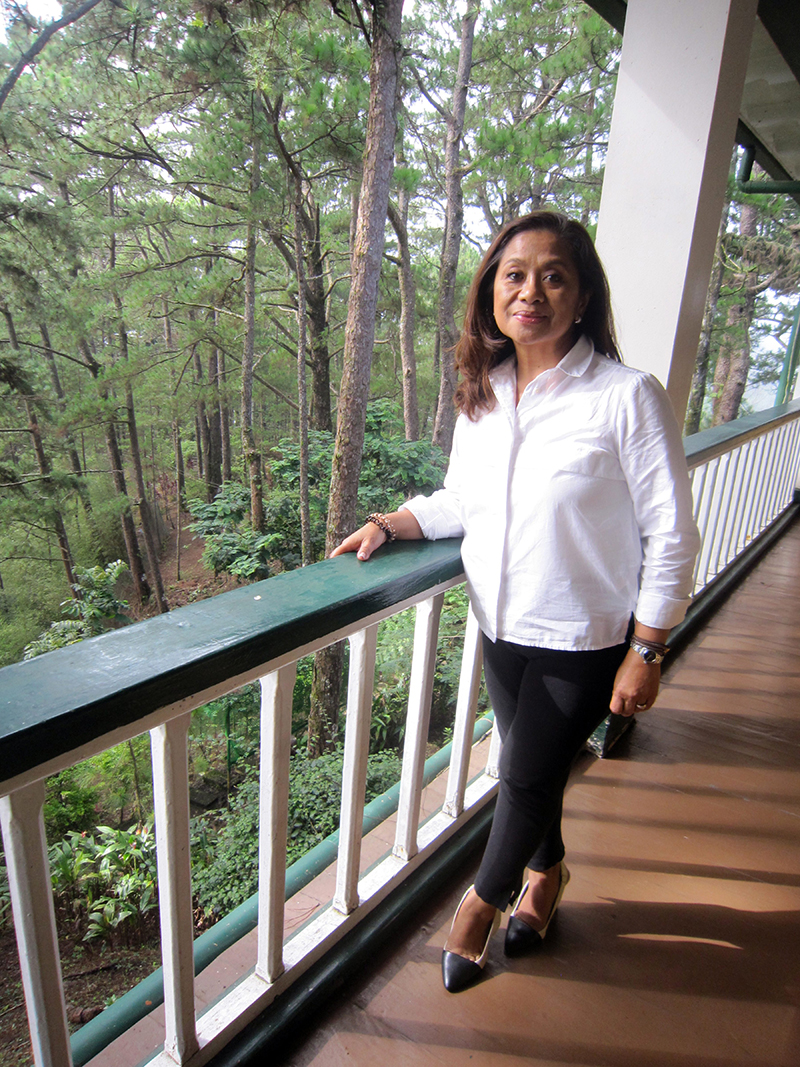 DOT-CAR regional director Venus Tan at Bell House in Camp John Hay
"Wellness is a growing trend all over the world. More and more people are getting conscious about their health and wellbeing," adds Tan. "We are reviving the city of Baguio as a recreational and wellness destination, with forest bathing as a major tourism activity. During the time of the Americans, they came here for R&R and wellness, because a lot of them were getting sick in the lowlands.
"Baguio became a city where we had a lot of hospitals and sanitariums. But now, it is no longer about hospitals. It's about natural healing. It's about the power of nature to heal."
We are at the historic Bell House, a classic colonial residential structure inside Camp John Hay, the former rest and recreation facility of the US Armed Forces in Baguio City. Tan is giving a briefing at the soft launch of "Forest Bathing" that is part of a larger campaign for sustainable and responsible tourism called "Rev-Bloom!," which means "to rev-up, revive, revisit and revitalize. This is not only a tourism campaign. It is a call to action," says Tan who grew up in Baguio.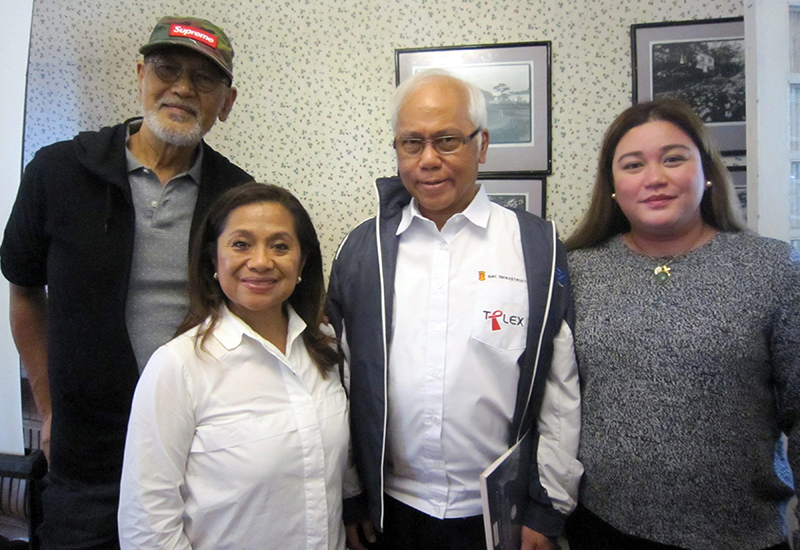 Venus Tan with National Artist BenCab, Mark Dumol of Tplex, JHMC VP-COO Jane Therese Tabalingcos
She was born in Dagupan, Pangasinan. Her family moved to Baguio when she was two years old. She went to school at St. Theresa's College and later at St. Louis University.
She has spent all of her professional life at the DOT. For many years, she was based in Frankfurt, taking care of Central and Eastern Europe, including Russia.
"I was the one who started the first charter travel of Russians out of Vladivostok in the Far East," she shares. Immediately after her return from her assignments abroad, she was installed DOT-CAR regional director in May 2015.
"I saw a dramatic change," she recalls. "It was not the Baguio I knew before, so I said, we need to revive Baguio, to regain the city's original grandeur. So I am reviving everything that Baguio was, even the flowers such as the everlasting. I am reviving the original colonial colors, so you will see the pedestrian overpasses at the city center painted green and white.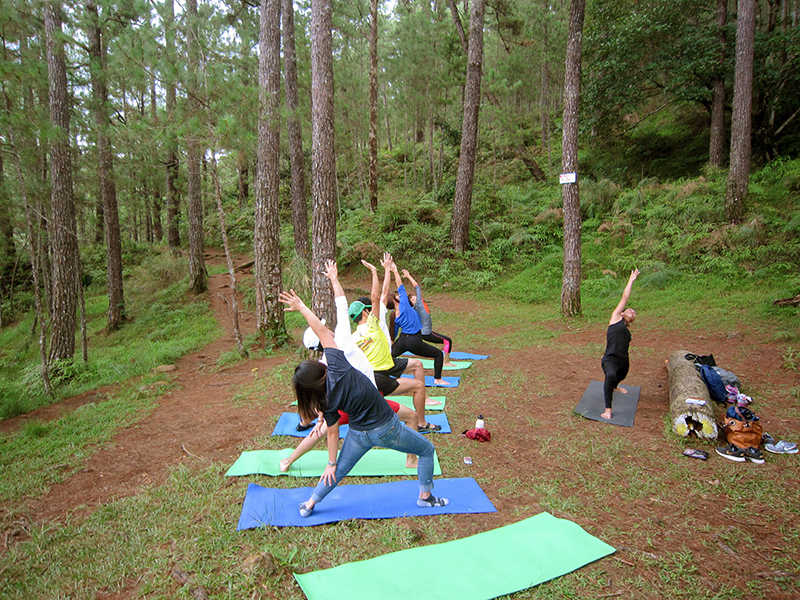 Yoga in the woods, finding balance with nature
"Baguio has always been known as an art city, because of all the artists and artisans we are hosting here, such as National Artist BenCab," Tan remarks.
In November 2017, UNESCO recognized Baguio City as a "Creative City" for its noted crafts and folk art. It is the first Philippine city to become part of the exclusive global network. "We are forging a sisterhood with another UNESCO 'Creative City' — Kanazawa in Japan, which also has forest bathing. We would like to look at how they practice it there," Tan says.
Baguio is the country's original summer capital, with its pleasant weather that rejuvenates. "This is what Baguio is about. This is part of our history. Baguio was a walking city in the past," Tan remarks. "This is now part of our revival. Together with TPLEX, we have started to put up signage in parks and other parts of the city." A Walk Meter Chart shows how many calories are burned when walking from Burnham Park, for example, to Upper Session Road (1.5 kms, 45 cal) or to Mines View Park (6 kms, 180 cal). "Soon, we will put up maps. We want to encourage people to walk and breathe again," Tan says. What better place is there to take a leisurely walk through the forest than along the old Yellow Trail within Camp John Hay, which starts at the Bell Amphitheater, right next to the Bell House.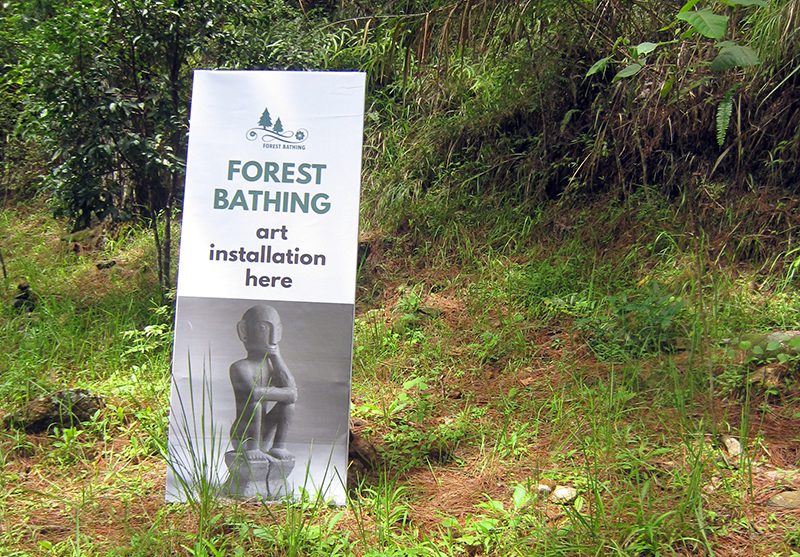 Proposed spot for art installation along the trail
"This is the highest point in John Hay and has the best air quality in Baguio," she shares. More than 50 percent of forest cover in Baguio is within Camp John Hay, which is under the stewardship of the John Hay Management Corporation. At 5,000 feet above sea level, the protected forest watershed teems with tall pine trees and green undergrowth.
The fairly easy three km. trail is characterized by some narrow paths, muddy spots and shallow pools of rain water, exposed old tree roots, moss covered rocks and wet slippery stones. If you are attentive, you may see some white mushrooms sprouting among the wild ferns, perhaps a solitary caterpillar or a couple of butterflies fluttering among the leaves. Or, if you're lucky, you might even hear an occasional bird call.
To tie up with the local culture, certain spots along the trail have been identified where art installations by local artists will be put up. An area is being developed for yoga and other meditative exercises. "We can even have bird watching activities," Tan says. "The formal launch of Forest Bathing at Camp John Hay will be in November this year. This is the first and only one in the Philippines. This is only the beginning. I would like to encourage forest bathing all over the Cordilleras."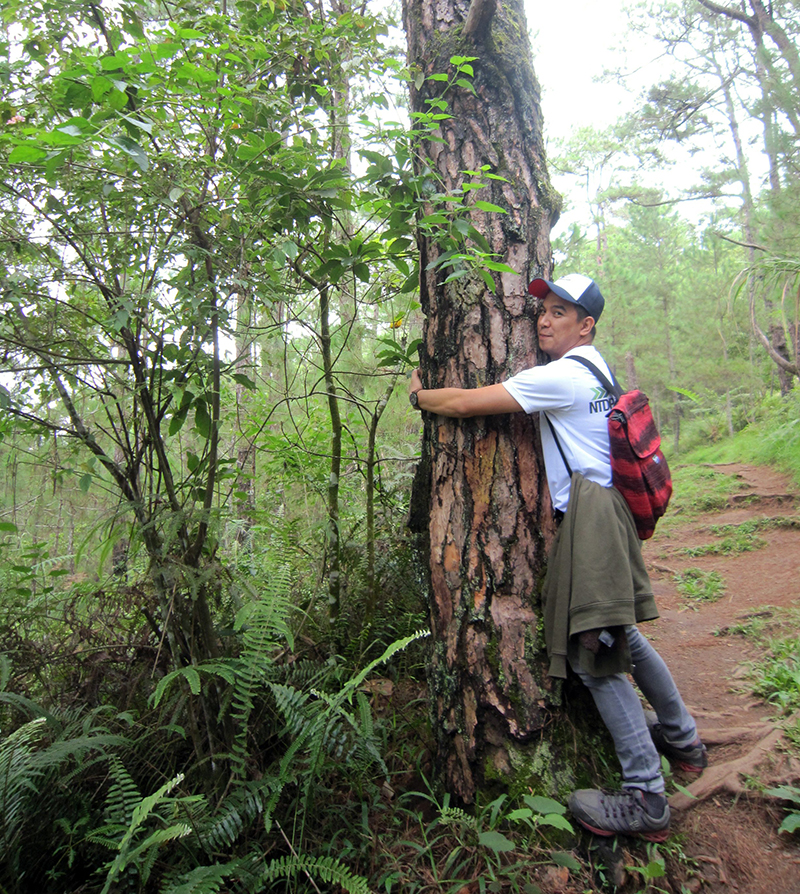 Adrian Fernandez of DOT-CAR is a tree-hugger.
She clarifies, "The intention, however, is not for mass tourism. It will be open to the public, but it will have to be controlled. We have to raise awareness, but you also need to understand what it is about. It is not for everyone. Forest bathing is meditative, done in a calm and quiet atmosphere. It is not something that you rush. Take your time."
There are many health benefits from taking slow and tranquil walks in the forest, which include reduced stress, lower blood pressure and pulse rate, improved mood, increased ability to focus, and even accelerated recovery from surgery or illness.
"To get the full benefit, you must engage with nature using all of your five senses," Tan says. Stow away your gadgets. Clear your head of worries. Walk slowly and mindfully. Pause to observe nature around you. Look and listen. Find a comfortable spot where you can sit and keep still. Open your mind. Breathe.