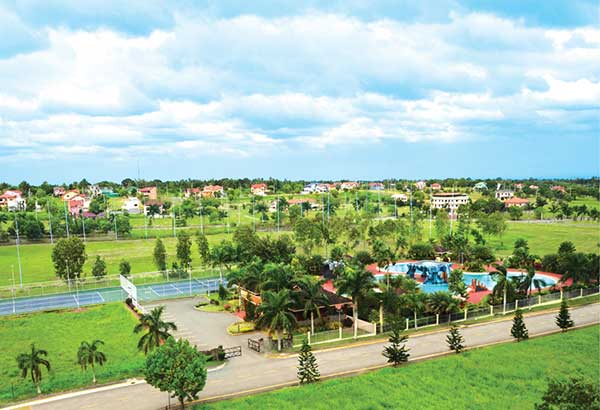 Metrogate Silang Estates, Moldex Realty's pioneering real estate development built starting in 1992.
Moldex Realty comes full circle at 30
MANILA, Philippines - Fifty years ago, Filipino-Chinese entrepreneur Jacinto Uy started manufacturing polyethylene (PE) plastic pipes for use in irrigation and mining. Later on, his company pioneered innovative piping systems for electrical, sanitary, and potable water used for building construction.
By 1987, his 20-year-old company was an emerging household name in household pipes. Given his knowledge and experience providing his products to the construction industry, he decided to go into full-scale construction of housing developments.
Thirty years later, the company that Uy established has come full circle — not that it returned to where it was before, but rather, it has become a full-range realty developer.
A 360-degree developer
At a recent luncheon, Moldex Realty executives presented to media guests the company's latest branding initiative that better captures its transformation. Dubbed Moldex Realty 360, it consolidates all Moldex Realty products such as the MetroGate Communites, the Heritage Homes series, The Grand series, and Moldex Residences into one brand.
Moldex Realty EVP Bob Zulueta explained the rationale for coming up with the Moldex Realty 360 brand.
"Last year was very memorable for us because we started with the 'Back to the Basics' exercise of finding and learning what Moldex Realty stands for. What makes us Moldex Realty is simple — because we feel that every Filipino deserves a quality home, and this has been our guiding principle for the past 30 years. We don't just build homes; we build communities and nurture relationships," he said.
"So what does this mean? If you look at it, there's a circle that connects all our projects. Three-sixty was culled from the arc of the circle, which means choices, connectedness and completeness," he added.
Looking at Moldex Realty's roster of horizontal and vertical developments, some which were presented during the luncheon, it's not hard to realize how the realty company portrays the choices, connectedness, and completeness that a circle represents. It has built more than 30 horizontal and vertical developments that cater to different segments of society — from affordable housing units to luxury residences in high-rise towers — and with a footprint extending through Tagaytay, Cavite, Laguna, Bulacan, and Pampanga, even as far as Baguio City in Benguet.
Horizontal Options
For horizontal developments, among the showcase were Heritage Spring Homes West and Fern Parc, both of which are located at Silang, Cavite. Both communities offer single-detached house and lots in easily accessible neighborhoods. Just like other Moldex Realty developments, these communities also have essential amenities such as swimming pool, gazebo, pavilion, playgrounds, basketball court, and a community park for the residents' recreation and socialization.
Heritage Spring Homes West is located along the Tagaytay-Sta. Rosa Road and caters to startup and growing middle-income families with a price range of up to P3 million. With modern Asian-themed houses and a cool climate similar to Tagaytay, the community is a perfect retreat from the urban jungle, not just for young professionals and growing families but also for local and foreign retirees.
Fern Parc, meanwhile, is the company's first joint venture with Fern Realty Corporation (the realty arm of Far Eastern University) and is designed for upper middle-income earners, with lot prices starting at P1.5 million. It is located near the Cavite campus of Far Eastern University inside MetroGate Silang Estates, Moldex Realty's pioneering real estate development. Its location makes it ideal for families with children of school age. And in the future, it will become more accessible to Metro Manila and other places in the south because of the completion of the Silang Interchange of the Cavite-Laguna Expressway (CALAX), which will pass near MetroGate Silang Estates.
Vertical Selections
Also presented during the luncheon are some of Moldex Realty's known vertical developments, the most notable and iconic of which is the 1322 Roxas Boulevard– Golden Empire Tower. At 210 meters, it is the tallest residential building in the City of Manila and was once the tallest building in the Philippines from 2006 until 2010.
Other notable Moldex vertical developments include the Grand Towers Manila along Vito Cruz Street near corner Taft Avenue, its sole twin-tower development; and the Grand Riviera Suites beside 1322 Roxas Boulevard–Golden Empire Tower along Padre Faura Street and Roxas Boulevard, which was completed in 2015.
Among the company's latest vertical developments is Moldex Residences Valenzuela, its pioneer venture in cluster-type mid-rise developments. It will have 11 buildings in an almost four-hectare lot, the first two buildings of which have been completed and occupied with a third building currently under construction and will be finished this year.
Also undergoing construction is the three-hectare Moldex Residences Baguio — so far, the biggest residential development in Summer Capital of the Philippines. It has seven towers built on top of a slope, has 1,500 units from studio up to two-bedroom and comes complete with a central park and basement parking. Top-caliber architect G. F. and Partners gave it an Alps-inspired design. The first two buildings were already completed and occupied in 2015, with the third and fourth building targeted for completion next year.
Silang will also be home to a vertical development, Moldex Residences Silang. It's a 2.9-hectare, P2.5-billion development inside MetroGate Silang Estates, with nine residential buildings ranging from 10 to 12 storeys. Once completed, it will cater to students who wish to live near FEU's Cavite campus as well as growing families and foreign retirees who settled in the town because of its cool Tagaytay-like climate.
Also announced during the luncheon is the company's most recent vertical project, the Grand View Tower located along Buendia Avenue corner Leveriza Street in Pasay. The P3-billion development has already started work last month and will have 42-storys and around 1,600 units ranging from studio up to two-bedroom. It will have a two-story retail component on the ground and second floors as well as one basement parking and three-level podium parking.
Creating A well-rounded life
With a variety of developments that suit the lifestyle, budget and preference of different market segments, Moldex Realty has given choices, completeness and connectedness to its residents, thus creating a well-rounded life for them.
"Choices, meaning, we offer different kinds of products for every family, for every individual at different life stages. Completeness: we don't offer typical residential units. We offer communities with a complete range of amenities for your rest, leisure and recreation — hence, connectedness. We are always connected to the needs of the market and the client," says Zulueta.
In addition to these vertical developments, Zulueta also revealed that the company plans to foray into commercial as well as office developments in the coming years. These developments are designed to address the convenience needs of their clientele and residents in terms of proximity to work, shopping and leisure.
Zulueta, who is one of the first employees of Moldex Realty when it opened 30 years ago, looked back with pride at the company's achievements.
"Our group is rather proud of what we have achieved over the 30 years. When it started in 1987, I remember that a few years later, the Baguio Killer Earthquake struck and was felt as far as Metro Manila," Zulueta said. "And yet our headquarters stands up to this day. So that's a testament to the quality of the developments that Moldex Realty builds."
* * *
For information on Moldex Realty projects, call 0917-7178880 or visit www.moldexrealty.ph.