First image of Omicron shows many more mutations than Delta
November 29, 2021 | 7:38am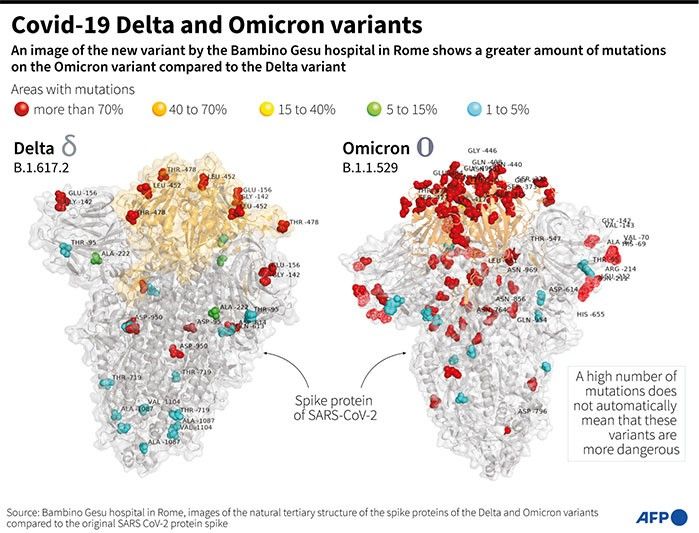 ROME, Italy — The new Covid variant Omicron has many more mutations than the Delta variant, according to a first "image" of this new variant initially detected in South Africa, produced and published by the prestigious Bambino Gesu hospital in Rome.
On the three-dimensional "image", which looks like a map, "we can clearly see that the Omicron variant presents many more mutations than the Delta variant, concentrated above all in one area of the protein that interacts with human cells", the team of researchers said in a statement Sunday.
"This does not automatically mean that these variations are more dangerous, just that the virus has further adapted to the human species by generating another variant," the researchers said.
"Other studies will tell us if this adaptation is neutral, less dangerous or more dangerous," they added.
The research team focused on the search for mutations in "the three-dimensional structure of the spike protein", Claudia Alteri, professor of clinical microbiology at Milan State University and a researcher at Bambino Gesu, told AFP.
The image was produced "from the study of the sequences of this new variant made available to the scientific community" coming mainly "from Botswana, South Africa and Hong Kong".
"This image, which represents a map of all the variations, describes the mutations of Omicron but does not define its role," she said.
"It will now be important to define through laboratory experiments whether the combination of these mutations can have an impact on transmission or on the effectiveness of vaccines, for example," she added.
As It Happens
LATEST UPDATE: May 13, 2022 - 1:53pm
Follow this page for updates on the new COVID-19 variant, dubbed Omicron and originally detected in South Africa. Photo courtesy of the The STAR/Miguel de Guzman
May 13, 2022 - 1:53pm
The first cases of Omicron BA.2.12.1 COVID-19 variant have been detected in the National Capital Region and Palawan, the Department of Health says.
The first two cases in NCR have both received their booster shot and are now tagged as asymptomatic and recovered after completing home isolation.
Meanwhile, 14 tourists and 1 local tested positive in Puerto Princesa City on April 29. All cases are now asymptomatic.
May 12, 2022 - 8:43am
North Korea on Thursday confirms its first-ever case of Covid-19, with state media calling it a "severe national emergency incident" after more than two years of keeping the pandemic at bay.
The official KCNA news agency says the case was "consistent with" the virus' highly transmissible Omicron variant. — AFP
May 5, 2022 - 7:56am
Two new Omicron sub-variants are driving an increase in reported Covid cases in South Africa, the World Health Organization said Wednesday, stressing the importance of testing to monitor virus mutations and spread.
The heavily mutated and highly transmissible Omicron variant of Covid-19, which was first detected in southern Africa in November last year and rapidly spread globally, is now the dominant variant, accounting for almost all new cases.
Omicron has long been known to have several sub-variants, with BA.2 by far the most dominant.
But now the South African scientists who first identified Omicron are pointing to two other Omicron sub-variants, BA.4 and BA.5, "as the reason for a spike in cases" in the country, WHO chief Tedros Adhanom Ghebreyesus told a press conference. — AFP
April 27, 2022 - 5:35pm
The Department of Health says it has detected the country's first case of BA.2.12 Omicron subvariant.
The case is a Finnish woman who arrived from Finland last April 2.
According to DOH, the woman went to a university in Quezon then to Baguio to conduct seminars. — Gaea Katreena Cabico
April 21, 2022 - 9:04am
Shanghai further eases its weeks-long Covid-19 lockdown on Wednesday despite mounting deaths and tens of thousands of new cases — but some residents are furious that uneven enforcement is still leaving them trapped at home.
China's largest city is inching towards reopening as businesses and residents grow increasingly desperate over closures and food shortages.
Faced with the country's worst virus outbreak in two years, Shanghai has confined most of its 25 million people to their homes since last month, doubling down on the Communist Party's unrelenting zero-Covid approach.
But the surge, driven by the fast-spreading Omicron variant, has thwarted official efforts to avert a pandemic rebound, with more than 400,000 infections reported since March. — AFP