Flashback to 1985: A Cory memory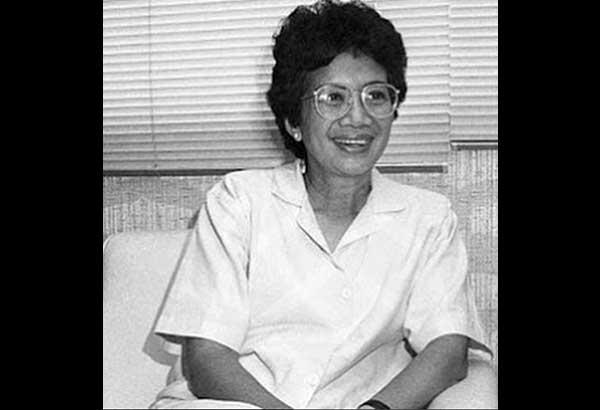 The following article was published in National Midweek Magazine on December 18, 1985. I am reprinting it here, truncated and slightly edited, as my tribute to President Cory, whose eighth death anniversary I missed last week. By recalling how we persuaded a widow to run for president against an entrenched and cruel dictator and restore our freedoms, may we never lose hope that we can do it again.
When Cory Aquino announced her candidacy for the presidency last December 3, the audience in the auditorium of the Mondragon Building in Makati broke into prolonged applause. Not a few wept tears of joy and relief. The waiting was finally over. Now her prodders could finally be called her followers. They could finally buckle down to work and get the show on the road.
The tension had been building up for more than a month. It began when Don Chino Roces, former publisher and everyone's favorite street parliamentarian, decided to form a citizen's movement that would urge Cory Aquino to run for president via one million signatures. Roces and his gang of idealists (who at the time seemed destined for failure) called Cory "our last hope for democracy," investing her with a mantle of moral righteousness.
Cory pleaded with the group to desist from what they were planning, and when her plea fell on Don Chino's deaf ears, she declared that she would have nothing to do with the Cory Aquino for President Movement (CAPM).
But after some lonely days in the doghouse, Don Chino's persistence began to pay off. At a luncheon with the Sigma Delta Phi Sorority late in October, Cory gave two conditions that would make her decide to run: if Don Chino and company could get one million signatures, and if there was a snap election.
Meanwhile, she said, she would be praying and reflecting and seeking advice, both human and divine. She asked everyone to pray for her and help her make the right decision. Every request for an interview was turned down as Cory went into partial seclusion searching her mind and her heart for answers.
The high premium she put on prayer and trust in God made Cory's quest for an answer seem as noble and difficult as the search for the Holy Grail. It also created the impression that every act that met her conditions was an act of divine intervention telling Cory what to do next.
First came Marcos' announcement on American television last November 3 that he was calling a snap election. It did not matter that Marcos was succumbing to American pressure, and his rules were dubious. The call for snap elections fulfilled Cory's second condition.
After that, the CAPM was unstoppable. Volunteers set up tables on street corners and marketplaces, went into towns and barrios seeking signatures of those who wanted Cory to run. From Aparri to Jolo, Chino Roces said, the signatures came in bunches — from three names to thousands sent via special air freight, or hand-carried to the office by concerned citizens. By November 26, Chino Roces was borne on the shoulders of his fellow-volunteers as they counted the one millionth authentic signature of the nationwide campaign.
On November 27, Ninoy's birthday, Cory attended a rally in Tarlac where, when it was her turn to speak, she quoted Ninoy: "I will never be able to forgive myself if I have to live with the knowledge that I could have done something and I did not do anything."
That was good enough for Cory-ites who knew her to be a careful speaker, not one to waste her words but measured the weight and meaning of everything she said.
On December 1, one million two hundred thousand signatures were presented to Cory by a crowd of 15,000 at the Santo Domingo church after evening Mass. The sign-up sheets, fastened in fat bulging folders tied with yellow ribbons, were blessed by a priest and received by Cory. Cory was no longer cryptic. "I will announce my decision after Mr. Marcos signs Cabinet Bill No. 7," she promised, "but I assure you, you will hear what you want to hear."
Then, the non-politician came to the fore: "If I were a traditional politician, I would be very happy standing before you tonight. But I am not a traditional politician and so I am very nervous when I think of the difficult days that lie ahead."
The following morning, Monday, December 2, the Sandiganbayan's verdict on the Aquino-Galman murder case was handed down. Innocent, said the three-man court of General Fabian Ver and 24 other officers and enlisted men of the Armed Forces, and one civilian. Debunking the finding of the Agrava Board that Aquino and Galman were victims of a military conspiracy, the Sandiganbayan ruled that all 26 were not guilty because the team that killed Galman did so in the performance of their duty. And, of course, Ninoy Aquino was killed by Galman.
Within an hour, Cory was facing the press and reiterating her stand holding Marcos responsible for the murder of her husband. "He is my number one suspect," she declared, as she always has since August 21, 1983. But, speaking with an eye on becoming the future commander-in-chief, Cory said she was not prepared to condemn all the officers and enlisted men of the AFP. In a direct message to the "decent elements" in the military, she asked for help to get to the truth behind her husband's savage killing.
On Monday evening, the Batasang Pambansa passed Cabinet Bill No. 7 in its last session for 1985, paving the way for snap elections. Later that night, President Marcos signed the bill into law. On Tuesday morning, true to her word, Cory announced her intention to run for president of the Philippines.
Later, she revealed that she was having daily talks with Doy Laurel, the original presidential wannabe, and that she had offered him the vice-presidency.
Was this the political neophyte whom people feared would buckle under pressure and intimidation — this woman who was married to the ultimate politician for 28 years, who endured eight years as a political detainee's wife under the most difficult years of martial rule, who upon the killing of her husband stood up to the most awesome powers in the land and accused them of his murder, and who, today, against almost insurmountable odds, would pit herself against Marcos' machinery, machinations, and resources, knowing full well the might of her opponent? Was this the woman whom some solicitous souls in the Opposition wanted to protect by keeping her out of the snap election?
"I can be very stubborn," Cory has said. And though she may seek advice from all and sundry, in the final analysis, she makes her own decisions, including this tremendous decision to run, pre-empting Doy Laurel with her early announcement, and leaving him little room to maneuver except around her.