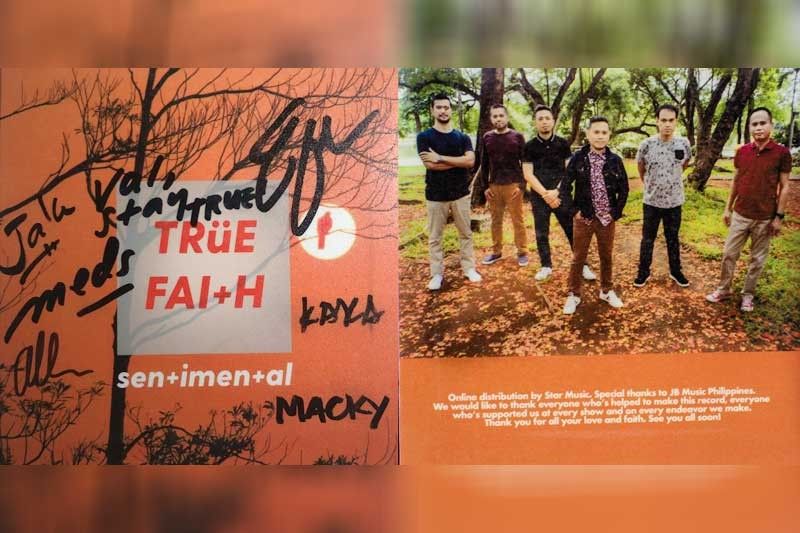 25 years and counting: True Faith
It's not every day that you receive a signed copy of an album from one of your favorite OPM bands. What's even more exciting — and this is definitely an achievement for me — is that I am part of it.
Medwin Marfil, the front man and founder of the iconic OPM band True Faith (also spelled Truefaith), and my Facebook friend for the longest time, asked my permission sometime in August if the band could use one of my photos in its upcoming album. The photo Meds chose is a 2016 sunshine image I took in Mines View Park in Baguio.
How could I say no to the band whose music I've long been an ardent fan? I was and still am one of the Faithfuls, as the band's fans are known. True Faith's music after all is a signpost of a good part of my life as a family man. It was formed three years after I got married, and its hit Perfect was burning the charts when our only child was born in 1993. The song, which began as a demo, spent countless weeks as the number one song on 99.5 RT's Top 40.
It was only in late September that I learned that my photo would be featured (inside back cover) in the band's 10th album, Trüe FAI+H, sen+imen+tal, which was launched in its anniversary concert, "Far From Perfect: True Faith's Senti 25" at the Music Museum on Oct. 25, (Sen+imen+tal was first released digitally through Star Music. It streamed on Spotify, AppleMusic, Deezer and Google Play in early July.)
The songs on the album — like most of True Faith's various hits in the past — do not disappoint. Most of the songs are new releases, but the way they were conceptualized, recorded and performed will make listeners wax nostalgic. The album will inspire the sentimental fabs who grew up with the band's music, but the songs will also prove how attuned to the times True Faith is.
Dreamy and yet playful at times, the songs try to encapsulate how it is to love and be loved. Cool Lang tells of a complicated relationship ("On and off tayo, di ba nakakahilo ang ating gulo, paulit-ulit na lang") that longs deeply for a smoother ride ("… kulang sa init ang pag-ibig mo, kulang sa damdamin parang di mo gusto..."). The Rain deals with how one handles heartbreaks ("…I wouldn't mind a rain, sometimes it takes away the pain …"). Uwian Na is an amatory and hip tune which makes one feel whimsical. It relates the story of a couple who has been in love since their younger days. Its rendition is suave, placid and solid.
Most of the songs on the 14-track album were written by Meds, except for Kahit Na and Isn't It Strange? are penned by Sorsogon Governor Robert Lee Rodrigueza.
At 25, the True Faith magic has not waned. Meds' patented sinewy voice still resonates among the band's Faithfuls. It is still the same voice that catapulted the band to stardom and numerous music awards and nominations, capped in the summer of 2000 by a Music Television Asia award for Best Video Award for Awit Para Sa Kanya. The band didn't nail it, but its selection brought them back into the consciousness of the public. "Memories Are Cheap: The Best of True Faith, 1993-2000," produced by True Faith and Darrell James Laxamana, was also released that year, a hugely successful narrative of the band's feat and provided a sneak peek at its evolution from a new-wave group to an OPM icon. That album showcased a new track Kung OK Lang Sa'Yo, a one-acoustic guitar ballad highlighting then-new member Jay Valencia on guitar.
Time flies, but the memory of True Faith's songs still waft its listeners to a beautiful "long ago." The band has gotten even better since their early days in 1992, juicing up beautiful prose and original tunes at Fullerton Studios. Today, Meds (vocals), Allan Elgar (lead guitar), Macky Macaventa (bass), Eugene Marfil (acoustic guitar), Jake Lumacad (keyboards) and Kaka Quisumbing (drums) remain indomitable in fulfilling their musical reveries. The Faithfuls live on!
* * *
For comments/suggestions, email me at audioglow@yahoo.com