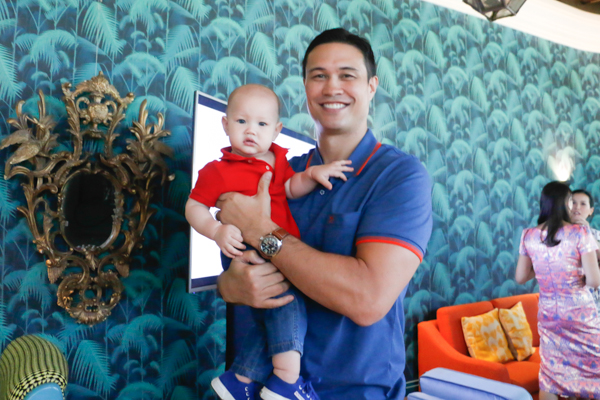 Former basketball star Eric Menk enjoys fatherhood and video blogging or vlogging. Philstar.com/Efigenio Christopher Toledo IV
Life after retirement: Eric Menk outside the court
(Philstar.com) - August 9, 2017 - 7:02am
MANILA, Philippines — After two decades in his career as a professional basketball player, 42-year-old Eric Menk has officially retired this year and is now venturing into new activities as a father of two kids, Alexa and Sebastian.
The 2005 Most Valuable Player (MVP) was honored during a heartwarming tribute from a retirement ceremony last May 7 by the Alaska Aces, the team where he played his final game along with Barangay Ginebra San Miguel, his former team in which he stayed for 11 years.
During the program of GOO.N diapers' launch, Menk was asked to give an advice to new dads like Jesse Ho-Maxwell, President of One-Stop Distribution, Inc.
"Most things are difficult and having patience is key," Menk mentioned in his statement, talking about his life as a father of two kids with his spouse Erin.
His last basketball game was seven months ago. His current endeavors include putting up his own podcast called "Staying Major," where talks happen about Philippine basketball. He also created his own YouTube channel with the username, TheEMenk30.
Menk won 4 titles when he was still in Ginebra and broke the first record of becoming the MVP when he was still in the same team. He also represented the Philippines for the 2002 Asian Games and 2007 FIBA-Asia.
Also known by his moniker, "Major Pain," Menk was surrounded by basketball and other sports personalities on radio or television as he was growing up. His father, Al, began teaching him how to play basketball at the age of seven. When he turned 10, the PBA star's father started to bring him to high school basketball games. Since then, he became a varsity player when he was in school and received a basketball scholarship upon entering college.
Menk's career as a professional basketball player counts to 20 years. He spent a year in Denmark, two years in the Philippine Basketball League (PBL), 16 years in the Philippine Basketball Association (PBA) and another year in the ASEAN Basketball League (ABL).
In 1998, the Filipino-American basketball player arrived in Manila, Philippines. A year after, Menk joined PBA and soon progressed into one of the most renowned professional players of the sports in the national setting.
Just recently, Eric attended the media launch of GOO.N Diapers, a leading diaper brand in Japan which has finally landed in the Philippines through One-Stop Distribution, Inc. The brand's name was rooted from the Japanese phrase "gun-gun," referring to a baby's stable growth.
The diapers claim to contain an exceptional absorbent core coupled with a soothing and breathable outer sheets offer comfort and freedom of movement for newborns and toddlers alike. The brand and its varying sizes can be locally spotted at SM Hypermarket, Rustans, Robinsons, Lazada, Makati Supermarket, Pioneer, Unimart, Rose Pharmacy, Cash and Carry, Puregold (Duty Free), Landers, Baby Company, Fishermall, Alfamart, Generica, and Alturas.
During the launch, the PBA star player was with the diaper brand's new ambassadors, celebrity moms Jessica Kienle-Maxwell and Stephanie Kienle-Gonzalez. The sisters were joined by foreign mom, Amber, and her adorable son, Wells.
Jessica and Stephanie, who have just recently entered the phase of motherhood, said that becoming a mom is not an easy feat as they balance time for their family and their loaded schedules as designers. "A lot of patience, perseverance… just be positive," Jessica said as motivation for other new parents like her.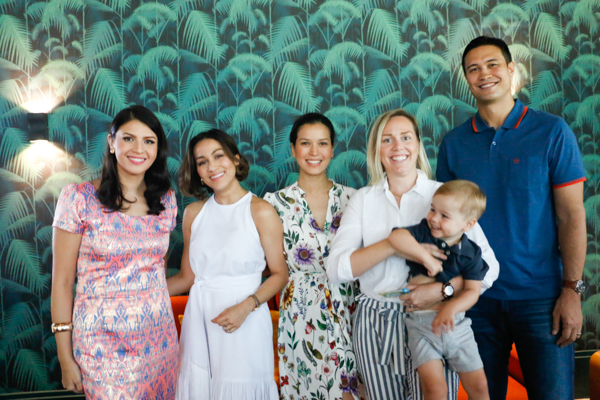 Menk with the celebrity moms of Japan-made diaper brand GOO.N. Philstar.com/Efigenio Christopher Toledo IV