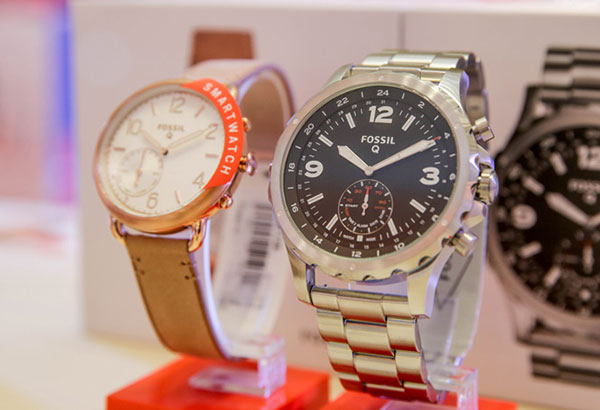 Classic design meets smart technology: Fossil Q Marshal gives smartphone notifications, tracks activity, takes calls and controls your phone's music.
When smartphone makers launch a paired smartwatch, it's usually a matter of tech specs and numbers. But when a fashion powerhouse like Fossil goes smart, you know it's going to be all about the design.
The Fossil Q Wearables line was launched in grand style at SM Megamall Fashion Hall last Saturday, rolling out its new Fossil Q Wander, Marshal and Hybrid smartwatches. Justin Paxton, Fossil Q Wearables & Smartwatch Expert for Asia Pacific, was onboard to reveal the sleek and savvy new wrist candy for Filipinos, and answer all Qs. (Questions, that is.)
It seems wearing your online life on your wrist has become the norm, and Fossil has raised the smartwatch game, pairing up with Android Wear to give consumers the smoothest touchscreen experience, while retaining its trademark cool and retro design features. Says Paxton, "It's really about a fashion-focused wearable with technology embedded into it. Fossil is a fashion brand, so we brought the technical know-how of building a very beautiful watch, adding in the technology of Android Wear, and using our Snapdragon Wear 2100 chip."
While Fossil Q first launched in Hong Kong and Macau last January, it's now rolling out across Southeast Asia with the Q Marshal (and its more feminine iteration, Q Wander) with loads of designs and wristband options; as well as the new line of fitness-friendly Hybrid watches.
With Fossil Group, it's always about fashion first, and Paxton notes the "Q" in the name stands for "cue" — as in cueing up your own experiences and refining your personal story. "It's about creating a beautiful timepiece based on designs we've done in the past, utilizing innovative materials to give our customers a beautiful watch that allows them to live their life with that wearable technology."
Partnering with Android Wear, Fossil provides full functionality with the Marshal and Wander watches — you'll get your notifications, track your steps, handle turn-by-turn GPS navigation and take phone calls, all using your wristwatch (paired with an Android device, of course). Note: you can use the Fossil Q watches with iPhone or non-Android devices, but with slightly less functionality (i.e., it will notify you of phone calls, but you can't receive them on the watch itself).
Design-wise, Fossil started with the look, and then tailored the technology to fit the design. Those who love Fossil's retro feel will love the choices of wristbands (steel, silicone, leather, plus wire lug details for the woman-focused watches), as well as the array of digital face displays available — there's Fred, Fossil's iconic version of the Mickey Mouse watch hands, but also retro robots, tourbillon gears, sleek digital displays, and dozens more (Rubik's Cube patterns, kawaii designs, Vivienne Tam, Un Petit Monde, George Frost, Ted Baker and others) that you can download from the Fossil Q phone app. Since you can also change the colors, tints and fonts of each face, you already have a thousand options, so you'll never get bored with the face of your Q. (Though some could do without the "flat tire" strip of black at the bottom of the watch face that houses a sensor, which Paxton promises is "one of the main takeaways for the next generation.")
Paxton spoke about the Q Marshal, a manly timepiece that pairs well with a steel band. "It was one of our first watches, designed primarily for men, though they're actually unisex. The face has a beautiful bezel top-ring, which is based on the bezel you'd see on camera lenses for professional photography." It features a 45mm case, 1.4-inch display and comes in four colors. The ladies' Q Wander has the same functions but offers sculpted wire lugs details, rose gold accents, stainless steel and more feminine choices in the leather straps and bracelets.
The Q Hybrid, as the name suggests, is a hardware watch with some digital functionality — the Q LINK capability lets you do activity tracking, sleep monitoring, multiple time zones and alarms, plus a bottom pusher that lets you snap selfies, control your phone's music from your watch and even find your phone when it's on silent. It's geared towards "the customer who wants smart features but maybe isn't ready to go into full digital display and smart features." Focused more on sporty design, the hybrid Q Nate offers an urban look with leather and steel straps, while the Q Crewmaster is more focused on silicone straps, fitness and activity tracking; for women, the Q Tailor features leather looks with the same wire lugs as Wander, while the Q Gazer is dressier, glitzier, with Roman dials.
The Fossil Q launch was graced by Lucerne president Ivan Yao, and as host/car enthusiast James Deakin and TW Steel marketing manager Judith Staples gave away Fossil Q wearables to three lucky patrons, SKP (Samahang Kartunista ng Pilipinas) artists Jun Aquino and Barry Jose were busy sketching caricatures on guests' Fossil watch tin canisters for a great memento.
Fossil worked closely with Google and its own design team to come up with the best possible form for the most advanced digital features. Fossil uses the Qualcomm Snapdragon chip inside its Gen-2 Qs, and it even bought Misfit — a leading maker of wearable fitness trackers — to add to its smooth, on-the-go functionality. With the launch of Fossil Q, the design company shows that, in the realm of smartwatches, you don't have to be a dinosaur: that digital bracelet on your wrist can look fashionable, and cool as well.
* * *
Fossil Q Marshal, Wander and Hybrid watches are available at all Fossil and WSI stores and selected L Timestudio and Wristpod stores.
For more information, visit www.fossil.com. Follow on Instagram and Twitter and like them on Facebook.