Between them, these men have created and destroyed universes. With only the power of their pencils.
Mike Zeck's bold and powerful hand has crafted the most definitive versions of franchise superheroes for comic book fans who grew up in the '80s — including Captain America, The Punisher for Marvel (not to mention the fact that he was the artist of groundbreaking Marvel Comics series Secret Wars) and Batman and Deathstroke the Terminator for DC Comics.
Meanwhile, Billy Tan had a popular run with Tomb Raider for Image comics in the '90s until he took over the penciling reins for Uncanny X-Men and The Avengers for Marvel Comics, finally moving over to DC Comics where he helped build and demolish (and build up again) the Green Lantern Corps.
While geeking out during the AsiaPop Comic Con, I interviewed these fan-favorite artists whose works arguably defined their respective generation. They shared how they broke into the comic book business, their artistic influences and the defining moments of their comic book career.
RJ Ledesma: How did you break into the business of funny books?
Mike Zeck: I was one of those obsessed kids who knew what they wanted to do even as a young boy. I always tried to trace or copy comic books. (When I approached editors) I knew that my portfolio had to show my ability to draw and to tell a story. I did two to three pages of every genre — superheroes, romance, horror, even Westerns. So both my portfolio and my work on fan magazines led to my work being noticed by DC and Marvel.
Billy Tan: My art class had a field trip to New York to visit art museums. I took this as a chance to visit Marvel Comics. I went there without any appointment and Marvel chased me out. (Laughs) Later, Top Cow Studios (an imprint under then upstart Image Comics) ran their first talent search. I sent in my portfolio and the editor got back to me and told me what to fix. After going back and forth with him several times, they flew me over and said they would give me a try for three months. The rest is history.
Who were your artistic influences?
Zeck: Prior to the "Marvel Age" of Comics (around 1963), my major influences were (artists for DC Comics) Gil Kane on Green Lantern, Carmine Infantino on Flash, Joe Kubert on all the war stories, and Curt Swan and Kurt Schaffenberger on Superman. When Marvel came around, it was Jack Kirby (who co-created Fantastic Four, Thor, Iron Man, Hulk and Captain America), Steve Ditko on Spider-Man and Don Heck. Later on, it was John Buscema and Neal Adams and Jim Steranko. You couldn't help but notice these guys and be influenced by them. And when you saw their work, you would just tell yourself that you just had to get better! (Laughs)
Tan: In the beginning, my art was influenced by Marc Silvestri and Jim Lee along with all those who drew in the Image Comics style. But after I finished my 10-year stint with Top Cow, I took a look at Marvel and the incredible work of artists like Steve McNiven and Bryan Hitch. It opened up my mind to all sorts of different styles.
Mike, your cover art has been iconic and resonated with comic book fans across the decades — from Spide-Man's first appearance in his black costume, Wolverine versus Captain America, the Punisher's two-gun approach to blasting away criminals. All your covers are well composed and action packed. What was the creative process behind those covers?
I was influenced by the work of Jack Kirby. I try to bring the drama and emotion to the cover and to the story with the faces and poses of the characters. I want people to "feel" the story through the characters and I think I achieved that to some extent. Two years ago, the Cartoon Art Museum in San Francisco did a large exhibit of my work and named it "Raw Fury." This was because for most of my covers — like The Punisher — you really felt the emotion as the characters were screaming and the bullet casings were flying everywhere.
What were some defining points of your career?
In the '80s, I had three hits — Secret Wars then Punisher then Kraven's Last Hunt in Spider-Man. That's like the equivalent of an actor having three hit series in a decade. I was very lucky to do that! (Marvel) felt I was a strong cover artist so they asked me to do covers for other books or limited series. I was never without work.
What about you, Billy?
I would say it's working with Chris Claremont and Ed Brubaker on Uncanny X-Men. Another huge one was The Avengers where I worked with Brian Bendis. I only dreamt of doing work like this when I got into Marvel!
Before you came over to the Philippines for the AsiaPop Comic Con, were you aware of the Filipino artists who were already drawing comics for Marvel and DC?
Zeck: Always! Truthfully, there is always a strong representation of Filipino artists with every generation of comic artists including my own (around late '70s to mid '80s). I looked up to all the Filipino guys in my generation. The Redondo brothers, Rudy Nebres and Alfredo Alcala, their brushwork was flawless! Alex Nino's art didn't look like anybody else's art. That's crazy! Then there's Ernesto Cruz and Ernie Chua. I knew of and admired their work. I got to meet them when they came to conventions and that was great. Even here at the APCC, Whilce Portacio is not only a great artist, but I consider him to be the father to the current generation of Filipino artists who were introduced to US comics through his studio. There's so much talent over here.
Tan: You guys have such a big pool of talented people like Leinil Yu and Whilce Portacio. They just keep on coming, it's mind-blowing! In Malaysia, we don't have that many artists.
Billy, I understand that you're now creating your own comic book universe?
Yes, I'm creating my own characters. As a matter of fact, I'm living in China now and am trying create a superhero universe for Asian comics. It will start form China and expand to Asia. And who knows? It might expand to the Philippines. I can't mention characters right now, but you'll find out later.
What is your advice for budding comic book artists?
Zeck: Being an artist is almost like being an actor. The more you know the character, the better you are able to portray that character. When I drew the Punisher, I spoke with the writer Steven Grant about his vision for the character and it perfectly mirrored my own vision for what the character should be.
Tan: Comic book artists are like directors themselves, so you need to know the camera angles, anatomy and perspective. But the most important thing is that you're able to tell a story.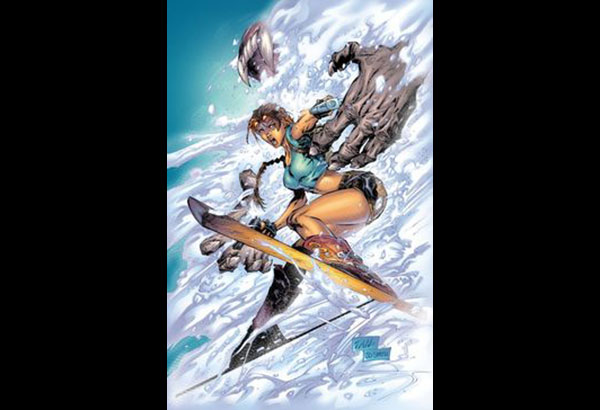 Billy Tan's Apocalypse vs. X-men cover (top) and Tomb Raiders
* * *
For comments or suggestions, email Ledesma.rj@gmail.com or visit www.rjledesma.com. Follow rjled on Twitter and rjled610 on Instagram.