I have a confession to make.
My six-year-old daughter is a My Little Pony (MLP) addict. And, may God have mercy on me, I have been feeding her addiction.
Who are these little ponies, you — my clueless No Girlfriends Since Birth (NGSB) and Dirty Old Men (DOM) readers — may ask?
Back in the days when hair had not yet grown on the tasteless parts of my anatomy, My Little Pony was a popular cartoon series that chronicled the misadventures of colorful talking ponies — a concept that was as engaging to a young lad as a secondary circumcision.
I thought that the only lasting side effect I had from that show would be the endless loop of My Little Pony theme music playing in my long-term memory. But like all things '80s — such as cartoons, movies and implants — the franchise was bound to get a reboot. And, in my professional fatherly opinion, the producers of this new incarnation of the ponies have done a damn good job of ensnaring the female pre-teen set's imagination.
Ever since my daughter caught MLP (as it is known among those ?"in the know") on YouTube, she has immersed herself and, by osmosis, the rest of our household into pony lore. My house has been turned into a My Little Pony diorama, I have been trained to answer such arcane questions as "Do you know how Pinky Pie got her cutie mark?" and her sixth birthday was an MLP-themed party where the kids sang MLP songs until the adults in the party needed therapy.
Given her fascination with all things pony, I searched for local MLP fan clubs where my daughter could interact with other little girls of similar interest (and also because parents of MLP fans might have a support group as well). Eventually, I stumbled upon the group Philippine Bronies (a portmanteau of the words "bro" and "ponies") on Facebook. Initially, I was elated to discover the group's existence! But that elation quickly turned into trepidation when I belatedly learned that the group was composed mostly of adults and that they were 95 percent male.
Yes, you read it right: Phiippine Bronies is an organized group of grown men who are die-hard fans of the My Little Pony cartoon (we had to double check our database to make sure that none of our resident NGSBs and DOMs had infiltrated the group).
I asked if I could meet up with the organizers of the Philippine Bronies group, one of the most active MLP clubs in the country, to verify if they were real or if they were algorithms. And I dragged my daughter along with me for the interview to verify their credentials as MLP fans (what if they were just posing as MLP fans, but in reality they were really Princess Sofia, Doc McStuffins or, God forbid, Peppa Pig fans!?).
For security reasons, I made sure that we met up in a very public restaurant. In turn, they made sure to show just how "brony" they were. Ben, the organizer of the local Brony convention, came in a cowboy hat and a T-shirt brandishing the "cutie mark" (parang birth mark) of "Apple Jack" on his shirt; Tricia, a cosplayer, came as "Rarity" — an MLP that became a human (please do not ask me to explain without the benefit of alcohol) — and finally, Peter the administrator of the Facebook page, came wearing a shirt peppered with images of "Pinky Pie" and with a Pinky Pie plush toy straddled on his shoulder.
When I saw that plush toy, I asked the security guard to call in additional reinforcements.
What exactly is the bronies group? Is it a support group? Is it the local branch of the Illuminati? Is it a terrorist organization?
BEN: It's a congregation of My Little Pony fans. When we started off, we wanted it to be "secretive" because we didn't want anyone to know that we were actually fans. So we found each other through "secret means."
I didn't realize that Facebook was a secret.
Once we got together, we all became fast friends because the theme of My Little Pony is —
(In unison) "Friendship is magic!"
Please don't break into song and dance.
We invited friends through Facebook and the group grew bigger and bigger and now we're doing a convention where everybody is welcome to attend!
TRICIA: Over a span of the year after the group was founded in August 2011, it grew to almost a thousand!
Pretty soon you'll be able to form your own party-list group. Forgive me, but I find it hard to believe that a group of grown men have a genuine passion for My Little Pony. Some people might even get the impression that the group was formed rather "sarcastically"?
TRICIA: Actually, it's funny that (the current) Bronies (in the US) started watching the show just to make fun of it, and when they watched it, they actually liked it.
BEN: Other people jump on the bandwagon of "hating" the show. But then they watch it and end up becoming fans of the show, too. It's just like being a fan of Anime or Transformers or League of Legends. It doesn't always have to encompass your whole life, this is just a small part of "fandom." It's just that fandom is a little more colorful and bright.
I can see how MLP has not encompassed your lives by the way Peter wore the Pinky Pie plush toy on his shoulder. How did you get hooked on My Little Pony? And what medications were you on at that time?
BEN: Actually, I'm a Transformers Fan. Transformers is one of the three big franchises of Hasbro along with G.I. Joe and My Little Pony. One day, I was on the Transformers message board, which was linked to the other franchises. From there, I learned about the new version of MLP. Then I eventually helped promote MLP locally in toy fairs and mall shows.
I could understand the crossover appeal of colorful talking ponies with colorful talking robots, if I were under heavy medication. What makes this incarnation of MLP different from the one back in the '80s? I could only watch the '80s cartoon show under duress.
TRICIA: The show is the same people who made Power Puff Girls and Foster's Home for Imaginary Friends. So it's a cartoon for the young and young at heart!
(DOM representative: Young at heart!? I can relate to that.)
Not if you have an artificial heart.
At the end of the day, it's a good show. The writing is intelligent, the jokes are actually funny, and there are a lot of Easter eggs for older fans like references to Dr. Who and old war movies. The show doesn't underestimate our intelligence by talking down to us, so that translates to a show that adults can actually watch without vomiting.
I'll try to keep it in them.
The producers of MLP appreciate its popularity. That's why they plan to release a movie of My Little Pony on the same level as Transformers.
I can't wait to watch Michael Bay directing My Little Pony. Forty minutes of mindless Pony destruction. What do bronies do when you get together? Groom each other's manes? And do your activities need the approval of the Bureau of Animal Welfare?
Aside from snorting cinnamon, there's a lot of karaoke singing of the My Little Pony songs, which they know by heart. But they sing it an octave lower.
Blame it on the testosterone.
BEN: One of the highlights of our get-togethers is Peter's dancing.
PETER: I usually go with an MLP song that's been remixed for dancing.
So you dance like a horse? What's that like? Some sort of hip-hop dressage?
It's kinda like me flailing my arms around and people cheering me on.
That's some strong cinnamon. And finally, how big a ?"brony" fan are you?
TRICIA: Can I answer that? I came in full costume to Makati from my office in Ortigas on Friday night payday. That's how fanatic I am.
BEN: Me, too, actually. Cowboy hat and all.
PETER: My bedroom is full of Pinky Pie. And I carried my plush toy on my shoulder on the way to this interview.
And these are things you want me to make public through this article?
TRICIA: Let's put it this way. For those of us living with parents, every time they see our Pony stuff, they can always say, "At least it's not drugs."
* * *
For comments, suggestions or strong cinammon, email ledesma.rj@gmail.com or visit www.rjledesma.com. Follow @rjled on Twitter and @rjled610 on Instagram.
Join the My Little Pony "Ponycon" at SM Megamall Megatrade Center on June 7. Visit https://www.facebook.com/groups/phbronies/. No DOMs allowed.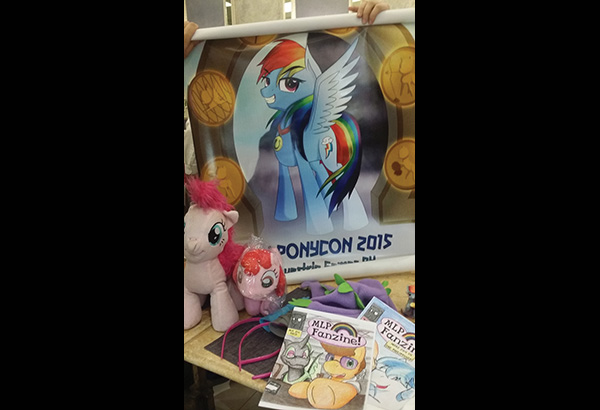 How Brony are you? The Pinoy Bronies makes their own comic books, plush toys and costumes based on My Little Pony.