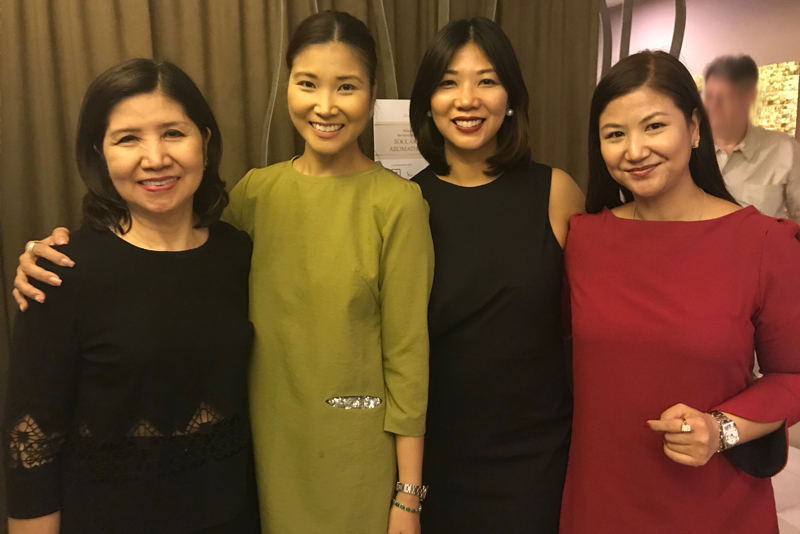 All in the family: Mom Malou del Rosario and daughters Leah, Lisa and Lynn own Tocarre Spa
In our very competitive environment it's very hard to start a business from scratch, yet there are women with a lot of guts, passion and determination to still succeed.
Leah Del Rosario Uy, 37, was only 22 when she started her first spa 15 years ago with her sister Liza. Right after graduating from De La Salle University, They opened Getaway Spa in Quezon City under Elohim Spa Solutions, Inc., and were one of the pioneers in the spa industry in the country.
Looking back, Leah says, "When I graduated from college, the first business venture I did was a 600-square-meter day spa in Quezon City. It was a booming time in the industry so that is what I managed day in, day out. It was very near our house, so I was there 24/7. I was managing it. Nakilala ako sa industry. A lot of clients approached me when they needed a consultant to set up their spas."
Leah became a consultant for Fitness First for all their spas nationwide. She set up a lot of spas in the country. "My sister and I flew to Bangkok to study the basic massage: Thai massage and oil. We studied locally and attended plenty of seminars, but it is really more of the experience — if you encounter the client day in and day out, you get to know what they want."
Fast-forward eight years later, and Toccare Spa was born in late 2010. It is a full day spa that offers body massage, body scrubs, body treatments, facial therapy, slimming solutions, hair removal and foot therapy.
"I was offered this place so my sister and I took it," Leah says. "We did not want to do freestanding, we wanted a hotel, so at least we have a captured market. We also have one in Astoria in Ortigas. Toccare means 'touch' in Italian. We want to touch your senses so when you start your treatment, you will be asked what scent you want, what music, what pressure. It is a complete day spa — steam, sauna, Jacuzzi, pool —we offer all the basic services."
Another sister who is an essential oil addict, Lyn del Rosario, now collaborates in the business. She is an architect but has an essential oil business on the side. She had been mixing oils long before the craze. She's tried many brands and even sources her avocado oil directly from Mexico.
Now she has her own brand: Tides Lifestyle. They have their own blends that are unique and smell good. Her aromatherapy is all therapeutic-grade and is now used at Toccare Spa, which now offers aromatherapy packages.
"Tides Lifestyle is a locally conceptualized and locally made brand," Lyn says. "All our products are natural and botanical. We source premium products from all over the world. We make sure that these are like-minded companies that practice free trade and other good practices, who think like us. We want to do something good, not just for ourselves but for nature and the community as well."
In 2011, she started another business called Fruits in Bloom, which sells fresh fruit arrangements. Her wish one day is to franchise this business.
According to Leah, the spa business is "stressful," but imagine owning your own spa. I wish I had my own spa so I can spa as much as I want and at the same time earn from it. More power to the Del Rosario sisters, who work together and enjoy the fruits of their labor as one family.
* * *
Toccare Spa is located on the 4th floor of Antel Spa Hotel Suites, Antel Lifestyle City, Makati Avenue. For information, call 555-1232.
Contact Fruits in Bloom at 805-8264.