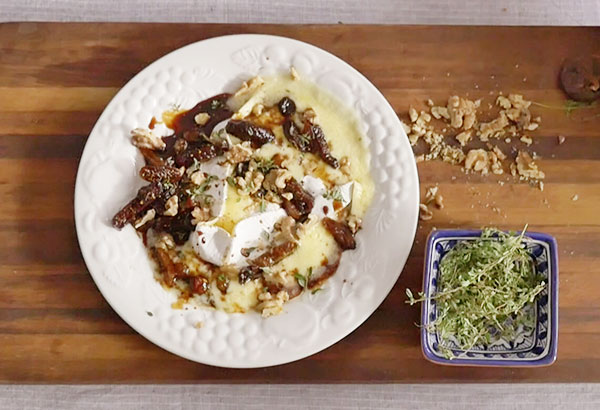 It seems like its been a cheesy month for me, but it is the absolute crowd pleaser! When hosting a party, any expert home entertainer will tell you that their favorite arme-de-guerre is a good cheese platter. A beautiful and bountiful board, done up with plump grapes languidly falling to the sides, little mountains of dried fruit and nuts waiting to be conquered… that golden moment when the cheeses have just begun to soften and bulge on the sides ever so slightly as if they gave out a gentle, heady sigh.
A good cheese platter set out before a dinner or during a cocktail can buy you some precious time while preparing the rest of the dishes. When served after dinner with a fresh green salad, as the French do, it allows you to do away with heavy courses, offering up a perfect, indulgent foil to a light, simple meal.
The standard rule is to offer a variety of cheeses: one hard, one soft, one blue and one wild card that could be a goat's cheese or smoked cheese. Choose your favorites but always try to have at least one mild option in case one of your guests has a sensitive palate. However, instead of offering a whole bunch of different kinds of cheese, sometimes it's nice to just choose two and get bigger pieces. For example, Brie is always a winner and something hard and sharp like aged Gouda or Manchego served with some jelly on the side. This is also a good, cost-effective option.
Grapes always look beautiful on a cheese platter. Keep the bunches whole and voluptuous. Small mandarins are a nice addition, too, and if you can get your hands on some plump, come-hither fresh figs, by all means throw them in there. Be generous with the dried fruit and nuts. You can choose a variety of each and scatter them sporadically throughout. Simply be aware of some nut allergies your guests may have and try to avoid those.
There is nothing worse than an overly contrived and over-prepared cheese board. Unless you are a hotel buffet or serving 100 guests, there is no need to cut things up into little cubes or squares. Nothing says "free sample" at a supermarket more than cubes of cheese with toothpicks sticking out of them. Channel your inner Ina Garten by keeping things rustic and generous. A little bit of a delicious mess is what you're aiming for.
When you host, it's always nice to take credit for at least one item, and let's face it: when you have a beautiful cheese board all, you've really done is throw a few things together. If you'd like to step up that "ooh, la la!" factor, try your hand at making this super-simple but oh-so-delightfully-sinful melted Brie recipe. The gentle oozing of lush, velvety Brie paired with that amber-gold drizzle of cognac and honey and that beautiful contrast of chewy dried fruit and toasted nuts… it's almost a sensual experience and looks so devilishly tempting that your guests won't be able to resist digging in.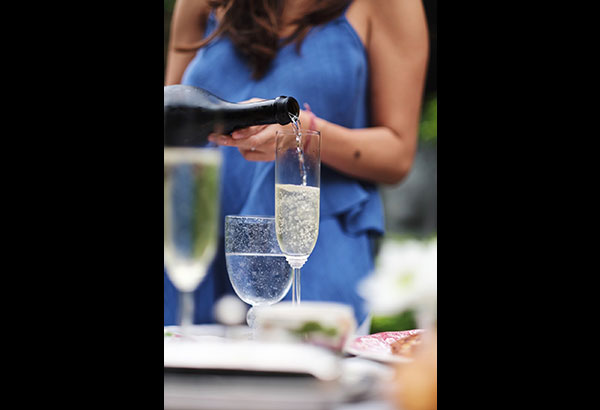 The perfect luxe companion to this indulgent dish: Pair with Brut Champagne with nice toasty, buttery notes.
* * *
Watch the video on my blog, www.stephaniezubiri.com, or on my YouTube Channel. Follow me on IG for more updates, recipes and tips! @stephaniezubiri and on FB as StephanieZubiri.com.
For more wine guides, recipes and entertaining tips, buy my book Feast With Me, available at select National Book Stores and PowerBooks.
Recipe File
Melty Brie With Flambeed Fruit And Nuts
(One serving good for 4-6)
Ingredients:
1 whole small Brie wheel or a generous slice of Brie
1/4 cup sliced dried fruit (figs, apricots, prunes, etc.)
1/8 cup brandy, cognac or Armagnac
1 tbsp butter
2 tbsps honey
2 tbsps toasted nuts (walnuts, almonds, hazelnuts)
Fresh thyme sprig for garnish (optional)
Crackers for serving
Procedure:
Remove the Brie from its packaging and make a cross-like incision in the center on top. In a microwave-proof serving dish, pop the whole Brie into the microwave and microwave on high heat for 30 seconds to a minute. In a non-stick pan, heat the butter, honey, fruit and brandy on high, then flambé. Pour this on top of the melty Brie, top with toasted nuts, and garnish with a fresh thyme sprig, if desired. Serve immediately with crackers.
Wine pairing:
Pair with a beautiful Brut Champagne with nice toasty, buttery notes — the perfect luxe companion to this indulgent dish. For less expensive options, look to sparkling wine done in the Traditional Method or in the Champagne Method. South Africa and Australia have some wonderful options.