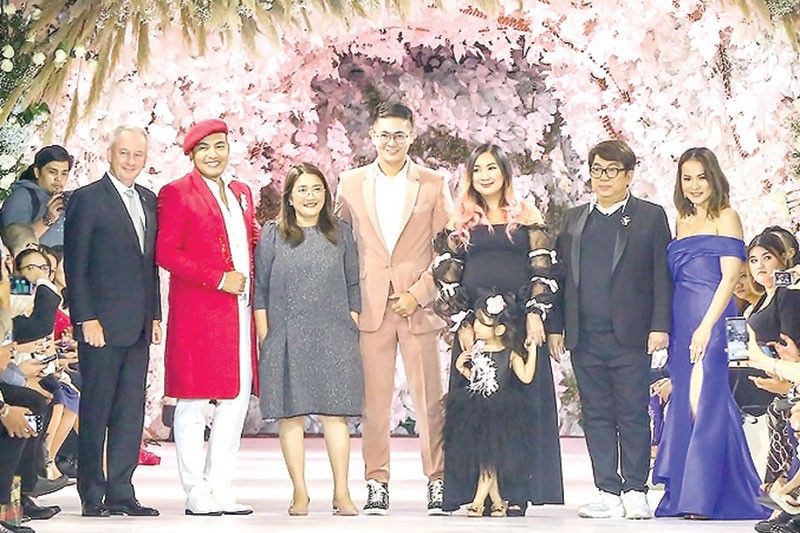 Marriott Hotel cluster GM Bruce Winton with designers Leo Almodal, Veluz Reyes, Michael Leyva, Cor Sunglao-Kho, Albert Andrada and Marriott Hotel cluster director of marketing communications Michelle Garcia
Bening Batuigas
Marry Me at Marriott wows with a new concept on its 7th year
(The Philippine Star) - September 8, 2019 - 12:00am
CEBU, Philippines — The 7th year of Marry Me at Marriott left the crowd in wonder and amazement as it unveiled another exciting iteration of the series. The grand ballroom revealed the stunning Indian, Western, and Chinese wedding-themed décor of Gideon Hermosa, Michael Ruiz, and Teddy Manuel.
One of the highlights that captured the imagination was "The Bride" wedding cake. Standing 68 inches tall and 75 inches in diameter, the cake was adorned with about 4,500 crystals, 150 edible roses, 40 peonies, and 1200 florettes with hand-piped "embroidery". At its base was 40kg of sponge cake, with 10 kilos of ganache filling covered with 80 kilos of homemade fondant. All in all, it took 200 kg of sugar and two weeks to make with three straight days of finishing.
Opening the night was the Bernie Pasamba Orchestra followed by the announcement of special awards with prizes that include luxury jewelries from Charriol, one million worth Ulthera treatment from Luminisce, and overnight suite accommodations at Marriott Hotel Manila, Sheraton Manila Hotel, and Courtyard by Marriott Iloilo. The performance of Ballet Philippines signaled the main event as the ballerinas led everyone to the grand foyer where guests from Manila's high society, local celebrities, and executives witnessed the bedazzled gowns of Leo Almodal, the illuminated laced pieces of Albert Andrada, the whimsical creations of Jun Escario, the celestial brides and grooms of Michael Leyva, the romantic silhouettes of Veluz, and the playful frocks and suits of Little Miss Lacey by Cor Sunglao-Kho. Donning these masterpieces were muses that included Marina Benipayo, Tessa Prieto, Nadine Lustre, Lovi Poe, Arci Muñoz, and Sanya Lopez.
A thanksgiving celebration
Last Aug. 6, Togo Consul Evie Costa, together with Vice Consul Gene Costa, hosted a celebration at her official residence. The traditional affair was well attended by guests from the diplomatic and consular community, as well as friends and colleagues. It was a pleasant evening filled with lively conversations and smiles among distinguished guests who enjoyed the hospitality and warmth graciously given by Consul Evie during the affair.