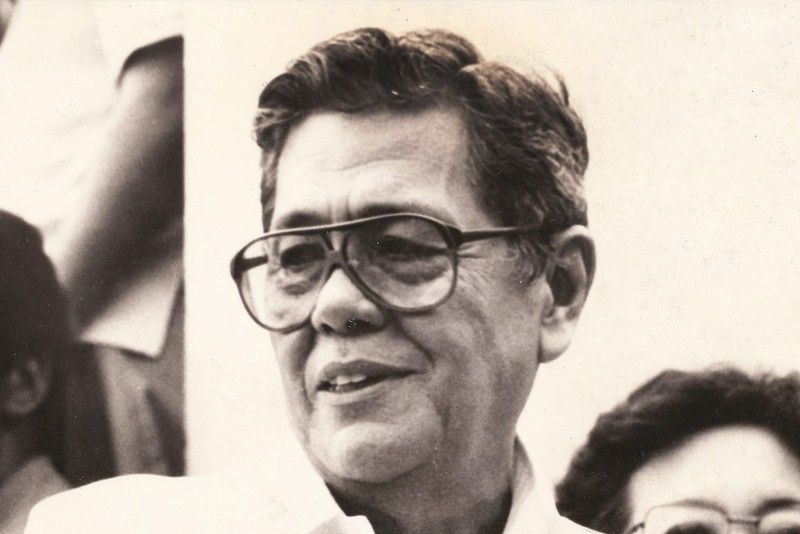 Jose W. "Ka Pepe" Diokno was known as a brilliant lawyer and human rights advocate. He topped the CPA Board Exams and, without finishing his law degree, also topped the bar examinations with a grade of 95.3 percent. He served as Secretary of Justice and was elected twice to the Senate. After he was imprisoned without charges under martial law, he founded the Free Legal Assistance Group (FLAG), which his son Chel now heads.
Photo courtesy of DIOKNO.PH
A message to new lawyers, from Ka Pepe Diokno
(The Philippine Star) - May 6, 2019 - 12:00am
With the release of the bar exam results this week, Chel Diokno relays a sobering and heart-tugging message for the next generation of lawyers.
To my new Pañeros, congratulations. The law truly is a noble calling. But passing the bar is only the beginning of your journey. It is up to you now, and your judgment, to navigate the waters of this profession. Do not expect smooth sailing — many times will be rough — and it is for this reason that I would like to read to you a letter that my father, Sen. Jose W. Diokno, wrote to my brother Popoy. It is a letter that I have read and re-read many times throughout my years as a lawyer:
"While chatting with a soldier, he asked, in all seriousness, "Sir, kailangan pa ba ang mga abugado ngayon?" And in a way that perhaps he did not intend, he raised a perfectly valid question.
"A lawyer lives in and by law: And there is no law when society is ruled, not by reason, but by will — worse, by the will of one man.
"A lawyer strives for justice; and there is no justice when men and women are imprisoned not only without guilt, but without trial.
"A lawyer must work in freedom; and there is no freedom when conformity is extracted by fear, and criticism silenced by force.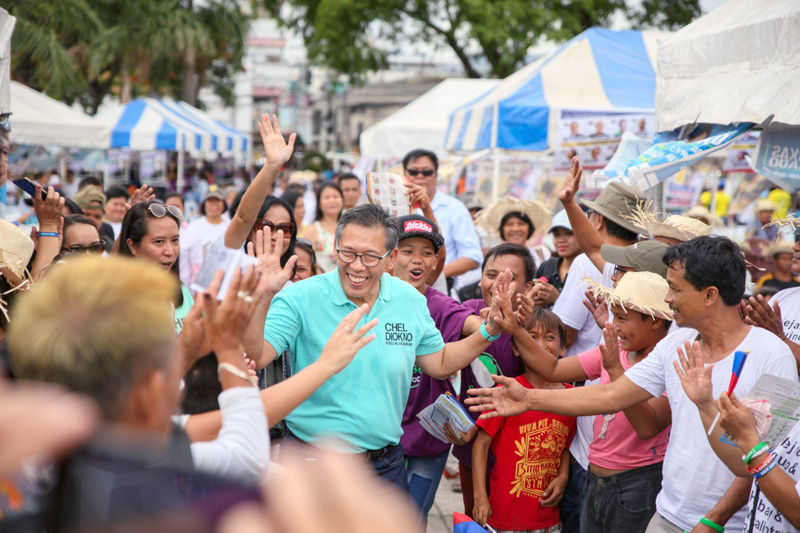 Following in the footsteps of his father, Chel is now the head of FLAG, one of the oldest and largest groups of lawyers in the country giving free legal services to those in need. Photo by WANDA DOMINGO
"A lawyer builds on facts. He must seek truth; and there is no truth when facts are suppressed, news is manipulated, and charges are fabricated.
"Worse, when the constitution is invoked to justify outrages against freedom, truth and justice, when democracy is destroyed under the pretext of saving it, law is not only denied — it is perverted. And what need do our people have for men and women who would practice perversion?
"Yet the truth remains true that never have our people had greater need than today for great lawyers, and for young men and women determined to be great lawyers.
"Great lawyers — not brilliant lawyers. A scoundrel may be, and often is, brilliant. But only a good man (or a good woman) can be a great lawyer; one that understands the weaknesses of men because he has conquered them in himself; one that has the courage to pursue his ideals though he knows them to be unattainable; one that could so command respect that he could persuade and need never resort to force.
"For men and women of this kind, our country will always have need — and now, more than ever. For the madness that holds our nation must end, if not in my lifetime, at least in yours. We Filipinos are proverbially patient, and we are also infinitely tough and ingeniously resourceful. Our entire history as a people has been a quest for freedom and dignity; and we will not be denied our dream.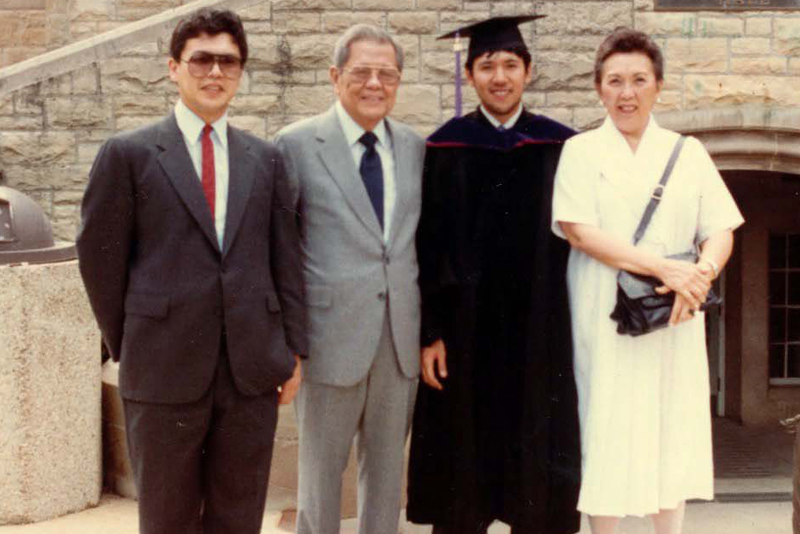 Chel Diokno at his graduation from the Northern Illinois University, flanked by his father Sen. Pepe, his mother Nena, and his brother Mike. Chel finished at NIU Juris doctor, magna cum laude. He later passed the bar in the State of Illinois and in the Philippines, and chose to serve in his own country. Photo courtesy of DIOKNO.PH
"So this madness will end; the rule of force will yield to the rule of law. Then the country will need its great lawyers, great engineers, great economists and managers, the best of its men and women to clear the shambles and restore the foundations of that noble and truly Filipino society for which our forefathers fought, bled, and died.
"But always bear these things in mind: the law is a demanding profession, exacting a constant and unswerving devotion that is always a thinking obedience to its ideals, and that is much harder to give than a blind obedience.
"The rewards of law are not in wealth or even in fame, but in the respect of your peers, in the excitement of the chase after justice, and in the satisfaction not only of service to your clients but of having somehow shaped the future by molding the law of today."
My new Pañeros, I am not discouraging you, but merely trying to paint the lawyer's role as accurately as I can. I have loved the law, and I have always been proud of being a lawyer. I am optimistic that we can commit to do the best for this country. Together, we can build the foundations of a noble and truly Filipino society. Once again, congratulations.— Chel Diokno
* * *
Chel Diokno is the founding dean of the De La Salle University College of Law, the head of the Free Legal Assistance Group, and a candidate for Senator. Visit http://facebook.com/cheldiokno for more information.