The reason you get up in the morning
February 25, 2019 | 12:00am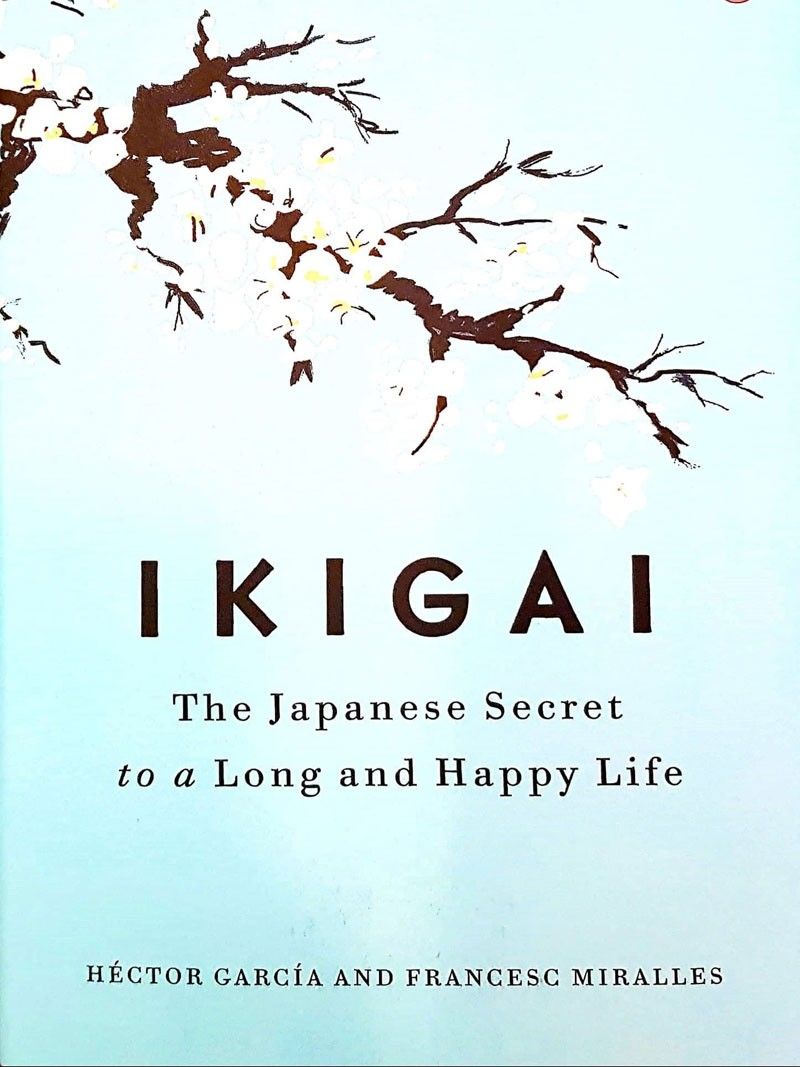 Over the holidays, I received an inspiring book called Ikigai: The Japanese Secret to a Long Happy Life, co-authored by Hector Garcia and Francesc Miralles. The excellent read covers various aspects that can help you attain a long, happy life. It is based on a traditional, well-practiced Japanese technique called Ikigai.
Ikigai is a Japanese term written by combining the symbols for "life" with "to be worthwhile." It translates roughly as "the happiness of always being busy." With it, there is passion inside you, a unique talent that gives meaning to your days and drives you to share the best of yourself until the very end. It varies from person to person, but there is one commonality: everybody is searching for meaning. When you feel connected to what is meaningful to you, you live more fully; when you lose the connection, you experience hopelessness.
Ikigai is concealed deep inside you, and discovering it requires uncomplaining exploration. If you ask those born in Okinawa, the island with the most centenarians in the world, their Ikigai is "the reason you get up in the morning." Once you come face-to-face with your Ikigai, pursuing it and nurturing it every day will bring meaning to your life. It is having an important purpose in life, and you are urged to relax and enjoy what you do.
The book also explains the deep art of staying young while growing old. It provides references to the five Blue Zones in the world — places where residents live longer than average: Sardinia, Italy; Okinawa, Japan; Loma Linda, California; Costa Rica's Nicoya Peninsula; and Ikaria, an isolated Greek island.
Ikigai in its truest sense is a combination of your passion, your mission and your profession. Your Ikigai can be very clear, but also something you're still looking for (which on its own may be your Ikigai). Here are some good concepts and advice from the tome:
Be free from too much stress. Many people seem older than they are. Research into the causes of premature aging has shown that stress has a lot to do with it. The American Institute of Stress investigated this degenerative process and concluded that most health problems are caused by stress. Typical of modern societies, people go through an "existential crisis" in which they do what they are told, or what others do, rather than what they want to do. They often try to fill the gap between what is expected of them and what they want for themselves with economic power or physical pleasure, or by numbing their senses. Those who give up the things they love doing and do well lose their purpose in life. That's why it's so important to keep doing things of value, making progress, bringing beauty or utility to others, helping people, and shaping the world around you, even after your "official" professional activity has ended.
Adopt the Morita therapy. It focuses on teaching patients to accept their emotions without trying to control them, since their feelings will change because of their actions. It is grounded in a personal, unique experience that you can access without therapists or spiritual retreats: the mission of finding your Ikigai, your existential fuel. Once you find it, it is only a matter of having the courage and making the effort to stay on the right path.
Find the flow in everything that you do. And find the meaning of being in the flow as well. If you have discovered the meaning of your life, you need to completely immerse in the experience without being distracted and you attain the flow. The happiest people are not the ones who achieve the most; they are the ones who spend more time than others in a state of flow. To achieve this optimal experience, you must focus on increasing the time you spend on activities that bring you to this state of flow, rather than allowing yourself to get caught up in activities that offer immediate pleasure.
Concentrate on one thing at a time. It may be the single most important factor in achieving flow. Japanese people often apply themselves to even the most basic of tasks with an intensity that borders on obsession. Your ability to turn routine tasks into moments of micro-flow, into something you enjoy, is key to your being happy, since you must do such tasks.
Live by the principle of ichariba chode. It is a local expression in Ogimi, Okinawa, that means 'treat everyone like a brother, even if you've never met them before."
Walk slowly and you'll go far. When you leave urgency behind, life and time take on new meaning. Being in a hurry is inversely proportional to quality of life. Be busy with important tasks but do everything with a sense of calm. Always pursue your Ikigai, but never be in a rush.
Know the secrets of the centenarians and super-centenarians. Interviewing the eldest members of the Ogimi community about their life philosophy, their Ikigai, and the secrets to longevity, the following were revealed: To live a long life, don't worry; cultivate good habits; nurture your friendships every day; live an unhurried life; be optimistic; eat and sleep well; learn to relax.
The key to staying sharp in your old age is in your fingers. From your fingers to your brain, and back again. If you keep your fingers busy, you'll live to see 100.
Realize that the only thing that really exists, and what we can control, is the present. You should not worry about the past or the future, but appreciate the things that are here right now. Keep in mind that things or persons are not here forever with you, but not in a way that will make you worry about it. The realization that everything or everyone is temporary should lead to a greater appreciation for life.
Be resilient always. Resilience is the ability to get through a setback and to overcome it positively. You can do this by living in the moment. In Japanese this is called "wabi-sabi," a technique that talks about finding beauty in imperfect, incomplete things. In this concept, flawed is preferred over perfection. The Japanese believe that only imperfect, incomplete and ephemeral things are beautiful because they resemble nature. This means that you should try to see the beauty of everything that is perishable, changing and imperfect. Emperor Marcus Aurelius said, "The things we love are like leaves on a tree; they can fall anytime when the wind pops up."
Stay physically active: A sitting existence is the "enemy of staying young." Walk to work or walk for fun for at least 20 minutes a day. Don't use an elevator or escalator; use your legs. Moderately intensive activity equals a longer life.
Enjoy sufficient rest and sleep. It is important to rest your body and your mind. After rest and sleep, go out, enjoy nature and its glory and splendor.
Eat a healthy diet. It is extremely important to eat a variety of foods and not to overeat. The centenarians eat hardly any sugar. Only once a week do they choose cane sugar. They eat a lot of tofu, sweet potatoes and about 300 grams of vegetables per day, choosing mostly plant-based food, grains, and eating small portions of everything several times a day.
Develop strong social ties with family, friends and neighbors. In Okinawa, the moai (a social network) spend a lot of time together by meeting regularly and supporting each other in difficult times.
Stay mentally strong. It's important to keep using your brain. This can be done by brain training or by looking for new situations to experience.
Live the 10 rules of Ikigai: Stay active; don't retire; take it slow; don't fill your stomach; surround yourself with good friends; get in shape for your next birthday; smile; reconnect with nature; give thanks; and live in the moment. And most importantly, follow your Ikigai. Mundo Rano said, "We find our Ikigai by concentrating on what is important, rather than what is urgent. By constantly keeping an eye on what feels good, we are able to discover what our passion is."
* * *
Email [email protected]