We need to push harder for MSME development
December 31, 2018 | 12:00am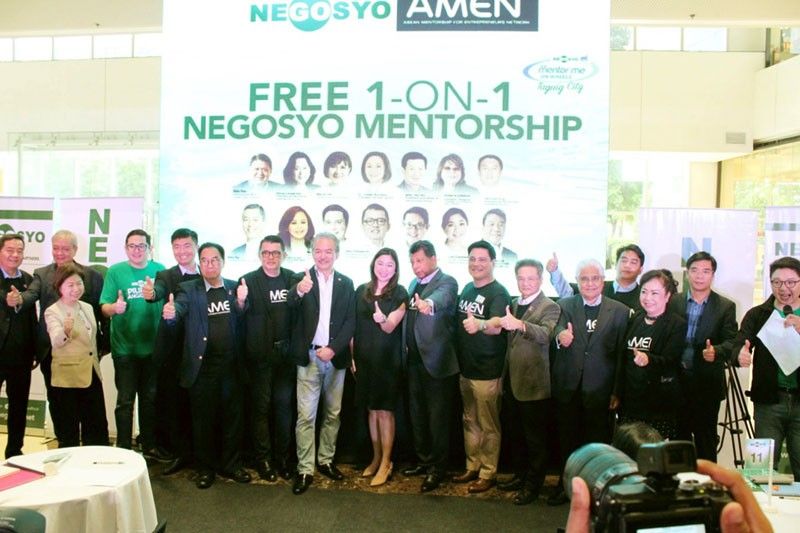 As the Presidential Adviser for Entrepreneurship, it is my mission to hasten support for our micro and small entrepreneurs while fulfilling my role as the founder of Go Negosyo, chairman of the ASEAN Business Advisory Council Philippines and vice chairman of the Micro, Small and Medium Enterprises Development (MSMED) Council. We — along with our partners in government, especially the Department of Trade and Industry, under the leadership of Sec. Ramon Lopez — are doing our best to help our micro and small entrepreneurs. ?Likewise, our efforts in helping the agricultural and tourism sectors also remain a priority, as addressing these will help reduce poverty. ?With President Rodrigo Duterte entering the second half of his term, we need to push harder for MSME development, seeking both support and teamwork from public and private sectors.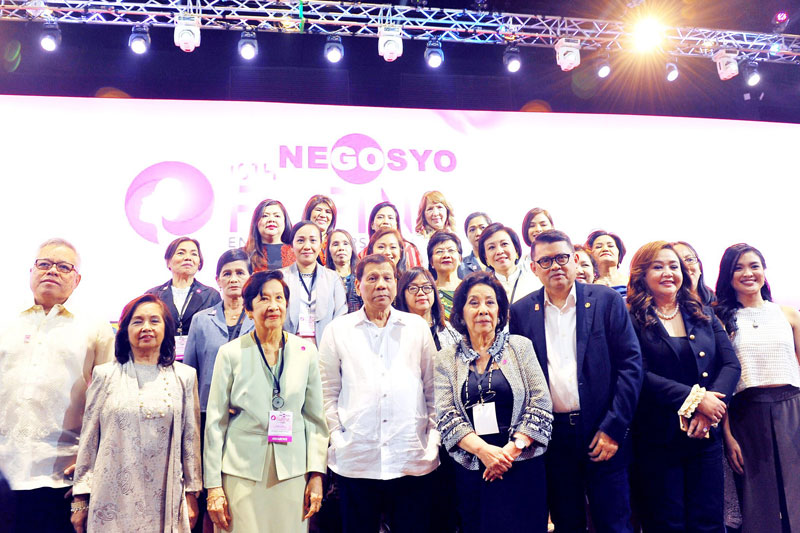 With the 2018 Go Negosyo Inspiring Filipina awardees: (first row) DTI Sec. Ramon Lopez, former President Gloria Macapagal-Arroyo, Dr. Lourdes Montinola, President Rodrigo Duterte, Legacy awardee Helen Yuchengco-Dee, Alice Eduardo, Aya Fernandez; (second row) Lydia Codinera, Abdulia Austria, Angelene Calungcaguin, Merle Paete, Mica Tan, Armanda Battad, Florencia Tarriela, Jeannie Javelosa, Edilee Omoyon, Edelyn Canero, Kathleen Yu; (last row) Zarah Juan, Warblitz Martinez, Mary Grace Arboleda-Young, Olivia Puentespina and Rissa Mananquil-Trillo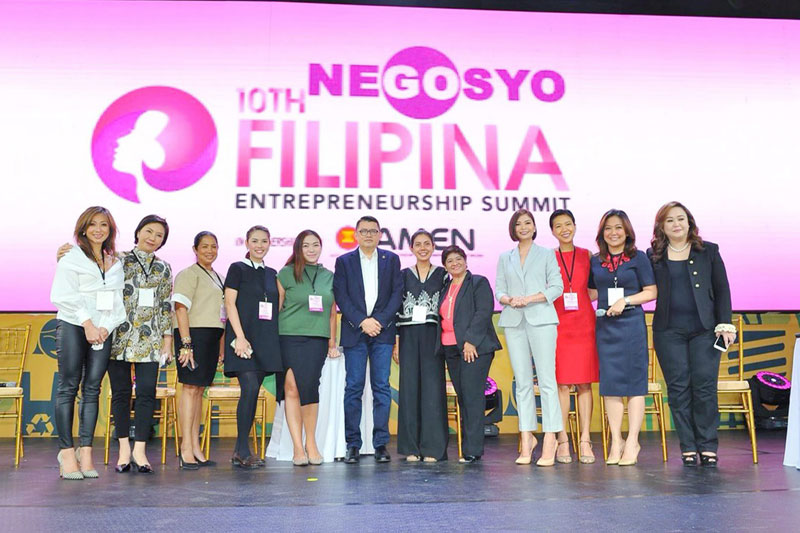 Forum four highlights the stories of Norlela Suhailee, chair of ASEAN Coordinating Committee for MSMES; Mah Khine Zaw, CEO of Earth Group of Companies; Felicia Atienza, president and CEO of Chinese International School Manila; Gaita Fores, president of Cibo, Inc.; Josephine Costales, chair of Costales Nature Farms; Rissa Mananquil-Trillo, cofounder and chief brand officer of Happy Skin; Neri Miranda, celebrity entrepreneur; Lenora Cabili, founder and creative designer of Filip + Inna and Charisse Tinio, owner of Nice Print Photography.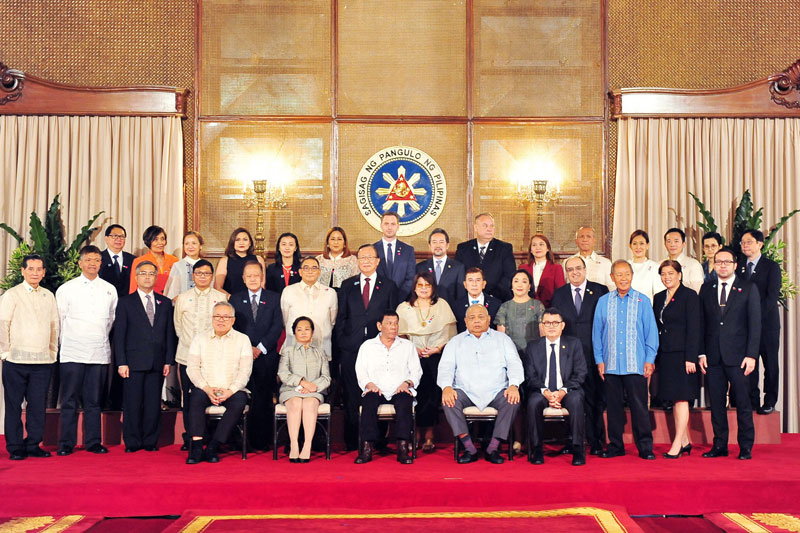 With the Pilipinas Angat Lahat Alliance members: (seated, from left) Sec. Ramon Lopez, Speaker Gloria Macapagal-Arroyo, President Rodrigo Duterte, Executive Secretary Salvador Medialdea; (standing, first row) Domingo Yap, Fr. Jose Victor Lobrigo, Paul Santos, Armando Bonifacio, Benjamin Castillo, Ramoncito Fernandez, George Barcelon, Ma. Alegria Sibal-Limjoco, Feliciano Torres, Ma. Asuncion Golez, Rex Daryanani, Bobby De Ocampo, Ma. Victoria Espano, and Richard Sanz; (standing, back row) Josefino Sarmiento, Michelle Cordero-Garcia, Monette Hamlin, Catherine Salceda-Ileto, Joyce Co-Yu, Arlene Padua-Martinez, Florian Gottein, Ho-Ik Lee, James Wilkins, Christine Salangad- Pardiñas, Danilo Lachica, Rhoda Castro-Caliwara, Robertson Chiang, Michelle Cordero-Garcia and George Siy.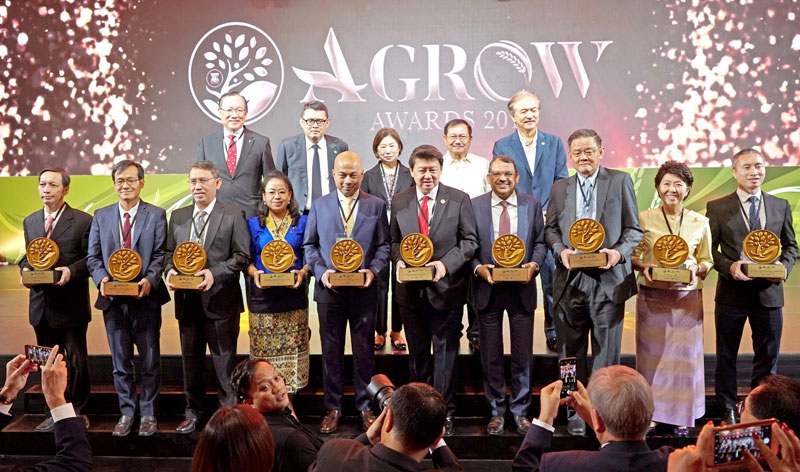 The first batch of Golden Agrow Awardees at the ASEAN Agriculture Summit 2018 held last Oct. 1 at the SMX Convention Center: Huang Ho Agricultural Farms' (Brunei) secretary general Choo Jun Lee; Amru Rice Co., Ltd.'s (Cambodia) chairman and CEO Saran Song; GarudaFood's (Indonesia) director of manufacturing Rudy Brigianto; Burapha Agroforestry Co., Ltd.'s (Laos) deputy CEO Souphayvanh Thiengchanxay; Kuala Lumpur Kepong Berhad's (Malaysia) operations director Samuel Teh Sar Moh Nee; Myanma Awba Group Co., Ltd.'s (Myanmar) chairman and group CEO U Thadoe Hein; SL Agritech Corp.'s (Philippines) chairman and CEO Dr. Henry Lim Bon Liong; Olam International Ltd.'s (Singapore) cofounder and group CEO Sunny Verghese; Swift Co., Ltd.'s (Thailand) managing director Paphavee Suthavivat; and ITA Rice Fragrant Rice Research & Export Corp.'s (Vietnam) general director Tran Hoang An.