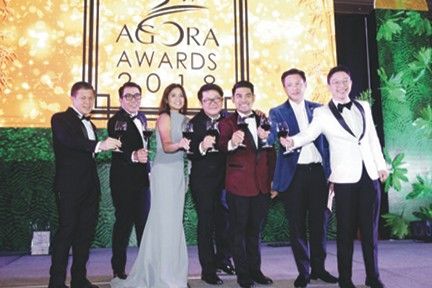 The Agora Awards has been the beacon of marketing excellence in the country and is a distinction for Filipino luminaries in marketing.
Released
Top Filipino marketing professionals, companies lauded at Agora Awards
(philstar.com) - October 31, 2018 - 6:00pm
MANILA, Philippines — Since its establishment, the Agora Awards has been the beacon of marketing excellence in the country and is a distinction for Filipino luminaries in marketing. The Agora Awardees represent the who's who of the marketing profession in the Philippines, applauding remarkable companies and individuals who have successfully navigated the ever-evolving business landscape.
Last October 19, members of the Philippine Marketing Association recognized such companies and individuals, spotlighting versatility, innovativeness and ingenuity.
Awards were given based on the following categories: Marketing Company of the Year, Outstanding Achievement Export Marketing, Outstanding Achievement in Advocacy Marketing, Outstanding Achievement in Marketing Management, Outstanding Achievement Overseas Marketing, Outstanding Achievement Marketing Communications, Outstanding Achievement Entrepreneurship (Small, Medium, Large).
With the theme "Crazy Rich Asians," the prestigious event was well attended by the top marketing practitioners of the country.
Senator Sonny Angara kicked off the awards ceremony with a speech, encouraging and reminding the marketing industry that it is their responsibility to continue to invoke changes in society and to foster solidarity instead of creating divides.
"As revealed by a study conducted by McCann Truth Central, 92 percent of young Filipinos believe that global brands have the power to make the world better. The same number also believe that these brands have more power to make change than the government has, that's why it is crucial to engage the Filipino youth, who will not only be the heirs of this country, but also, in fact, be the generation that is most empowered and equipped to make changes in society," Angara said.
Indeed, the marketing industry has the power to break barriers and to bring people together in a shared passion for advocating Filipino brands, culture and lifestyle, as well as to bring together companies towards the common goal of nation-building.
Most Outstanding Achievement in Overseas Marketing
Edgar Allan Caper, marketing director for KFC Guam, received the award for Outstanding Achievement Overseas Marketing.
Born in Marikina and a proud product of the public school education, his story is that of a rags-to-riches one. He first started as a dishwasher for a popular pizza restaurant before rising from the ranks into the marketing professional he is today. He credits his success to his mentors, family, friends and husband for their support.
"I am very sure that I will be stumbling and falling, I may be the Agora awardee tonight, your KFC marketing director, your marketing consultant but I am still that ordinary 37-year-old gay guy ,and if there's anything that I have achieved it was only possible because I have all those people at the back, right by my side," he said during his speech.
Most Outstanding Achievement in Marketing Communication
Melvin Magada, managing partner and chief creative officer of TBWA/Santiago Mangada Puno, was awarded for Outstanding Achievement in Marketing Communication.
He was one of the most influential figures in Philippine advertising, so much so that he was inducted as 4A's Creative Guild of the Philippines' first Hall of Fame member. He achieved another first by steering TWBA/SMP to win 4A's Agency of the Year award five times.
"The truth is, no one knows where or how to create the perfect formula for a successful communications campaign. Marketers and even ad people, rely heavily on research, facts, figures and data, and yet, even backed with huge budgets they are never 100 percent sure if their campaigns will be a success.
"There are no wrong moves, nor are there right moves. In my experience, instinct, intuition, imagination and emotion seem to be more reliable with age when it comes to engaging the Filipinos," he said.
Most Outstanding Achievement in Entrepreneurship-Small Enterprise
Entrepreneur, television host, writer, and actor RJ Ledesma co-founded the Mercato Centrale with his business partners. He shared that the concept for the food market operator came from his wife, Vanessa, while vacationing in Europe.
And while he was standing onstage to receive the award, he happily received it on behalf of his team, to which he stressed that their team effort came with "a lot of blood, sweat, sisig and isaw."
"This award reaffirms Mercato's commitment to supporting the growth of food-biz entrepreneurship, job in tourism and inclusive business models in our country," he said.
Aside from thanking his family, friends and business partners, Ledesma also thanked the food entrepreneurs who over the years have trusted Mercato Centrale to be part of their entrepreneurial dreams, as well as their returning customers for supporting the whole endeavor.
Most Outstanding Achievement in Entrepreneurship-Medium Enterprise
Cult favorite Carmen's Best has captured the hearts and taste buds of Filipinos—and even Pope Francis'—through their delicious premium ice cream.
The company has come a long way since it started with a portable ice cream maker and four flavors, back in 2011. The company grew, boasting more than 30 flavors including Salted Caramel, Malted Milk, Pistachio, Tres Leches and Hokey Pokey.
Founder and president Francisco "Paco" Magsaysay thanked his parents, children, cousins and friends who continually supported and encouraged him while establishing and running the company.
Most Outstanding Achievement in Entrepreneurship-Large Enterprise
Pizza Pedrico's were the pioneers when it came to frozen-fresh pizzas, and through the years they have built the market and business systems making it the dominant market leader in the frozen-fresh pizza segment with a network of over 800 stores and counter-top operations in the country.
A devout Born Again Christian, Kerwin Tansekiao's shared how he felt that he was being tested by God and how it was only now that he was rewarded for his faithfulness and surrender to His will. Aside from the Almighty, he thanked his family, friends, business partners and his team and shares the recognition he received with them.
"The journey of brand building and entrepreneurship may be hard and full of challenges but the journey is always met with the blessing of great people who walk and run and jump, and literally swim with you as you create a better world to bless more, to the great God who only want the best for all of us in Christ Jesus," he said.
Most Outstanding Achievement in Export Marketing
Century Pacific Food Inc. received the Outstanding Achievement in Export Marketing. It was a pioneer tuna canning facility focusing mainly on processing and exporting the abundant supply of tuna in Philippine waters.
Through the years, it has grown to include processing canned meats, dairy, and mixes, as well as tuna exporting. Their overseas markets include North America, Europe, Asia, Australia and the Middle East.
Greg Banzon, chief operating officer, shared, "We would literally go country to country, finding the right way to present Filipino products to the global market. It wasn't easy but I guess at the end of the day, we are very happy and proud to report that according to the Nielsen data, we are the number one supermarket brand in China, for Century Tuna."
"We are also in the top three canned tuna brands in the Middle East, especially in the United Arab Emirates, as well as the leading brand for cup noodles in the Middle East and in North America. And we are one of the fastest rising brands in North America and the United States.
"This would not have been possible without the inspiration and guidance of our company purpose and vision which is very simplistic, 'to nourish and delight, everyone, everyday, everywhere.' The last word is what inspired us to really push in bringing Filipino brands all over the world and, proudly, I announce that we are in 60 countries and we hope to continue to grow and take market leadership positions where possible," he added.
Most Outstanding Achievement in Advocacy Marketing
As one of the leading fuel retail players in the country, Pilipinas Shell Petroleum Corp. aims to provide quality products and trusted service to Filipino motorists across the country. Over the years, they have strived to continue to develop smarter products and services, and a reliable partner of the Filipino consumer in their everyday journeys.
Their Pilipinas Shell Foundation Inc. (PSFI) has existed for over 35 years and has touched millions of Filipino lives through their efforts to help fight Malaria in the Philippines, as well as has give access to energy and through their local small investors program. The island of Palawan has benefitted the most from the efforts of PSFI.
"With all these programs showcasing our commitment for sustainable development, Shell Philippines shall always strive to maintain good balance in doing business and playing a positive role in society," Cesar Romero, country chairman for Pilipinas Shell Petroleum Corp., said.
"We're always aiming to strengthen our industry leadership to create a world-class investment case for our shareholders, remain a good corporate neighbor and to be partners with the Philippines in its nation-building efforts," Romero said.
Marketing Companies of the Year
A first in the Agora Awards history, two companies have tied for the prestigious award of Marketing Company of the Year, Vista Land and Lifescapes, Inc. and SM Supermalls.
To be recognized for this, the company — or companies, should be established and founded in the Philippines, has successfully operated for at least 10 years and has successfully marketed a Filipino brand through innovative measures.
SM Supermalls is the biggest developer and operator of world-class shopping centers with over 60 malls in the Philippines and seven in China — a far cry from its humble beginnings as a shoe store in Manila. Its mission and vision is to become Asia's most popular mall chain through constant innovation and partnership with the world's best retailers.
The SM Group has had a few Agora Awards under its belt. Its first award was in 1999, where Henry Sy Sr. was presented with the Agora for Outstanding Achievement in Entrepreneurship – Large Scale. In 2004, the SM Foundation received the Agora for Outstanding Achievement for Advocacy Marketing.
By receiving the Agora for Marketing Company of the Year, it has given the SM brand a defining milestone as the conglomerate continues to immortalize Henry Sy Sr.'s dream to serve and bring smiles to millions of Filipinos from all over the country.
"We owe our success to our customers and partners who continue to love and share innovation of the SM brand. 2018 is a special year for us. It has been 60 years since our founder Herny Sy Sr. opened his first shoe store in Carriedo. Known as the Father of Philippine retail or "Tatang" to his family, was first and foremost an innovator than a marketer," Steven Tan, chief operating officer of SM Supermalls, said.
"He was the first to open his shoe store during lunch break and Sundays, he was always thinking ahead of the customer. Thirty years ago, he opened SM North-EDSA in the swamplands of Quezon City and he never looked back. This is truly a total company victory that pays tribute to the holistic approach of SM Supermalls' passion for innovation," he added.
Meanwhile, Vista Land and Lifescapes Inc. is the Philippines' largest homebuilder, having constructed about 500,000 homes in 47 provinces, and 143 cities and municipalities in Luzon, Visayas and Mindanao. They are the undisputed leader and recognized authority in homebuilding and community development in the Philippines.
The company is among the top listed property firms in the country in terms of total assets, earnings and market capitalization. With brands such as Brittany, Crown Asia, Camella and Vista Residences, among others, Vista Land caters to all income segments in the different provinces of the country.
They build communities that foster families and neighborhood relationships, value the rewards of hard work and reflect responsible use of resources and the environment.
"The initiatives that we have taken this past year were ideas turned into reality by the work by our own internal corporate, brand, research, media, creative and operational marketing teams. It was a dedicated effort also made possible by the inputs and insights of our partners, agencies and suppliers. This synergy is part and parcel of what we are celebrating and, actually, I would like to say that without so many of the people and friends here tonight, Vista Land would not be here to receive this award," Camille Villar said.
She continued, "Winning this award tonight is a testament to the passion, work and love that the company and our team has put into the brands we have built through the years. We from Vista Land would not be standing here in front of you today if we were not inspired by the same passion, hard work and undying brand love that my father, Manny Villar, has continuously shown and taught us these past 40 years.
"He was the perfect example of a man relentless in the pursuit of his dream — and now also our dream, to build a roof over every Filipino's head, to build truly world-class communities for our fellow countrymen and ultimately to build a better nation. And I hope that we will continue to produce work that will not only bring results but work that builds better lives and ultimately towards realizing the dream of a better nation," she concluded.