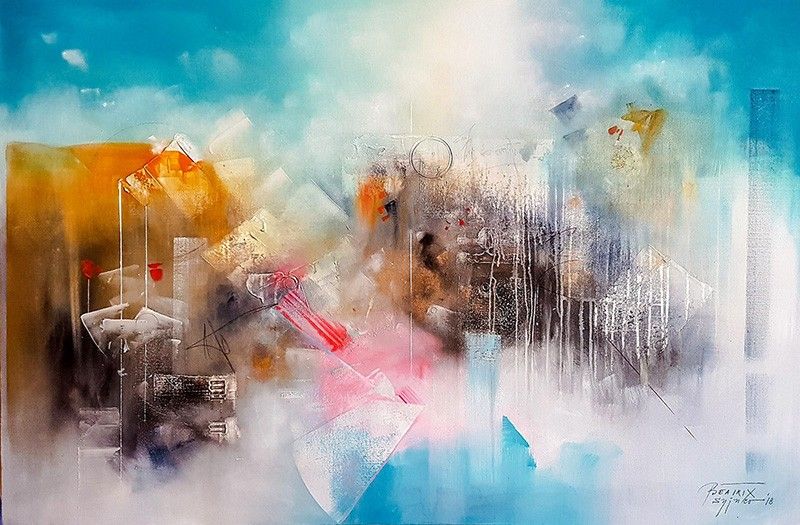 Trix Syjuco's "Awakening Final" — of one her large-scale paintings in her recent exhibit at Kurbatoff Gallery in Vancouver
Syjuco family art: Good genes and juju
At a memorable dinner hosted last month by Cesare, Jean Marie and Maxine Syjuco — with writer-friends toasting the memory of Cirilo Bautista who had been Cesare's professor at DLSU — my initial eureka was over comadre Jean Marie's culinary excellence, which certainly matches her better-known artistic proficiency.
The epiphany was occasioned in particular by the best pastel I ever tasted. Served in individual ceramic bowls, its crunchy crust gave way to the discovery of delicious broth, before the chicken, chorizo, potatoes, carrots, peas and herbs completed the gratification.
That bowl was enough to entirely address my appetite (well, after the charcuterie appetizers that also included green cheese), limiting me to token servings of lechon and an eggplant dish in favor of several other palatable offerings.
Maxine, whom I hail as "O GGGG!" for reasons she alone knows (one of the repeated letters stands for "goddess"), led us to her studio for post-prandial chilling, this amid genius — oops! — evidence of her arresting art. But a brief conversation with my comadre also put me up to speed on the irrepressible progress of her genetically advantaged progeny.
Well, my godson Jules (the bunso), his brother A.g. in Chicago, and youngest sister O GGGG! did it again this year, with their music band Jack of None reaping two wins and eight nominations from the Independent Music Awards at NYC last March.
Michelline or Mickey has gone from strength to strength, following up on the success of her jewelry and sculpture show in Paris last year by focusing on excellent representational paintings that were exhibited last January, and scored a sell-out.
O GGGG! is busy preparing for an exhibit at Shangri-La's Galerie Stephanie, plus a group show in London later this year. Indeed, her studio regaled us with ethereal paintings that showcased winged ladies among photo-montage dream settings.
That left one more daughter, the missing middle one, what's her name again? Oh yes, my former podner in an art and culture TV show billed as Illuminati, the "pards/babe" Beatrix or Trix. She's been missing locally only because she's been executing her art in Vancouver, her birthplace.
And what do you know, even as we were speaking about her, that Friday the 15th of June turned out to be the eve of her solo show opening at the Kurbatoff Gallery, as part of the 7th annual South Granville Galleries Association "Art Walk."
South Granville Street is where Vancouver's leading art galleries are located, a three-km. bus ride from where Trix maintains a cozy apartment cum studio downtown.
True enough, revived correspondence a day after her show opening included images of Trix Syjuco's painting exhibit billed as "Phantas(Mal) Content" — which also featured a performance titled "Half Past Time."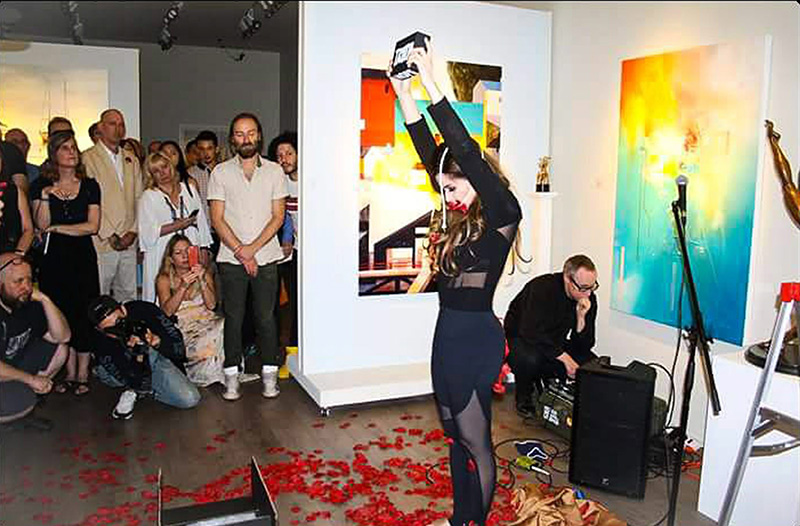 Trix performing "Half Past Time" at her show opening
Wrote Trix: "I chose deliberate wordplay here, combining the idea of 'phantasm' and 'malcontent' to convey my concern for the rapid decline of good morals, values and traditions within society today. This is something I'd long noticed back home, but became even more apparent when I moved to Vancouver. There is very little warmth and so much detachment from human connection, and most of my paintings were deeply inspired by the thoughts provoked by that observation."
Her performance act addressed the same concerns, while "championing the idea of hope and my faith in the resilience of the human spirit." About 20 minutes long, it involved red rose petals that symbolized timeless beauty and truth, as well as other notable found objects that included an old crank music box playing Somewhere Over the Rainbow and a hand-sewn dress that took her days and nights to make,
She slipped into this towards the end of the performance, transforming herself into a "porcelain doll" like the one found inside the music box. Unknown to the audience, she also gradually transformed them and the entire gallery into a music box — with lengths of soft fabrics draped around the crowd to "weave them together as a reminder that we are all in this world and its challenges together."
Main collaborator was sound artist Sam McKinlay a.k.a. "The Rita," who created noise art to contrast with the melody of the music box. Adam McPhee played a 1940s diatonic accordion to accompany Trix's movements, while Arran Saul facilitated the weaving of fabrics among the spectators. Leo Award-winning filmmaker Mike McKinlay took care of the video documentation.
Four large paintings made up the exhibit, with an average size of 4x5 feet each. Trix had sent a digital kit via email with her bio, artist's statement and photos of her works to Elena Kurbatoff, who ran the gallery. She was asked to present her actual paintings the next day, and immediately signed on, with Elena and her husband Constantine enthusing that Trix's abstract paintings were a breath of fresh air compared to anything they had seen. They also decided to have Trix as their featured artist for Art Walk 2018, to give their gallery an edge over all the others.
Last last year, barely a month back in Vancouver, a random meeting led The X-Files' set designer James Willcock to ask Trix to create a large-scale triptych mural for the "boardroom scene" featuring villain Barbara Hershey for Episode 2, Season 11.
Indeed, good fortune ushers in brave young talent. Trix says she'll continue to work on abstract paintings that will be hybrids of her old grayscale series and her new vibrant-colored one — as "portraits of my heart and mind at work."
In Manila, her works grace the Shangri-La at the Fort Presidential Suite and the lobbies of other prominent hotels and buildings, including Shangri-La Horizon Homes, Vibal Publishing House, Araneta Cyberpark Towers, and Rockwell developments.
So there, that's our latest wrap-up on the amazing Syjucos, whom Cesare and Jean Marie made sure would blaze their own trails in the art world with their own respective levels of fine art and great juju.