MasterCard breaks boundaries through easier payment methods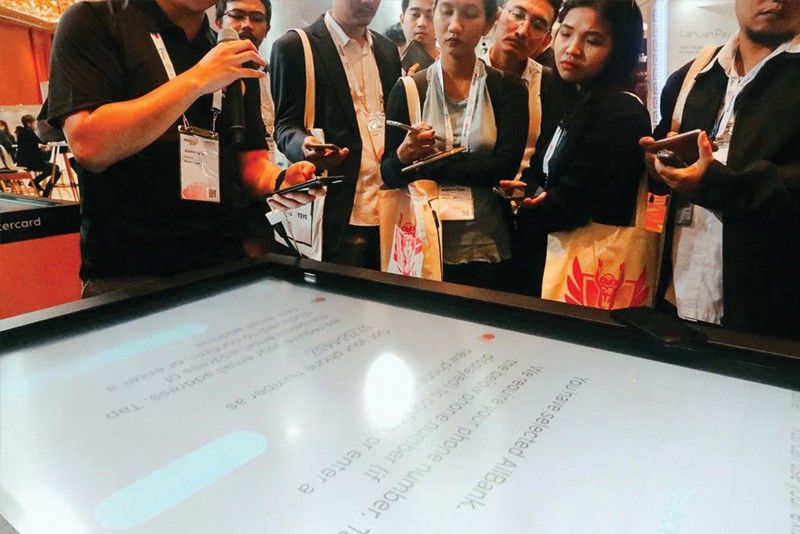 MANILA, Philippines — Last year, the Bangko Sentral ng Pilipinas set a deadline to exchange old bills to complete the transition to the new design. They completed this transformation last March 26 with a brand-new look for coins. Made from durable nickel-plated steel, the coins were claimed to "possess very good wear and corrosion resistance." A good feature, yes, but coming from a design perspective, not having a distinguishable element per denomination would just lengthen the process.
Imagine this: you just finished a day of hard work at the office, you pay for your meal in a fast-food chain to get you going for the commute home, and you took too long to find a five-peso coin amid the plethora of one-peso coins in your purse, upsetting the people behind you. This is the kind of unnecessary stress that financial solutions companies like MasterCard want to avoid.
Contrary to popular belief, MasterCard is not a credit card company. "We do not issue credit. We do not issue the plastic," says Ari Sarker, co-president for Asia Pacific at MasterCard. "Everything that happens in the background to enable the transfer the value is where we're playing the role."
Their responsibility is to make the transfer of payments from point A to point B as fast and secure as possible.
They introduced their new technologies in the recently concluded Money 2020 Asia held in Singapore last March 13 to 15. As one of the biggest "fintech" (or finance technology) events in the world, it brought senior representatives from major fintech leaders in the industry. Apart from panels and discussions about accelerating the fintech ecosystem, introducing new technology to emerging markets, and yes, cryptocurrency, the convention also highlighted innovations from participating partners.
As someone who prefers traditional banking versus debit cards, MasterCard's booth was a revelation. Most of the technology they introduced was centered on Masterpass, MasterCard's version of a digital wallet. The app is compatible with both Android and Apple users, and it uses your credit card to pay for goods and services both online and offline.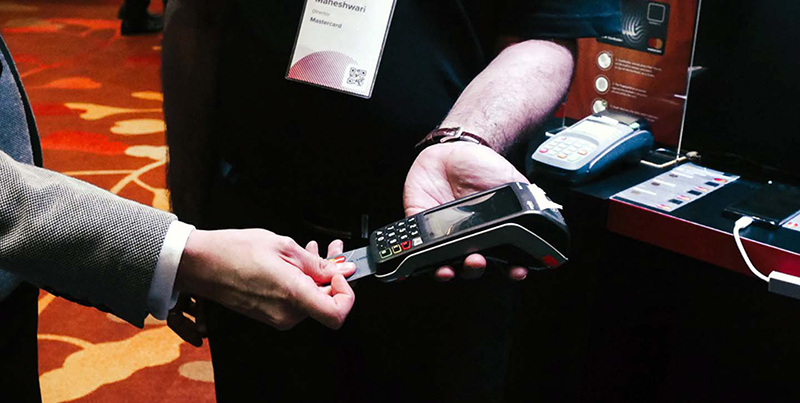 MasterCard's biometric-enabled cards make payments faster and more secure.
In the first demo they showed how their technology enabled Facebook users to push payments through Messenger chatbots. This feature was first released in April 2017 with online food grocer FreshDirect, and food chains Subway and The Cheesecake Factory as the first partners. Ordering food is as simple as selecting from a list of food, and it uses your Masterpass account to pay for goods.
One might wonder about the security of this type of payment method, but MasterCard also developed technology to make sure that everything is safe and secure. For them, it's more than just knowing your passcode, it's also how you press the buttons and how you hold your mobile device.
"(It will look at) the number of mistakes I made," says Sarker. "This will be compared to (another user) and each of those impressions is creating a profile for myself. The very reality is that the way you will press those buttons is creating another level of security. It's a digital fingerprint; it's persistent authentication."
Another layer of security they're introducing is biometrics. At the demo, they showed ways of using a biometric-enabled debit card. Instead of inputting your code or signing a piece of paper at checkout, the machine can immediately verify the payment by scanning your thumbprint that's on the card. It doesn't just give you comfort in knowing that this mode of payment is secure, but it also makes the process way faster.
If there's anything that MasterCard values most, it's their partnerships. This can be seen in their work with governments, banks, financial institutions, and tech companies that can help them innovate towards the next big thing.
A good example is their collaboration with Pizza Hut and SoftBank Robotics. Last March 14, they launched a humanoid robot in Pizza Hut Singapore's SAFRA Punggol outlet that can help customers order faster through voice-activated commands. All the customer has to do is pair their Masterpass account embedded in the Pizza Hut Singapore mobile app for faster and more secure checkout, and start ordering by greeting the robot.
"(We want to) hopefully create an expectation and experience for (our customers) that will enrich their lives, and let them worry less about things like ordering and paying for things," says Tobias Puehse, vice president of Innovation Management, Digital Payments, and Labs of MasterCard Asia Pacific. "That should be in the background."
As to when this technology will be available worldwide, that's still something they're working on. After all, their aim is to live without boundaries. And if the future looks anything like what MasterCard shows us, then we're definitely excited about what's ahead.