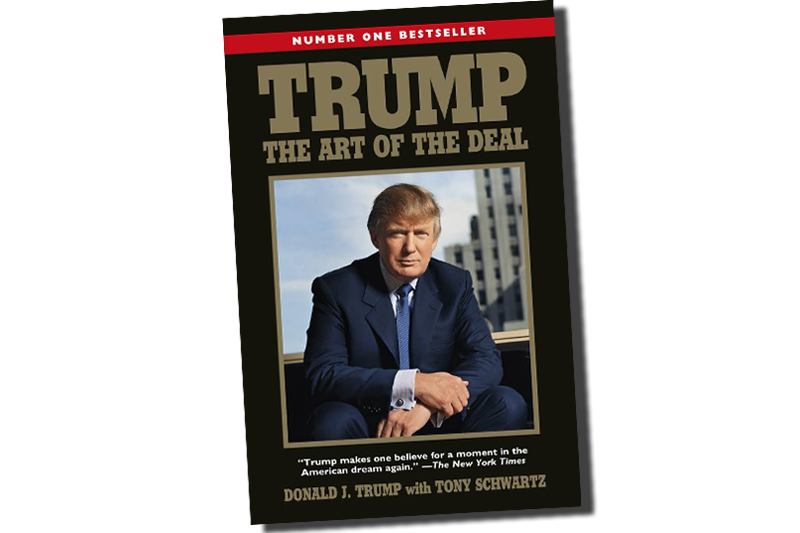 11 success strategies from Donald Trump's 'Art of the Deal'
Geopolitics experts Ambassador Alberto Encomienda, Brig. Gen. Victor Corpus and the late accounting icon Carlos Valdes' son Undersecretary Antonio "Butch" Valdes recently talked about the Association of Southeast Asian Nations (ASEAN) economic bloc and US President Donald Trump's trip to Manila and Beijing, saying Trump is a businessman and thus pragmatic in realpolitik, so his visit could help negotiate trade deals.
Indeed, Trump's Beijing trip resulted in the US and China — the world's two biggest economies — signing agreements worth US$250 billion in deals and investments. True, many of those deals and investments were carryovers from existing business deals already in place, according to the New York Times; but this should help set the positive tone for the 50th anniversary of ASEAN here in Manila, for all countries to strengthen economic cooperation for win-win development, inclusive economic growth and social progress.
Since Trump is coming to town, I retrieved his 1987 bestseller The Art of the Deal from my library. He outlines strategies for becoming a consummate business dealmaker. Here are Donald Trump's "11 tips" beneficial for all of us business professionals, even for politicos like President Duterte.
1. Think big. "I like thinking big," writes Trump. "I always have. To me it's very simple: if you're going to be thinking anyway, you might as well think big."
Let us dream and negotiate big, aim for the stars. Dreaming is free, but it takes a certain amount of guts and vision to dream big. To dream big is also rooted in innate optimism for a brighter future not only for one's career or business, but for one's family, community and country's economic destiny. So let us dream big and work hard.
For example, I was invited along with Quezon City Vice Mayor Joy Belmonte and others last Nov. 9 to cut the ribbon for the grand opening of the 39-room Prime Hotel in Sgt. Esguerra Street, Quezon City by the Lim Tiu family led by CEO William Tiu Lim of Mega sardines and daughter Michelle Chan. We were impressed when VP marketing Marvin Tiu Lim said they envision more Prime Hotels opening nationwide from Palawan to Davao.
Or look at First Pacific Group/PLDT/Smart boss Manny V. Pangilinan, "Ports King" ICTSI CEO Enrique "Ricky" Razon and SM Group leader Teresita "Tessie" Sy Coson — these are some of the local and foreign speakers at the ASEAN Business and Investment Summit held at Solaire Casino and Hotel from Nov. 13 to 14, organized by presidential adviser on entrepreneurship Joey Concepcion. They dream big, even beyond our Philippine market.
2. Protect the downside and the upside will take care of itself. Trump says: "I always go into the deal anticipating the worst. If you plan for the worst — if you can live with the worst — the good will always take care of itself." This advice was also given to me by Moldex Group's lowkey yet "rags-to-riches" taipan Jacinto Uy: plan and work for the best, negotiate the best you can, but always prepare for any worst-case scenario.
3. Maximize the options. "I never get too attached to one deal or one approach... I keep a lot of balls in the air, because most deals fall out, no matter how promising they seem at first." This is supreme pragmatism. Any businessperson or company big or small, should have many options and choices.
Don't allow yourself to be tied down to just one make-or-break deal or buyer or seller; instead, subtly pit one against the other to maximize your benefits or self-interests. In the same way now, our independent foreign policy now keeps us flexible in sourcing development loans, trade deals and even weapons sales.
4. Know your market. Trump writes: "I like to think that I have that instinct. That's why I don't hire a lot of number crunchers, and I don't trust fancy marketing surveys. I do my own surveys and draw my own conclusions." In negotiating, in-depth research will gain us not only knowledge for our bargaining but shall give us extra confidence too.
5. Use your leverage. "The worst thing you can possibly do in a deal is seem desperate to make it. That makes the other guy smell blood, and then you're dead." This is again psychological and tactical strategy; let others think you have various options and not only them!
6. Enhance your location. "Perhaps the most misunderstood concept in all of real estate is that the key to success is location, location, location… First of all, you don't necessarily need the best location. What you need is the best deal."
7. Get the word out. "One thing I've learned about the press is that they're always hungry for a good story, and the more sensational the better... The point is that if you are a little different, a little outrageous, or if you do things that are bold or controversial, the press is going to write about you." This strategy is more for marketing purposes rather than for deal-making. But note what this strategy has done in transforming Trump into America's first tycoon president!
8. Fight back. Trump says: "In most cases I'm very easy to get along with. I'm very good to people who are good to me. But when people treat me badly or unfairly or try to take advantage of me, my general attitude, all my life, has been to fight back very hard."
I personally disagree with this advice of Trump, because to me business is not war but more like a game. Like any game, we win some and lose some; there are good guys and scoundrels. But my principle is not to get emotional and not to create enemies.
9. Deliver the goods. "You can't con people, at least not for long. You can create excitement, you can do wonderful promotion and get all kinds of press, and you can throw in a little hyperbole. But if you don't deliver the goods, people will eventually catch on." Though the US president's record of delivering on his promises is still spotty, I agree with Trump completely here. Winning sales or deals is great, but we have to deliver in terms of what we ethnic Chinese call shinyong or "trustworthiness," credibility, consistency.
10. Contain the costs. Trump writes: "I believe in spending what you have to. But I also believe in not spending more than you should." Note: to follow this advice, you need good accountants!
11. Have fun. Trump writes: "Money was never a big motivation for me, except as a way to keep score." I agree with Donald Trump a zillion percent here and I have been saying this to most people who ask: "Why work so hard and earn so much if you cannot take it all with you?" Look at National Book Store founder Socorro C. Ramos and JG Summit/Cebu Pacific Air founder John Gokongwei, Jr.: they're in their 90s but still active; they live simply, so it's not about the money for them.
Dreaming, making self-sacrifices, working hard and earning more is not about money or wealth, not even about material or creature comforts or luxuries. Doing well in deals and in business, accomplishing more even in our professions or vocations, it is about seeking excellence and maximizing our full human potentials; it is not all about money.
* * *
Thanks for your feedback! Email willsoonflourish@gmail.com or wilsonleeflores@yahoo.com. Follow @wilsonleeflores on Instagram, Twitter, Facebook, read my blog wilsonleeflores.com. Listen also to my radio show at Radio Veritas Mondays to Fridays 5:30 p.m., AM 846 kHz, online livestream www.veritas846.ph & Cignal TV channel 313, "Pandesal Forum sa Veritas."