Jollibee opens 1,000th store at BGC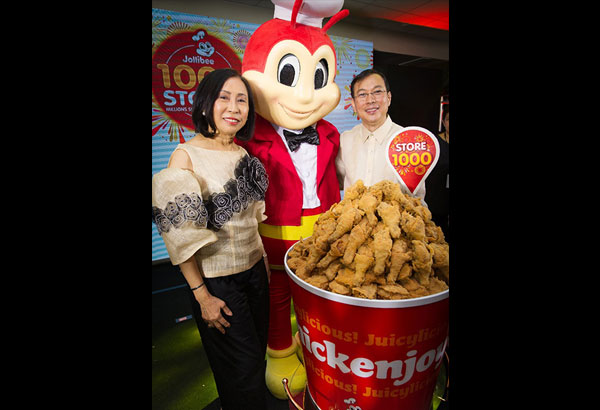 MANILA, Philippines - Few Filipino brands could ever reach the same iconic status as Manny Pacquiao, Miss Universe 2015 Pia Wurtzbach, or a jeepney. But, without a doubt, a red and yellow bee promising Yumburgers and Chickenjoy has been the provisional ambassador for our country's cuisine to the rest of the world. It took Jollibee only four decades to grow from a tiny mom-and-pop ice cream shop in Cubao into a globally recognized fast-food brand with 1,000 stores in the Philippines, and the joyful bee certainly shows no signs of slowing down.
Opening in Bonifacio Global City Triangle, in a rare corner of the bustling CBD still left with a refreshing view of vibrant greenery, Jollibee Philippines' 1,000th store represents the lively optimism the brand has for the future of the country's most celebrated brand.
"Reaching 1,000 stores is a special milestone, especially in an industry as competitive as ours," Jollibee Philippines president JJ Alano shares. "Jollibee's growth and success over the years is largely due to the fruitful partnerships with our franchisees, the support of local government units, and the efforts of our various business partners. These, together with the patronage of our loyal customers, are among the reasons why Jollibee is where it is today, the number-one and most-loved fast-food chain in the country."
In the company of Jollibee Foods Corporation chairman Tony Tan Caktiong, Jollibee Group Foundation president Grace Tan Caktiong, Jollibee family matriarch Mama Tan, friends of the fast-food chain celebrated the way it knows best, with a toast raising Chickenjoy, and in the warm company of family.
A celebration of pride
Guests wore their Filipiniana regalia to the blessing of Jollibee's milestone store. "Many say that Jollibee is more than just a fast-food company," Alano said. "It's the home of the world-famous Chickenjoy and other great-tasting products. But, more than that, it has become synonymous with joy, family, and a taste of home. Especially to the overseas Filipinos, it has become a source of pride."
Across the world, Jollibee's langhap-sarap presence is felt in almost 100 stores, with a handful more slated to open by next year. "Our top priority will always be to go to countries where there is a big population of overseas Filipinos," explains Francis Flores, Jollibee Global Brand chief marketing officer. "It just so happens that in the world, Filipino food is hailed as the next big thing, so it's prefect timing for our global expansion."
But, whether overseas or on our shores, Alano reinforces the same Jollibee dedication it has had since it opened in 1975. "Opening Jollibee store 1,000 comes with a renewed commitment to continually delivering the same superior-tasting food, alagang Jollibee service, which adheres to the highest standards of food safety and cleanliness. I, along with men and women of Jollibee Philippines distributed across all our 1,000 stores, have committed to delivering this promise."
A celebration of innovation
The 1,000th Jollibee store marks the 16th store in Taguig City, and the sixth in BGC, showcasing just how the fast-food brand is successfully claiming stake in the most profitable parts of the country. "We couldn't have chosen a better location than Bonifacio Global City, as the progressive, dynamic vibe of the city is very much aligned with our vision of the future for Jollibee," Alano explains.
The new location is also an opportune time to flaunt Jollibee's fresher layout of vertical garden dividers, plush, colorful dining chairs, and a generous, open blueprint that aspires to a more modern, tropical feel. A 27-foot-long urban mural depicting the Filipino's most revered symbols adorns its drive-thru roundabout. In lieu of fixed menu boards are digital screens increasing consumer interaction, engagement, and ultimately, excitement. All these make it seem like the Jollibee of the future, without really letting go of Jollibee's tradition of warmth, wholesomeness, and homey feel.
"We plan to continuously evolve the store based on the evolving needs of our consumers, especially in design. Experience is very important, and what you can expect from us is an increased investment in our store design," Flores explains. "It's a double meaning. It ends the first 1,000 and it starts the next 1,000 stores for Jollibee."
A celebration of sustainability
But while reaching 1,000 stores may cement Jollibee's position as the country's most celebrated fast-food chain, the milestone is no time for the brand to rest on its laurels. The brand now shifts its influence to shaping one of the country's most pressing concerns: food security.
"As we celebrate this momentous occasion, Jollibee Foods Corporation also recognizes the importance of sustaining the thriving agriculture sector in the country," said Jollibee Group Foundation executive director Gisela Tiongson. "And for agriculture to be sustainable, we need the youth to remain engaged in farming."
For this, Jollibee Group Foundation is investing P10 million geared towards modernizing rural farming into one that is more progressive, rewarding, and attractive to the younger generation. The different Jollibee Foods Corporation brands, on the other hand, are dedicated to procuring the yields of the foundation's beneficiary farms.
"Building on the success of the Farmer Entrepreneurship Program, Jollibee Foods Corporation, through Jollibee Group Foundation, will work with academic institutions, NGOs, local and national government agencies and social enterprises, to train and educate 1,000 youth farmers in agro-enterprise management," Tiongson continues. "With agriculture courses attracting less and less enrollees year after year, resulting in a generational decline in food production, perhaps Jollibee is spearheading an agricultural revolution that can turn the trend around."
In marking its 1,000th store with the warmth of family and a renewed commitment to sustainability, perhaps Jollibee has finally revealed the secret to its ever-growing success: that, in growth, it is all about sowing what you would like to reap, and maintaining true commitment to the people it gains value from the most.