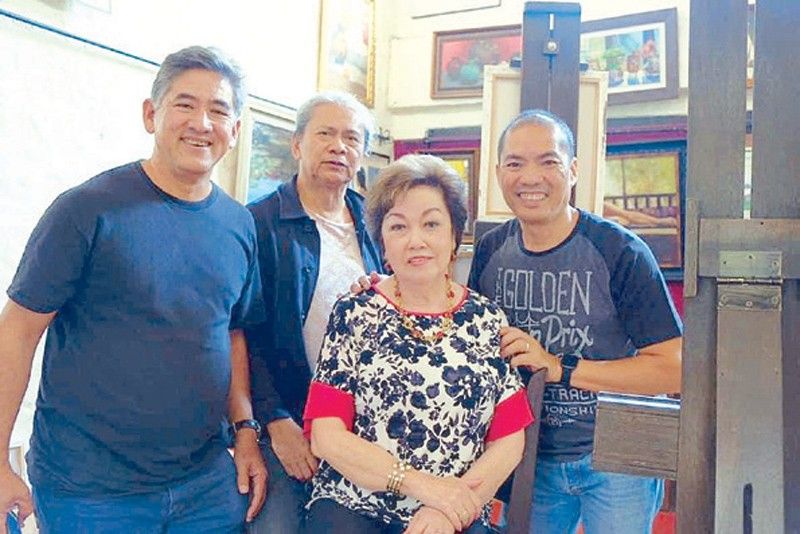 Gerardo Jimenez, Rene Canlas, author Elaine Herbosa and Alfred Galura
Romancing the Water with three artists
MANILA, Philippines — In my journeys through the art world, I encountered these three outstanding watercolorists serendipitously.
Alfred Galura was lingering in my daughter Mia Herbosa's solo show in Ayala Museum some 12 years ago for quite a lengthy period of time. I was getting curious. Then he finally got up the courage to approach me in my secretariat table and introduced himself. That was the beginning of our friendship and alliance as manager/artist. From that time hence, I have had resounding successes curating his one-man show at Ayala Museum and numerous group shows with other L'Arc en Ciel artists in various venues.
Rene Canlas, meanwhile, was in attendance at one of our shows and struck up an interesting conversation with me. He was a true-blue artist, long hair and all, very Bohemian. His humility and sincerity appealed to me as he showed me photos of his impressive works on his cellphone. He mentioned wanting to be affiliated with L'Arc en Ciel Atelier and Gallery but I told him he was already successful on his own — his talent was evident!
I met Gerardo Jimenez (or "Gejo," as he is fondly called) at my booth in Art In The Park 2018. We were both trying to survive the beat and the heat of the event! Our lively conversations on art gave us some respite from the uncomfortable elements. He was also a participant in L'Arc en Ciel's open studio workshops. I had also attended his second solo show in Prism Gallery, which was sold out. His style impressed me; he really made the water flow and there was a sense of freedom, fluidity and atmosphere apparent in his works.
Then again, our paths kept crossing until last year when it dawned on me to produce a three-man show highlighting these great watercolor artists. Their response was overwhelming and so we have birthed "Romancing the Water."
The exhibit runs this Oct. 8 to Nov. 8 at Altromondo Creative Space, 1159 Chino Roces Avenue, San Antonio Village, Makati City.
For appointments or online videos please touch base with me at 0917-8901219 or elaineoherbosa111@gmail.com.