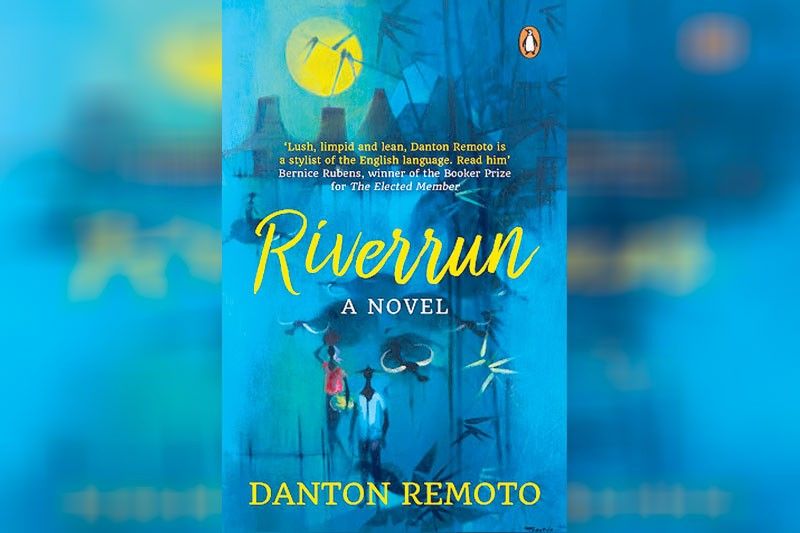 Penguin Random House SEA's international edition of Danton Remoto's first novel, Riverrun.
Publishing during the lockdown
Local publishing is slowly getting back to its feet since the lockdown over three months ago. And that's welcome news.
Over a week ago, AdMU Press director Karina Bolasco happily announced the availability of Ang Mga Iniiwan ng Tubig: Mga Tula by Jason Tabinas, as their "first release in the time of the pandemic — after it got stuck in the printing press when lockdown started." The softbound copy of 136 pages sells for P315.
Also announcing a new title was publisher 123 Pioneer Studios Inc., Philippines, which specializes in art books, the distribution of vintage coffee-table books of increasingly rare circulation, and digital archiving.
The book is the limited-edition Botika Butilka, based on the late, lamented Cesar Hernando's first experimental short film of the same title.
"Produced in 1987, the film used archival images documenting the state-sanctioned violence and murder during the administration of Ferdinand Marcos... Based on a local tongue twister that plays with the Filipino words 'botika' and 'bituka' ('drugstore' and 'intestines'), the film juxtaposed footage of drugstores and street food... in the country's capital region, with explicit imagery of the times, including the severed head of Tullio Favali, an Italian priest executed in Northern Cotabato by paramilitary forces. Using Super8 film, it employed a process called 'pixellation,' or shooting by only exposing a single frame at a time."
The softcover miniature book is 4.5 x 2 inches, with 672 pages in color and in English, and sells for P500. To watch the film, one may visit https://vimeo.com/cinemaartmovement.
Then there's the Indie Publishers Collab PH, a group of 19 independent literary book publishers from all over the country that have united as a single non-profit organization — "to find ways to bounce back from this current crisis, and work on getting a larger community of readers for its books."
Hoping to negotiate as a collective, it seeks to "generate interest in the authors and works that exist only in the inventories of independent presses (and) to engage as many readers as possible."
Among these indie publishers are the following:
• 7 Eyes Productions OPC, a fusion of a publishing and media production company, with its major titles thus far including the poetry collection Buhawi: Unang Hagupit, the fiction collection Balintuna: Mga Kuwentong Kakatwà, and the dagli collection Aksyon: Dagli ng mga Eksenang Buhay. (IG and FB: @7eyesproductions)
• Alubat Publishing, which has specialized in Literature and Medicine since 2016, when it released its first book, From the Eyes of a Healer: An Anthology of Medical Anecdotes, edited by Dr. Joey Tabula with an introduction by Dr. Gideon Lasco. Last year, it published Bulawan: Interviews with Medical Oncologists, the Golden Anniversary book of the Philippine Society of Medical Oncology (PSMO). The e-book version of Bulawan has been made available for free download from the PSMO website during the COVID-19 pandemic. (IG: jatubula and FB: @jtabula)
• Balangay Books (Isang Balangay Media Productions) "reconnects writers estranged from their immediate community by revaluing their works' significance in relation to that community." Its more recent titles include Efren R. Abueg's Plakard and Emmanuel T. Barrameda's P'wera Bisita. (FB: @balangayproductions)
• Cubao Editions, founded only last year, welcomes book-length works of fiction and non-fiction as well as cross-genre works in different Philippine languages. Current titles include Marienbad, etc.: A Rayuela Archive by Chiles Samaniego and About the Dying Dog and Five Other Stories by Paul S. de Guzman. (IG: @cubaoeditions / FB: @Cubao-Editions-109643537106979)
• Everything's Fine is a small press that also started last year, with Richard Bolisay's debut collection of film criticism, Break It to Me Gently. EF carries the final copies of National Artist for Film Ishmael Bernal's memoir Pro Bernal, Anti Bio (2018) co-authored by Bernal, Jorge Arago, and Angela Stuart-Santiago, and includes in its inventory Stuart-Santiago's EDSA Uno, with Narratives on Dos and Tres (2013) and Revolutionary Routes: Five Stories of Incarceration, Exile, Murder, and Betrayal in Tayabas Province, 1891-1980 (2011). This year it is set to publish a revised edition of Katrina Stuart Santiago's Of Love and Other Lemons as well as a series of small books of "lost essays" by Ishmael Bernal, Rolando Tinio, and Patrick Flores. (IG and FB: @everythingsfineph)
• Gacha Press is a micro press for poetry, initially publishing pamphlet collections. A full-length release was last year's Happily Ever Ek-ek by Paolo Manalo. It also carried the sold-out collections Velocirupture by Michael Balili and E is for Epal by Manalo. (IG: @gachapress / FB: @gachapresspoetry)
• Haliya Publishing is an independent komix publishing effort spearheaded by Mervin & Princess Malonzo and Aliyah Luna. Their titles include Mervin Malonzo's Tabi Po, Julius Villaneuva's Ella Arcangel, Hulyen's UGH Comics, and the anthology Bagong Buwan. (IG and FB: @haliyapublishing)
• Kasingkasing Press is a Guimaras-based publishing house with the primary aim of promoting West Visayan literature. It has organized events such as the biennial Magsugilanonay Kita: West Visayan Mother Tongue Children's Books Summit, the Hiligaynon Flash Fiction Competition, the #ZineZoned: Iloilo Zine Fest and the Iloilo Mega Book Fair — "making it a significant game changer in Iloilo City's thriving literary scene." (IG and FB: @kasingkasingpress)
Other members of the collective are: 8 Letters Books (IG and FB: @8lettersbooks); Aklat Alamid (IG and FB: @AklatAlamid); Avenida Books (IG and FB: @myavenidaph); Good Intentions (IG and FB: @goodintentionsbooks); Hinabing Salita (FB: @hinabingsalita); Imnas & Iway Publications (FB: @ImnasIwayPublications); Librong Lira (FB: @LibrongLIRA); Rebo Press (FB and IG @ReboPressPH); San Anselmo Press (FB: @sananselmopress); Saniata Publications (FB: @saniata.publications); and Southern Voices (IG and FB: @southernvoicesprintingpress).
Meanwhile, with regards Filipino authors involved in international publication, we're happy to report that Christine Lao or "Tin" has announced the availability of her 2017 short story collection, Musical Chairs, as an ebook: https://amzn.to/314bHwJ. Musical Chairs was a finalist of the 19th Madrigal-Gonzalez Best First Book Award last year.
And of course we're all looking forward to Penguin Random House Southeast Asia's international edition of Danton Remoto's Riverrun: A Novel, which is finally undergoing printing this week.
For North America, only e-copies will be available because of shipping issues. The book could be available on Amazon by July.
Danton's still wrapping up his professorial obligations in Kuala Lumpur. But he hopes to get back home as soon as travel restrictions ease up, and prepare for a book launch in Manila.
Riverrun was first published by Anvil as a local edition in 2015. Danton reports that he "had to add two sex scenes because Penguin said why is there no sex? And I said, because the main character is a repressed Catholic, ano ba? Ako naman gagawin basta kumita ang movie, ay, ang book pala. They asked for two sex scenes, I wrote them. One is a satire, though."
It's been gaining positive pre-publication reviews, one of which goes:
"A timbre of erotic yearning hums throughout Riverrun: A Novel by Philippine-born Danton Remoto, who was also educated in Scotland and the US. These sections made me smile and laugh. The novel is swift, light-hearted, and comic, in spite of the grim dictatorship it writes about. There is no magic realism here, but this elegant and stirring novel reminds me of Gabriel Garcia Marquez."
Bravo, Danton!