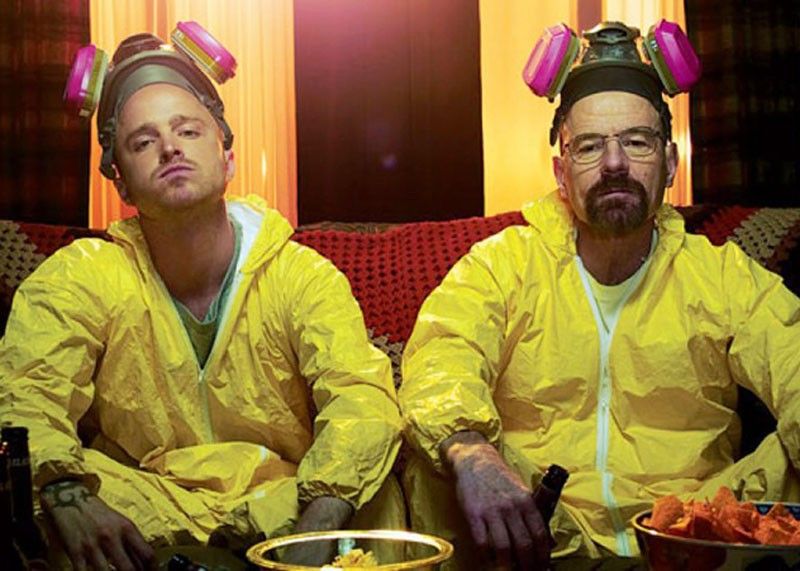 Maybe all this bingeing isn't bad for us after all.
Binge-watching mayhem (for a dopamine fix)
KRIPOTKIN
-
Alfred A. Yuson
(The Philippine Star) - June 15, 2020 - 12:00am
The first Netflix series I partially indulged in was Stranger Things. That was a couple or so years ago, when I hardly had time to pursue any television entertainment other than important NBA games. So while I enjoyed the first few episodes, I soon gave up on it for lack of time.
And when I did find time to reacquaint myself with Netflix's offerings, it was other drama series that attracted me. Among the ones that stood out were Designated Survivor and Suits, both of which got me binge-watching on some nights.
I particularly enjoyed the whiplash repartees in Suits — with alpha-dog corporate lawyer Harvey Specter, played by Gabriel Macht, proving extremely engaging with his macho toughness, sharp comebacks, and counterpoint vulnerabilities. And of course I was attracted to the character played by Meghan Markle, then already a princess in real life, but an actress of much promise when she figured in the series before getting into her brief stint as a royal.
I patiently went through all of its nine seasons of 134 episodes. Sometimes I'd read up on the narrative ahead of its unveiling onscreen — a practice I still do to this day.
Then, of course, came Crash Landing on You, which drew so much adulation that curiosity just had to get the better of me. At an early point I almost gave up, scoffing as I did at its implausibility, while trying to make dramatic weight of its light material.
But even as I remained nonplussed over how it continued to attract legions of women friends — from schoolgirls to matrons — I was won over by the ensemble portrayals, the humor, and the whimsical romance that tied everything together.
This was all before the pandemic locked us down, turning entire nights into Netflix consumption. In my case, I was drawn to the action thriller variety — heists, conspiracies, gangster extravaganzas that all had violence as a staple.
It was sheer escapism, of course. And I suppose I designated pet peeves — such as our government's hierarchy of meanos and incompetents, as well as China's bullyboys — as the bad guys that had to be wiped off the face of the earth.
All of that quarantine viewing after the day's work brought us to a world where violent encounters were the dramatic resolutions, even if we had to go through redundancies of visual clichés: car chases, car crashes, explosions, brutal fisticuffs, strangulations, slit throats and such.
Oh, there had to be chase and escape scenes through a kitchen of some large facility, and the usual fallback on basement parking areas for moments of suspense as characters make their way to a vehicle or for a rendezvous.
Also notable is how contemporary action thriller scenarists now have to work in the mobile phone as an inescapable device — to advance the narrative, serve up quick information, and as a structural deus ex machina to interrupt dialogue and transition to the next scene. Why, it's even made to show revealing visuals.
Screenplay writers of previous eras certainly had their work cut out for them when it came to structuring exposition. These days, cellphones figure in the narrative at least a dozen times in an episode.
This has been especially true with the latest entertainment I've binge-raced through. I had long heard of Breaking Bad as an outstanding series, and finally got a chance to start on it a couple of months ago. But I got derailed by a rave review of its subsequently produced spin-off prequel, Better Call Saul. So I shifted to that after the first two episodes of Breaking Bad.
Well and good. Enjoyed the quirkiness and black humor, plus the inimitable motormouth rhetoric of the principal character. Another detour transpired before I shifted back to Breaking Bad.
A Viber group mate championed Money Heist, which quickly struck me as of B-movie quality. But the Dali masks and ambitious plan for a caper got me hooked enough to complete the series, if laboriously, since I found the acting questionable, with nary a single simpatico character, plot holes galore, and incredible powers of recovery by victims of gunshot wounds. Then, too, the Spaniards frequently broke out into song while facing stressful situations.
Breaking Bad more than made up for all that. Now, here was a truly engrossing series on account of excellent production values and technical expertise, highlighted by a taut script that pushed for credible character development.
It's almost similar appreciation generated by Ozark, which only suffered a degree more in comparison because it remains unfinished. Generally, I prefer to binge-race (as many as six episodes a night) through a completed series, without having to wait a year for continuation.
In these outstanding series, the common themes have to do with trust and betrayal, and the moral or practical choices — forced or voluntary — one has to make. Both Breaking Bad and Ozark also feature wives who grow stronger and more ambitious than the husbands who initially imperiled their families with excursions into criminality.
Now, I understand that there are contrary views regarding the value of binge-watching. While escapist fare is often held to be inimical as an addiction, and particularly injurious to quality sleep, serious research also holds out that "watching high-quality TV dramas can increase our emotional intelligence and make us more empathetic people."
A study concludes that "Like gambling and other behavioral addictions, binge-watching activates the part of our brain responsible for 'reward' functions, producing dopamine and making us feel good."
Clinical psychologist Dr. Renee Carr asserts that binge-watching a show produces a continuous stream of dopamine in our brains:
"[Dopamine] gives the body a natural, internal reward of pleasure that reinforces continued engagement in that activity. It's the brain's signal that communicates to the body This feels good. You should keep doing this!
So that's it. Hearing the Mexican version of Nights in White Satin by the Moody Blues as background music to a bed scene in the first episode of Queen of the South was such a dopamine hit. And it ensures that I'll get back to that series sometime.
That is, once I'm done with all 30 episodes of the first five seasons of Peaky Blinders. Which doesn't have cellphones helping out in the narrative. All that stylized mayhem raises my dopamine levels on a nightly basis. And it's probably abetted by the historic proposition that the Brits of early-20th-century Birmingham appear to prefer backside humping.