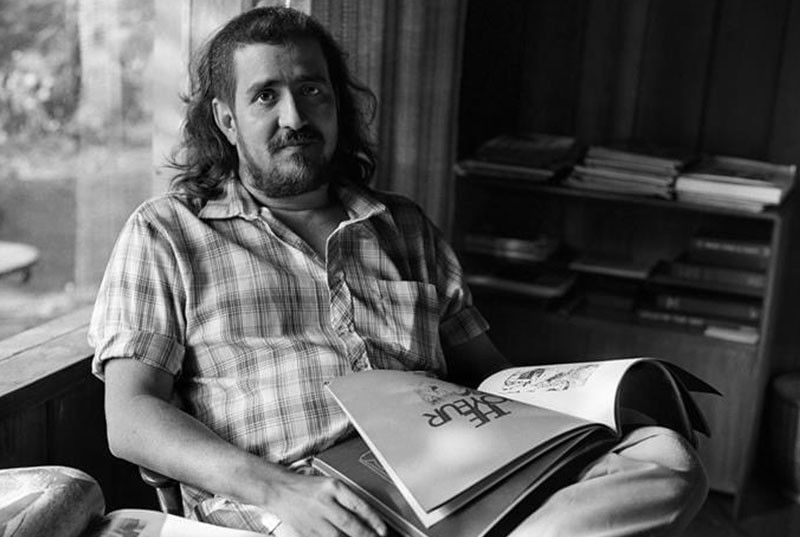 Peque Gallaga in 1983 in Baguio. Photo by Wig Tysmans.
Loss after loss. Dearest friends of four to five decades have been going ahead, bequeathing a random trove of recollections.
Somehow, the deepest memory of Peque Gallaga that sticks to mind and heart is of him playing a guitar and singing in almost hushed tones by the driveway of the Luzurriaga compound in Bacolod City. Strolling on the leafy yard towards dusk, I noticed him seated on a chair, strumming softly while a couple of his kids played around him. The song was To Ramona by Bob Dylan, not really one of his popular ones. But then Peque's embrace of music was undeniably broad.
It was 1978. He had invited Boy Yñiguez and me to help design and edit the De La Salle Bacolod's Handumanan yearbook in collaboration with the graduating high school class — a core of which was Peque's students.
They were a tightly knit group that obviously adored their theater arts mentor, with each one doing their best in coming up with the zaniest of ideas. A rambunctious yet disciplined lot, the dozen or so teeners were given to much laughter, constantly playing pranks on one another to their mentor's own delight, yet quick to buckle down to work upon his cue, while still retaining the Ilonggo's latent sense of gentle mischief.
We would meet them after school hours in a large classroom that had been modified into a publications office, with long desks for laying out typewritten sheets of paper and photographs fresh out of a makeshift darkroom.
At some point, Peque thought of replicating an informal class picture taken when the kids had just finished elementary school. Everyone in the group was rounded up and told to assume the exact same poses they had struck four years earlier. Boy Yniguez used the then-and-now photos as the book's endpapers.
Of that fun week in Negros, I also recall the fine meals prepared by Madie, and laugh-a-minute conversations around the dinner table with the Gallagas and their kids (at the time: Bing, Michelle and Datu). On occasion, there were also Peque's sister Chita and brother Ricky, whom Peque had warned us was the actual wacko in the family, despite his front as a doctor.
A hail-fellow-well-met himself, Peque radiated joie de vivre, quirky wit, and a raconteur's energy. But he also loved to listen and trade insights into creativity and comradeship. He gushed over music, films, books and art he liked, but could be devilish in his putdowns of pretenders and pretentious efforts.
He was at his best in a crowd, whether it was with young people who idolized him or colleagues he engaged in repartees with. As a storyteller, he enjoyed a scenarist's and actor's skill in dramatizing an anecdote or an elaborate joke.
It was his private side I had seen when he treated himself to that plaintive Dylan song, almost as a contemplation conducted without the benefit of an audience.
Actually, my first experience of appreciating his existence happened about a decade earlier, when I caught a Repertory Philippines performance of Camelot at a school theater. He played Lancelot to Conrad Parham's King Arthur and Baby Barredo's Guinevere, with Zenaida "Bibot" Amador directing. My date and I enjoyed it, although she couldn't help remark that she didn't find Maurice Gallaga as Lancelot dashing enough, what with his heft on stage.
When I reminisced about this sometime after we had met, Peque unleashed garrulous laughter before mock-wailing that he regarded it as his most embarrassing episode as a performer.
It was Butch Perez, a neighbor on Julio Nakpil St. in Malate, who introduced us. They had long been best friends from De La Salle, and at that time in the early 1970s, had partnered in producing a TV comedy hour called The Fabulous Gamboa Show. Eventually they set up an office off Quirino Avenue, near Taft, that also addressed commercial advertising concerns. Their group included Jaime Fabregas and Monet Recio, while they also relied on photographer-designers Franco Patriarca and Frey Cabading.
In 1973, Butch and Peque co-directed Binhi. By that time, a growing tribe of kindred spirits had already formed rather organically, with Ermita-Malate, Pasay and Baguio City as matrix playgrounds. Spawned from the late 1960s bohemia that blossomed at cafes and crash pads, it became an expanding cast of creatives that included poet-writers, painters, musicians, dancers, theater artists, filmmakers, photographers, designers and street philosophers.
These included Virgie Moreno, BenCab, Ishmael Bernal, Jorge Arago, Pepito Bosch, Sol Vanzi, Louie Stuart, John Altomonte, Carlitos Calaguian, Sylvia Mayuga, Eman Lacaba, Iskho Lopez, Noel Anonuevo, Boldy Tapales, Nap Jamir, Tikoy Aguiluz, among many others.
In 1976, Peque teamed up with Laida Lim-Pérez as production designers for Eddie Romero's Ganito Kami Noon, Paano Kayo Ngayon. They won a Gawad Urian for the category.
That same year, Ermita magazine pioneered as a monthly to give the so-called counterculture a voice. Peque wrote an article as a glowing tribute to cinematographer Conrado Baltazar.
It must have been in the late '70s when Peque assembled a group, mostly his former Ilonggo students, to help out in an American film production, courtesy of Jun Juban. I joined in and reported daily at an office on Filmore St. near Dian. Among that crew that would have daily lunch at Dayrit's on Buendia were Dwight Gaston, Bing Caballero, Isang Urra, and production designer Rodell Cruz. A production challenge Peque and Rodell delighted in, as required in the script, was how to stage a cockroach race at a bar supposedly frequented by fortune hunters.
In 1980, Peque won another Gawad Urian as production designer for Ishmael Bernal's Manila By Night or City After Dark. I recall having joined friends like Pepito Bosch and Gigi Duenas as extras one shooting night at Rizal Park, where Ishmael had me orate a poem that took off on Cavafy. Days later, Peque said that they were trying to get hold of me for the sound recording, but had settled on someone who managed to simulate my voice.
Around that time, too, Marita Manuel produced a TV show for the MMDA. It was scripted by Jorge Arago, and counted on the services of friends like Jaime Fabregas, Gerry Gerena and Reuben Domingo. Their office at one end of what became the Metropolitan Museum of Manila turned into a tambayan. The tribe would gather towards twilight on the greens of Fort Antonio Abad, where Boy Yuchengco conducted tai chi lessons.
In 1983, Peque had his major breakthrough with Oro Plata Mata, after his epic story brilliantly scripted by Jose Javier Reyes was one of the three chosen for filming by the Experimental Cinema of the Philippines. We all regaled in his success. Personally, I still think it's one of the five best Filipino films of all time.
I might even put in Scorpio Nights as well, as Peque's tightest, most engrossing film, certainly the best in his "bold" phase. I also liked Unfaithful Wife. But not so much Virgin Forest. And I only heard of his commercial successes with the horror and fantasy series he eventually co-directed with Lore Reyes.
In 1987, I got a call from Peque, asking if I could script a take-off on Karate Kid. It had to be done fast, with Mother Lily's fresh discovery Richard Gomez starring. Peque and Lore needed to satisfy Mother Lily's wishes before they could convince her to backstop a major project.
We discussed the structure for Kid, Huwag Kang Susuko. We settled on employing an electric fan to serve as an objective correlative in the care of Gomez's character, and also agreed to have Nida Blanca's character exchange cliché proverbs as repartees with the karate master.
Peque was happy that I finished the script in four days, and that it gained quick approval. I visited a set once — in an abandoned building on EDSA off Cubao, where Gomez as "Sawi" and his sifu were "training." Upon seeing the rushes, a veteran director who was close to Mother Lily suggested adding two more fight scenes and a love scene. Peque, Lore and I agreed that they would be superfluous and loosen up the narrative. But they still had to do it.
Despite the meddling, the film won a CMMA and FAMAS award for Best Screenplay. It also had the distinction of having had a couple of government undersecretaries featured as extras, in the persons of Vic Ordonez and Mario Taguiwalo.
Peque enjoyed calling on friends to populate scenes he would shoot for films and TV commercials. For an SMB ad, he and common friend Erwin Castillo had me "fathering" Chino Trinidad around a beer table. And for the opening scene of Aswang, I joined Mario Taguiwalo, Urro de la Cruz and Joey Marquez to carouse around a drinking table. After that shoot, we repaired to a riverside cottage at Villa Escudero to partake of the usual camaraderie under the influence. That night, the special pulutan treat was sliced century eggs with a dip that Peque and Lore had just discovered: patis mixed with sugar.
The memories are rife, spanning well over four decades of friendship. I recall visiting him when he stayed at Eddie Rocha's place in Greenhills, maybe to discuss another project. His glee when we bumped into one another and he made such enviable "Belat!" with the news that he would direct the PBA games. Being asked to be a godfather to his and Madie's youngest son Wanggo, after Jubal. Him joining the "Chromatext" exhibits at the CCP Main Gallery that Jean Marie Syjuco and I co-curated with Sid Hildawa.
Jean Marie and Cesare's second daughter Trix, my partner host for an arts show on TV, had Peque as a godfather, while I in turn was also godfather to the Syjucos' youngest son, Jules.
Yes, it's a close-knit circle of an extended family that loved and supported one another — the survivors of which can only grieve over anyone's demise, until precious laughter would once again attend the memories dredged up from a storehouse of camaraderie.
Farewell, dearest compadre Goodfellla!