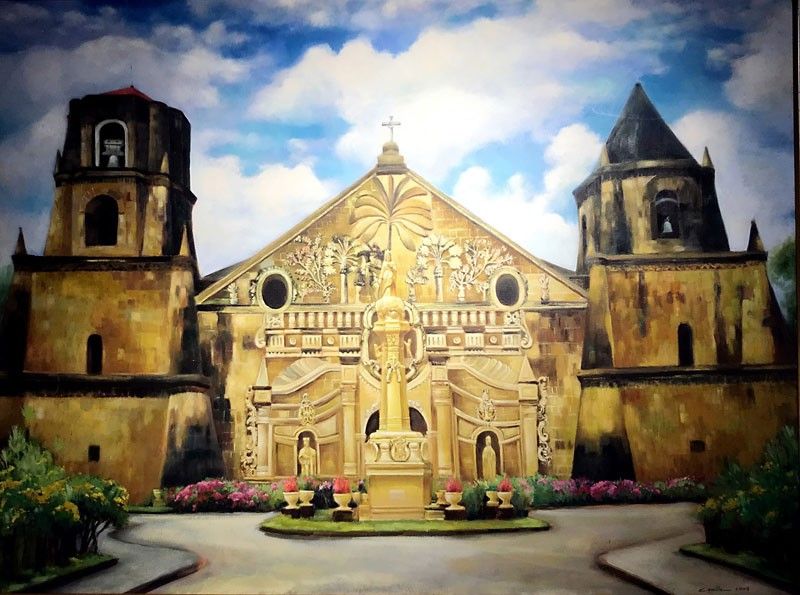 "Paoay Church" by Camille dela Rosa
'Blessings' at Galerya Amalia
(The Philippine Star) - October 21, 2019 - 12:00am
Galerya Amalia presents "Blessings," an inaugural group show featuring the works of Bing Siochi, Camille Dela Rosa, Celeste Lecaros, Cid Reyes, Hapon Dela Rosa, Lydia Velasco, Meneline Wong, Omi Reyes, Roel Obemio, Roger Rishab Tibon, Romeo Gutierrez, and Ross Capili.
"Blessings" opens on Oct. 26 and runs until Nov. 15.
Galerya Amalia is at the 2/F., Filipino Village 7107 Islands, Ayala Malls Manila Bay, Macapagal Ave. cor. Aseana Ave., Paranaque City. For inquiries, call or SMS 0917-7212949.
* * *
'Tanawin: Landscapes of Memory' at Galerie Anna
On view at the Galerie Anna is "Tanawin: Landscapes of Memory," a group exhibition by the artists of Aroma Art Atelier, founded by artist Orley Ypon.
Based in Toledo, Cebu, the artists group was named after the plant called aroma which abounded in the area, thus symbolizing the place where nature nestles in peace and serenity. In varying individual styles, the Aroma artists depict the Cebu scenic countryside, mirroring its meadows, hills, mountains, valleys, trees, rivers and ponds.
Participating artists are Darby Alcoseba, Crispin Bobier, Maria Francesca Juarez, Mark Belisario, Rainier Duhaylungsod, Renulo Pautan, Romar Quimada, and Lucas Ranola.
"Tanawin" runs until Nov. 4.
Galerie Anna is at the 4/F, The Artwalk, SM Megamall A, Mandaluyong City. For inquiries, call or SMS 0907-5502020.
Elizabeth Oropesa at Walls
Walls Gallery presents "Aphotic Zone," the solo exhibition of Elizabeth Oropesa.
The aphotic zone is the part of the ocean where sunlight penetration is less than one percent. Oropesa, an award-winning actress, is also an experienced deep-sea diver. Her works are inspired by the images of the oceanic world.
"Aphotic Zone" runs until Oct. 30.
Walls Gallery is at G/F, Triumph Square, 1618 Quezon Ave., 1103 Quezon City. For inquiries, call or SMS 0917-863-5778 and 0917-383-1880, or call landline 8-630-7677.