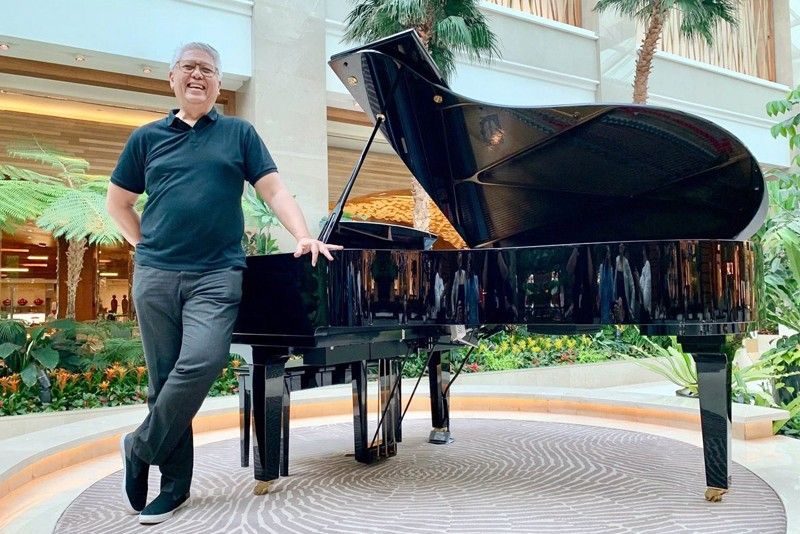 A man of many names: Ryan Cayabyab is a National Artist for Music, Ramon Magsaysay Awardee, Maestro and The Music Man. On Aug. 31 artists from different generations will gather at the Theatre Solaire to honor the maestro's 40 years in the music industry.
Ryan Cayabyab is known by many names: National Artist for Music, Ramon Magsaysay Awardee, Maestro and The Music Man.
The name most often used for him, however, is Mr. C, and it fits him to a T — simple and sincere but indicative of respect, admiration and affection.
So who is this Mr. C?
He is as an extraordinary musician, composer, arranger, songwriter, conductor and musical mentor whose exemplary achievements were never part of his plan.
In fact, Mr. C admits that, "The theme of my life is that I never plan and I never dream. Siyempre, I know what I want to do, but planning is not something I do consciously. The dreams and ideas are there inside me or floating around like a cloud above my head. Then, something or someone becomes a catalyst that shows what's next and it's like this door opens and these ideas just fall into my lap."
And there have been many such catalysts in his life.
The first was his mother, Celerina Venson Pujante, who gave him his very first piano lesson at age four. She played him eight bars of Dean Martin's hit song Me Gustan Todos, asked him to copy what she had played, and he did! That lesson with his mother would be the first and last time she would sit with Mr. C at the piano. She passed away just two years later, leaving specific instructions with his father, Alberto, not to allow any of the kids to make music a career.
Because of this "ban" on a career in music, Mr. C went for a BSBA Major in Accounting degree at the University of the Philippines. But he still pursued his love for music. He taught himself to read notes and play the piano from music scores left by lady borders.
Being at UP also gave him a chance to hang out with the budding musicians at the UP College of Music like Noel Velasco, Raul Sunico, members of the UP Concert Chorus, and The UP Madrigals.
This led to opportunities to train with them and eventually perform with them as part of the pit chorus of "Best of Broadway," which starred Cocoy Laurel.
Mr. C and Cocoy became fast friends. He was asked to play the piano for various parties at the Laurel home, was Cocoy's accompanist for his various gigs, and eventually became musical director for Cocoy's films and concerts, notably "Cocoy Live" at the Araneta Coliseum.
Cocoy's father, then-Senator Doy Laurel, took notice of the difficulty the young Mr. C had juggling his studies in accounting with his promising musical career. So, one day, he was called into the senator's office. Laurel told him, "You're a good musician but you have to be the best. To be the best, you must learn everything about music and then you must strive to be an authority on music. If you are the best and you are the authority, your life is made. You don't have to look for jobs. The jobs will look for you. Now go home and tell your father that I am offering you a scholarship in music in any school of your choice."
This lecture would change his life. Mr. C finished out the semester in Accounting, and shifted to Music Composition.
It would take him 10 years to obtain his Bachelor of Music. But the delay was understandable. He was already known in the Philippine music industry as an arranger for ads, TV specials, and concerts and recordings of Pilita Corrales, Jose Mari Chan, Celeste Legaspi, Basil Valdez, and Hajji Alejandro.
"I was making good money, but I realized that people do not know who or what an arranger is," Ryan says. "And it dawned on me that to be recognized, I should write my own songs." So he did.
Kay Ganda ng Aking Musika was to be his landmark song. Sung by Hajji Alejandro at the first Metro Manila Popular Music Festival (Metropop) in 1978, it won the Grand Prize in both the Metropop and the music festival in Seoul, Korea.
That was followed quickly by Paraisong Parisukat sung by Basil Valdez. It was his first commercial hit. "Wow! Songwriter na ako!" he beamed proudly.
After that, "Everything was easy," he himself marveled.
Things were so easy he had the time to teach music and find his partner in life among his students, Emmy Punsalan.
Mr. C enjoyed teaching so much that he was even ready to give up his flourishing musical career for a full-time teaching job. Happily, he decided to have one last hurrah. He blew most of his savings to produce "One," a concept album that featured old Filipino classics and some of his earliest hits. He performed all the songs a capella using 16 voices — all his! It was novel, innovative and pure genius.
Though he did not become a full-time teacher, Mr. C is a true mentor, tutoring celebrities and relative nobodies alike. Everyone he has worked with, in every workshop, seminar, concert, corporate event, musical, film, and TV show has benefited from his mentorship.
Mr. C is also a staunch advocate of Filipino music, intent on injecting new life into OPM and encouraging songwriters to write in the different languages and dialects of the Philippines.
So what else lies in store for Mr. C?
"Maybe I'll finally write that symphony or that piano concerto I've always wanted to. Or maybe I'll look for a different sound. I'm open to other ideas."
He has become the best at what he does and an authority at what he does and he does not need to look for work. It comes to him.
For someone who never planned and never dreamt, Mr. C has certainly done very well for himself.
* * *
On Aug. 31 artists from different generations will gather at the Theatre Solaire to honor the maestro's 40 years in the music industry. Entitled "MaestroRy: A Tribute to Ryan Cayabyab," the one-night-only concert will feature performances by Basil Valdes, Celeste Legaspi, Kuh Ledesma, Cocoy Laurel, Morissette, IV of Spades, Urban Dub, Nicole Asensio, Thyro, Autotelic, Blue Rascals, Debonair District, Krina & Toma Cayabyab, Smokey Mountain's Jeffrey Hidalgo and Tony Lambino. "MaestroRy" will be directed by Paolo Valenciano, with musical direction by Mel Villena and the special participation of Mr. C himself. The event is brought to you by Solaire Resort and Casino and SSC Manila Batch 95. Call Ticketworld at 891-9999 to buy your tickets now.