The man who made the Pope wait for an hour and a half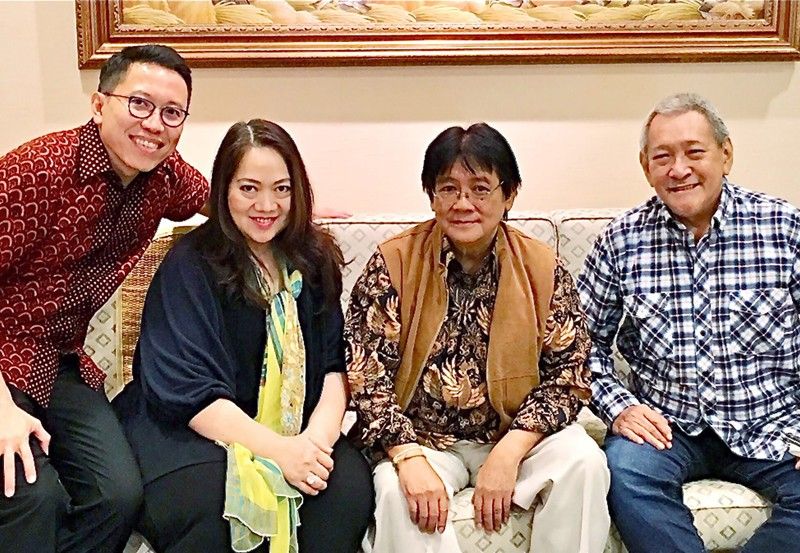 Last week, if only for four days and nights, I must have recorded at least my sixth gratifying visit to Indonesia over the past couple of decades. At my age, memory often staggers for exact recall.
The first time I experiencing Jakarta was in 1996, in the company of then Defense Secretary Renato de Villa, on his farewell tour of ASEAN capitals before retiring from the FVR Cabinet to make a run for the presidency.
Fellow poet Felix Fojas was still working for an ad agency in the Indonesian capital. We hooked up and he drove me around one night through the chaotic traffic, inclusive of becak bedlam. Pointing out a tall obelisk that dominated downtown Jakarta, he said that the locals referred to it as Soekarno's symbolic dick. Trust an erotic poet to prioritize a soaring metaphor before he drove along a red light district, where he said one first needed to acquire the expertise to identify the ladyboys. I passed up on the test, and we just wound up chugging bottles of Bintang.
Jakarta Part 2 was with a Department of Tourism media group. Again, memorable was the insane traffic that ate up most of our hours on the road. We also flew to Bali. I recall a lovely dinner at one of those seaside restos facing Jimbaran Bay, where a wide sandy beach was the attraction. So was a roving trio of musicians who, upon hearing our group around a long table, immediately launched into Freddie Aguilar's Anak.
Memory also retains a long drive in a large coaster to a seemingly uninhabited white-sand beach where there were no resorts, just the wild surf rolling in, and inviting a few of us for a dip. Within minutes, however, like a scene from Dune, dozens of hawkers materialized from nowhere and descended upon us with their buzzing entreaties, while waving bolts of batik and other items of apparel. Even when our guides had urged us to get back to the coaster, the horde pressed on, rapping on the windows.
The third visit was straight to Ubud, bypassing even Denpasar, for attendance at the Ubud Writers & Readers Festival — a weeklong series of symposiums, lectures, workshops and readings. I conducted a daylong workshop on "moon poetry" — appropriately enough, at Casa Luna restaurant. When I wasn't joining readings, I contented myself lazing around in the resort villa where a pool overlooked rice terraces. And the farewell party at the Blanco Museum grounds was unforgettable.
Several years later, touring with PMFTC's Brightleaf Agri Journ winners meant staying right across Kuta Beach in Bali, while also enjoying day trips to Ubud and other villages.
Then in mid-March this year, I finally flew back to Jakarta, and was impressed with the way it had developed rapidly in the last decade and a half since I last saw it. Traffic from the airport was somehow tamed via an expressway straight to the capital's center. But it still took an hour. Impressive however was the high-rise development amid much greenery, with spic-and-span areas devoid of any eyesores. It was obvious that Jakarta had outstripped Manila in fashioning out a more livable capital despite the population density.
The reason for that brief sojourn, as with the recent follow-up, was to visit with Utomo Josodirdjo, the subject of a biography as he nears his 90th year.
A legendary figure in Jakarta, he had pioneered in progressive accounting practices in the 1960s, before hitching up with Washington SyCip's The SGV Group. SGV-Utomo became the largest and most profitable accounting firm in Indonesia.
Since his early retirement 30 years ago, Utomo has continued to inspire and provide wise counsel to generations of Indonesians, from fathers to sons — all of whom fondly address him as "Bapak" or father.
Last week, I submitted my second set of drafts and coursed through another round of conversations with Utomo to flesh up the rest of his life story's rich narrative. Another reason for the scheduling this follow-up visit was that someone who had to be included among the principal interviewees, a very important man in global finance, had finally opened up a slot in his busy schedule — thanks to facilitation conducted by Utomo's daughter Tiara, who had worked as a young lady with this empire-builder.
The man is Anthoni Salim, who had been entrusted to Utomo by his own father, Liem Sioe Liong or Sudono Salim, founder of the Salim Group of Companies — since the young Anthoni had graduated from a London college way back in 1972.
Anthoni has acknowledged Utomo as his life-long mentor, and still relies on invaluable personal advice even as he continues to sit at the top of a financial empire. Anthoni also regards Utomo as a staunch ally with whom he enjoys a healthy and open rapport, even though he is 20 years Utomo's junior.
It was an honor to meet the man and share an hour of his precious time. In the company of Tiara and her husband Daniel Budiman, I was aware that there was no telling how late Anthoni Salim would come past the appointed time. He was said to have been an hour and a half tardy for his arranged meeting with the Pope.
So when he walked in only 75 minutes past 7 p.m., I congratulated myself silently for having nicked the Vatican host. Anthoni was extremely genial, humorous, and superbly articulate in dishing out his soundbites. The recorded interview must have been transcribed by now, for inclusion in Utomo's bio. But here are a few nuggets as excerpts:
"Pak Utomo is my mentor, my father, and my Google. After his Western education in Holland, he equipped himself with such knowledge that he easily transforms everything towards the path of efficiency, towards success. He is like an adaptor, able to adjust whatever the voltage, as well as an all-around screwdriver that makes everything work through sheer resourcefulness.
"I've learned a lot of things from his advice — often volunteered. The depth of our relationship can be sourced to his very caring heart, brain, and strong character.
"My father did not talk very much. But they trusted each other. They had different ways of communicating. What was important was the quality, the essence. My father asked Pak Utomo: 'Please help my son.' Until today, he's still looking after me."