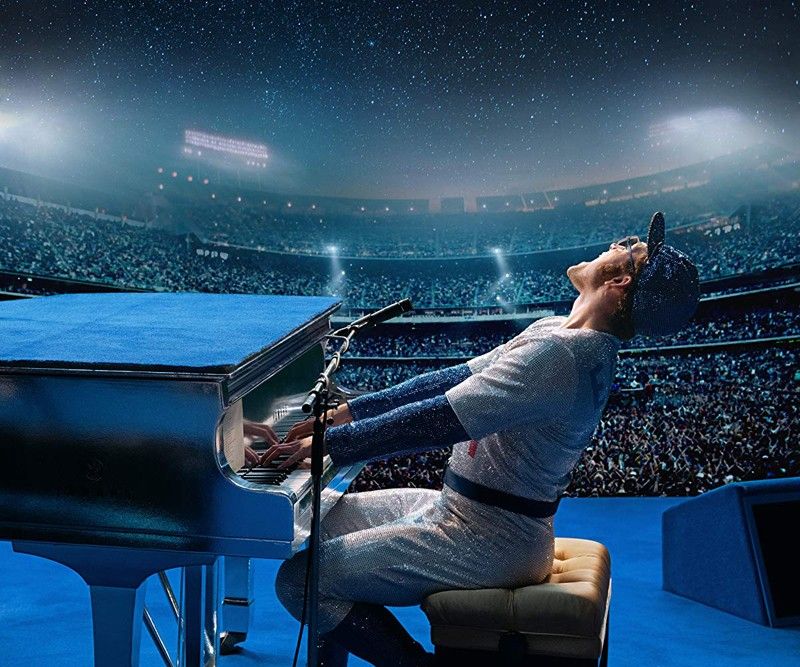 Bitch is back: Taron Egerton has to supply the spectacle — or, in this case, loads of colored spectacles — in playing Elton John for Rocketman.
Photo courtesy of United International Pictures
Specs, drugs and rock 'n' roll
'Rocketman' captures some of that '70s nostalgia, as well as the energy of a music scene that was more rocket-powered than it ever would be again.
The first third of Rocketman, the Elton John-endorsed biopic, centers on a star-making performance at LA's Troubadour, a famed rock club that broke many a big act in the '70s. In it, Elton — played with stocky, pugnacious charm by Taron Egerton — physically levitates himself behind his piano, and the audience levitates as well; but it's by no means the most surreal moment in this follow-up to last year's Dexter Fletcher-directed Bohemian Rhapsody.
That film scored big box office, earned Rami Malek an Oscar playing Freddie Mercury, and seemed to open the floodgates for rock biopics to come. But what if your subject lived a life of glitter, fantasy and possible periodic blackouts? And yet, as the final number reminds us, he's "still standing"? Then you go full freakout, with a screenplay by Lee Hall that indulges a "heightened take" on the songwriter's life, boa feathers and all. Rocketman is, at times, closer to the whimsical fantasy musical numbers of Mamma Mia! Here I Go Again — occasionally cloying, but fully committed to its madness.
Born Reginald Dwight, Elton John's working-class London roots are represented by a 1950s tenement flat street, where everybody's black and white and he's in full, raging Technicolor. At least that's Elton's recollection as he arrives — in full stage regalia — for a stint at the Betty Ford Clinic (chronology is a little jumbled here; John supposedly did rehab in 1990, though he's shown during that stint, writing the 1983 hit I'm Still Standing). Despite indifferent parents (putting it mildly), Elton finds he has a preternatural gift for music, studies piano, and meets up with lyric writer Bernie Taupin. By John's recollection, they've "never had an argument in 28 years" of working together. Taupin's tales of American cowboys and Hollywood legends met up with Elton's gospel, boogie and classical roots to produce one of the biggest strings of '70s pop hits. Many of these are reeled off in Rocketman (with Egerton gamely aping Elton's gruff soul) during key moments or in montages showing his upward trajectory. His Troubadour triumph leads to working with shark-like manager John Reid (Game of Thrones' Richard Madden), and it's not long before mansions, glittery wardrobes and a pile of drugs replace the hole that's at the singer's core. (The costumes by Julian Day are a faithful reproduction of some of Elton John's most eye-popping stage outfits. They make Liberace look like The Church Lady.)
That hole in Elton John's life is hinted at early on, when a child version of the future pop singer requests "a hug" from his long-absent dad. No dice. His mom (an oddly young-looking Bryce Dallas Howard) is similarly consumed with her own indulgences, and it's only kindly grandma Ivy (Gemma Jones) who sees Reginald's true potential. While the framing technique of Elton entering rehab to introduce his blurry tale is a bit hokey, it's kind of worth it just to see the singer show up for a group therapy session in flaming orange devil outfit and heart sunglasses. Egerton puts as much energy into this role as he probably felt Malek did in channeling Freddie Mercury (even a bit of mouth prosthetics to achieve Elton's front tooth gap) and it largely pays off. He plays Elton as likable, constantly seeking love and acceptance, but doesn't hold back on the singer's more toxic tendencies. (This is a guy, after all, who wrote The Bitch is Back and Dirty Little Girl.) There are warts, in other words. And Egerton clearly relishes the chance to bash his vocal cords through numbers like Honky Cat, Pinball Wizard, Don't Let the Sun Go Down on Me and Saturday Night's All Right for Fighting.
And, after all, that is the underlying purpose of jukebox musicals: to tap into our collective nostalgia for songs we grew up listening to, or else heard in regurgitated renditions on other people's soundtracks, TV ads or YouTube clips. The music lives on, even if the times have changed.
Rocketman does capture some of that nostalgia, as well as the energy of the '70s music scene that was more rocket-powered than it ever would be again. Elton showing up at Dodgers Stadium to 50,000 fans, glittery baseball uniform intact? Just another day in the life of the '70s. Unlike Bohemian Rhapsody, Elton's endorsed biopic decided not to be coy about homosexuality or drug use: the more the merrier, was apparently executive producer John's mantra! Thus there are fairly straightforward bedroom scenes between Elton and music manager Reid, as well as extravagant journeys through Dante's Inferno during numbers like Bennie and the Jets that end in writhing, red-tinged orgies. Plenty of moments where Elton wakes up… somewhere or other… wondering where he is, what day or week it is. This might help us excuse the jumbled chronology.
Classic Elton songs are employed as storyboard moments, as when the songwriter sits down at a piano to instantly turn Bernie's words into Your Song, or when he splits with his lyricist to the tune of Goodbye Yellow Brick Road ("Maybe you'll get a replacement," sings Bernie. "There's plenty like you to be found!" ripostes Elton.)
While Bohemian Rhapsody took pains to chronicle the songwriting and behind-the-scenes studio magic of Queen's music (they didn't have Freddie around to say what to take out, leave in, after all), Rocketman has to supply its own spectacle — or, in Elton's case, loads of colored spectacles — through a life not-so-cheerfully lived in excess. After it's all over, though, Elton can only shrug and admit he's "enjoyed every minute of it" — the drugs, the sex, the shopping. It's only a final rehab moment focused on embracing his inner child — "hugs, not drugs" — that seems a little spackled onto a life that was unapologetically of its moment.