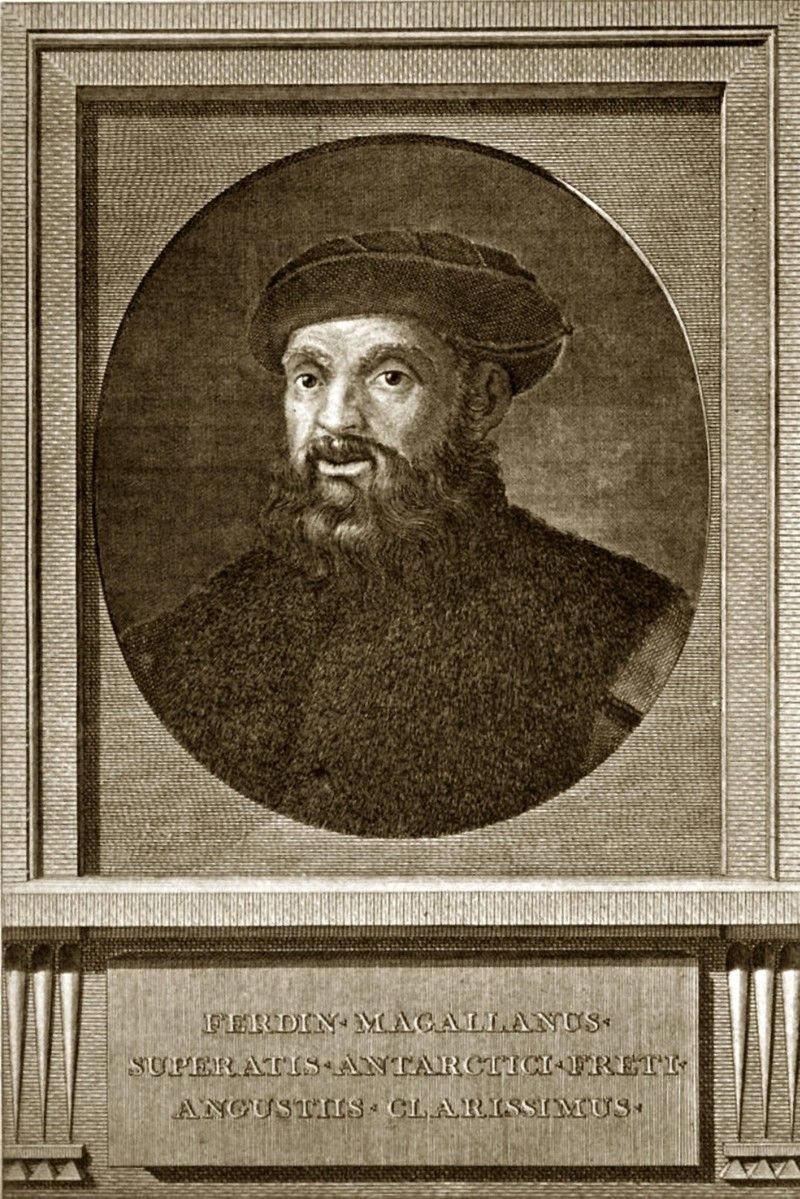 Ferdinand Magellan, who technically only circled the globe halfway. No painting exists of the Cebuano who was actually first to complete the journey around the earth. (Engraving from Pigafetta's book The First Voyage around the World by Magellan)
The Cebuano who beat Magellan to it
It's a cruel time to be a conquistador.
Every Filipino schoolboy knows by heart that Ferdinand Magellan "discovered" the Philippines. His other claim to fame was that he (or at least, his expedition) was the first to circumnavigate the world.
In so doing, Magellan proved that the earth was round and not flat. This year marks the 500th anniversary of that celebrated journey, which started in 1519, culminated in the Philippines two years later and wound up in 1522 when one boat and 18 survivors limped back to Spain.
A little-known book on "the greatest ocean voyage in history … a story that changed the way we look at the world and our place in it" presents the tantalizing idea, however, that it was not Ferdinand Magellan but a "Filipino" — or, more properly, a Visayan from the islands off Cebu — who was the first person to circle the globe.
Thanks to Magellan's chief chronicler Antonio Pigafetta (think social media director but with old-fashioned plume and paper), we also know his name — Enrique.
Scholar Laurence Bergreen, writing in his book Over the Edge of the World as far back as 2003, explained how this happened : "Magellan's slave Enrique, addressed (the warriors who appeared in a small boat near Cebu) in a Malay dialect, and to Magellan's astonishment, the men appeared to understand him and replied in the same tongue. No one, not even Magellan, knew how Enrique managed to converse with the islanders, but the slave's background provides some valuable clues. Magellan had acquired Enrique 10 years earlier in Malacca, where he was baptized, and he had followed his master ever since across Africa and Europe. If Enrique had originally come from these islands, been captured as a boy by slave raiders from Sumatra, and sold to Magellan at a slave mart in Malacca, the chain of circumstances would account for his understanding the local language. But beyond that, it meant that Magellan's servant was, in fact, the first person to circle the world and return home."
Enrique's boss (or "amo") was none other than Captain-General Fernão de Magalhães — aka Fernando de Magallanes, or the name we best know him by: Ferdinand Magellan.
He had taken Enrique back to Spain as his body servant, or male nanny, making him the first recorded OFW. He would have learned Portuguese, Spanish, possibly even Italian (and almost certainly spoke them all with a Cebuano accent.) He was schooled in the ways of medieval Europe and the tradecraft of sailing while onboard various boats with his master. Enrique thus absorbed the culture of his new household and made it his own, through a position familiar to legions of Filipinos who make their livelihood abroad as domestic helpers.
Magellan himself was a Portuguese nobleman who switched sides to the throne of Spain. You'll need to think of this bold move in the same terms as LeBron James dropping the Cleveland Cavaliers for Miami Heat, but with far higher stakes. Magellan was a power forward in the Age of Discovery, when the name of the game was winning new territories and finding the gold and spices that would make a kingdom run and hum.
It was a scandalously dangerous thing to change sides, with a possible death sentence attached to it. Bear in mind that the Pope had simplistically but craftily divided the world — for no other reason than to keep an uneasy peace — between the two great empires that mattered: Spain and Portugal. (The ownership of the Magellan voyage still continues to bedevil both countries' organizers of its anniversary.)
Magellan, as they like to say, was a man on a mission. He wanted nothing more than to make a beeline for the Spice Islands. To do this he would require an armada, a fleet of four ships and a fifth just to carry his supplies of food and arms. It was something only a royal treasure house could pay for. The one thing standing in his way was that the King of Portugal hated his guts.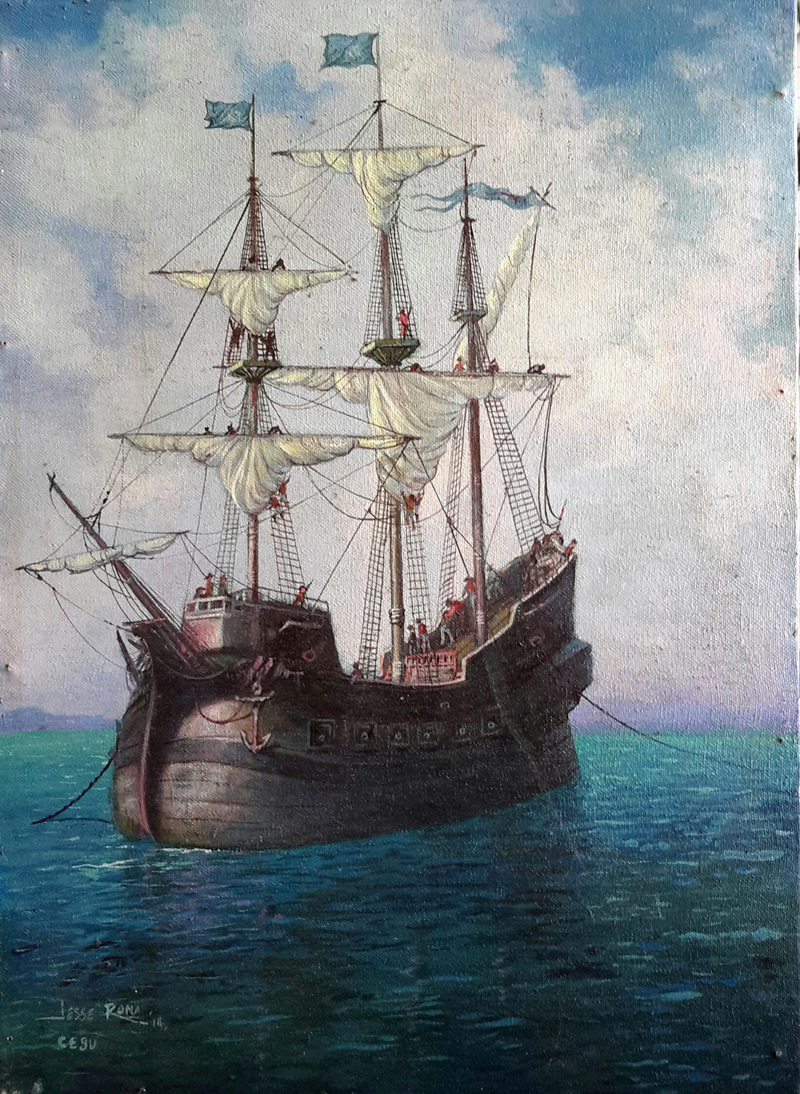 Magellan's surviving ship Victoria, which limped back to Spain in 1522 carrying 18 survivors: Artwork by the painter Jesse Rona from Cebu, site of Enrique's homecoming
Like LeBron, Ferdinand then decided to change teams in a ruthless career move and in 1518 decided to go to Seville, the epicenter of Spanish overseas operations. Portugal had the expertise as navigators, thinking men who could do the math; Spain, on the other hand, was a brash superpower with deep pockets, very much like its 20th-century rival, the USA.
Magellan was intent on netting the Spanish king's affections and on convincing him of his plan to sail west until he found the riches of the east. To do so, he did a clever thing, says Bergreen. Magellan trotted out Enrique as evidence of the lands he dreamed of. Apart from the elaborate maps and what was probably the equivalent of a grandiose Powerpoint, Magellan produced proof positive that the Spice Islands were within his grasp. No matter that he concealed Enrique's true roots. It was a close enough fit for the men who mattered.
As expected, Magellan got his way and King Charles I gladly agreed to foot the humongous bill. Was Enrique responsible for closing the deal or was he simply the fellow who was serving the New World's chocolate-eh? Whatever his exact role, it sounds just like the Filipino's penchant for finding himself deliciously close to the momentous events of history.
Thus Magellan began his landmark journey that would make him more famous than his childhood idol, Christopher Columbus, and bring him to the Philippines, Enrique's homeland.
And in that split-second, when Enrique landed back in these islands — flush with his newly important position as part of Magellan's inner circle — he became the thing most beloved by our Department of Tourism: The country's very first "balikbayan."
He was also the first person — not yet called a "Filipino" (for there was no such name "Philippines" at the time, although there were the words "Zzubu" or "Sebu'' in Pigafetta's account) — to circle the earth, coming from these islands to Spain, then right back.
Like today's successful returning resident, Enrique helped distribute "pasalubong" from foreign lands to his impressionable brethren — red caps and various trinkets.
He was also able to explain the many exotic practices to his amo, including the practice of "casi casi," or the blood compact. Enrique became not just an interpreter, he functioned just like Teddyboy Locsin, as Secretary of Foreign Affairs, giving important insights to the various casts of characters Magellan found in these islands.
It is entirely logical that Enrique guided Magellan through the rough waters of local politics. He probably would have warned Magellan not to tangle with Lapu-Lapu and to avoid an unnecessary confrontation. (As Teddyboy probably knows, however, cabinet ministers aren't always listened to.)
Magellan thus met his watery death off the shore of Mactan, not quite remembered by that certain five-star island resort that has risen on its site. Enrique had, in fact, fought valiantly by his side until it was too late.
With his beloved master gone, Enrique was rudely reminded by Magellan's successors that he was just a slave and would be shipped back to Spain along with the rest of Magellan's belongings. In truth, he must have known that Magellan's last will and testament actually provided that he be given his freedom and a tidy sum of money. His skill set was sorely needed, however, by the surviving Spanish officers who refused to end his contract and let him go.
It was then that Enrique decided he was a man from this archipelago first and foremost. In fact, he had, like countless other Filipino expats, seen for himself what life was like abroad and decided it was just not for him. Lapu-Lapu, a troublesome chieftain, had simply decided he would not be bullied. Enrique, on the other hand, had reckoned he had had enough of the white man — and decided to exercise what he correctly felt was a separate and equal identity. There was no going back.
He would plot with the other Cebuano chieftains to destroy his captors so that he could remain in his long-lost home.
Thus, Pigafetta relates, Enrique — who had been by Magellan's side when he had gone from Portugal to Spain — took a page from his employer's playbook. He decided to change allegiance from the Spanish, whom he once thought were his blood brothers, to his real countrymen.
Enrique would plan a familiar charm offensive, capturing key officers by first luring them to a lavish reunion overflowing with food and drink. He would then send the Spanish packing from Philippine shores, at least temporarily.
If Magellan began his voyage of discovery with deliberate consideration, Enrique would accidentally discover himself in the process.
Would it not be wonderful to mark not just Magellan's circumnavigation of the earth with our own Philippine-centric commemoration right in Cebu, the place where our self-realization came truly full circle?