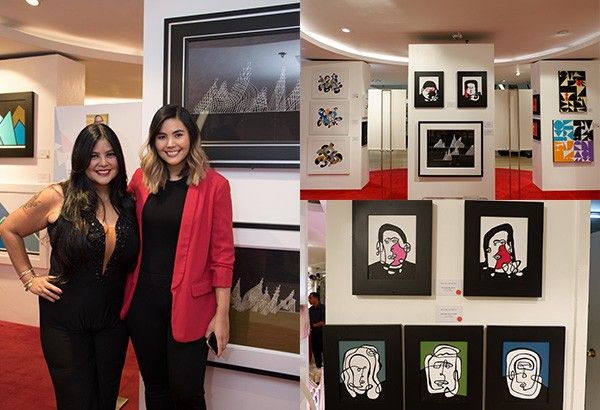 Vic Sotto's daughter Paulina launches exhibit with grandfather Arturo Luz
(Philstar.com) - April 11, 2019 - 12:07pm
MANILA, Philippines — National Artist for Visual Arts Arturo Luz and his granddaughter, who is making her comeback at Rustan's For The Arts, Paulina Luz Sotto, recently unveiled a joint exhibit at the third Level of Rustan's Shangri-La. The exhibit will run until April 30. The works of art will then be brought and put on view at the 5th Level of Rustan's Makati from May 3 to May 15.
Beauty in its simplicity – this has been the focus of Paulina Luz Sotto's works since she started painting in 2015. Known for her clean lines and interesting shapes, her abstract art draws the eye and mind to the stories that she draws on the canvas.
A cum laude graduate from Ateneo de Manila University with a degree in Communication, Paulina always had an appreciation for the arts, butbeing a full time artist never crossed her mind despite living with her National Artist grandfather, Arturo Luz.
From the time she turned 24, her passion for abstract art and fascination with lines grew so strong that people started taking interest in acquiring her art. Paulina is now a dedicated visual artist, having had three successful solo exhibits, among various group exhibits. She has sold hundreds of paintings in only three years in the art industry.
Meanwhile, National Artist for Visual Arts Arturo Luz is a printmaker, sculptor, designer, and founding member of the modern Neo-Realist school of Philippine art. Influenced by Modernist painters such as Paul Klee, he has worked in a variety of styles and techniques in varying degrees of abstraction, creating playful geometric figures and forms. Born in the year 1926, he went on to study at the School of Fine Arts at the University of Santo Tomas in Manila, the Art School of the Brooklyn Museum in New York, and the Academie Grade Chaumiere in Paris. From 1976-1986, he became the founding director of the Metropolitan Museum of Manila.
On his exhibitions, Arturo's international shows included the Philippine Cultural Exhibition in New York in 1953, Arte de America y España in 1963, the 11th Sao Paulo Biennial in 1971, the Tokyo International Print Biennal in 1974, and the 8th British International Print Biennale in 1984. He was named National Artist for Visual Arts in 1997.
As Rustan's for the Arts presents the works of Arturo Luz and Paulina Luz Sotto together for the first time, it further cements its position as a champion of Filipino artistry by communicating the beauty of art and fine taste to a wider audience. Knowing that appreciation for Filipino is not just an extension of luxury but also an expression of awareness and solidarity, the Filipino departments store chain strives to bring to the forefront the talent and exquisite craftsmanship of Filipino artists annually to enrich Filipinos' homes and lives.