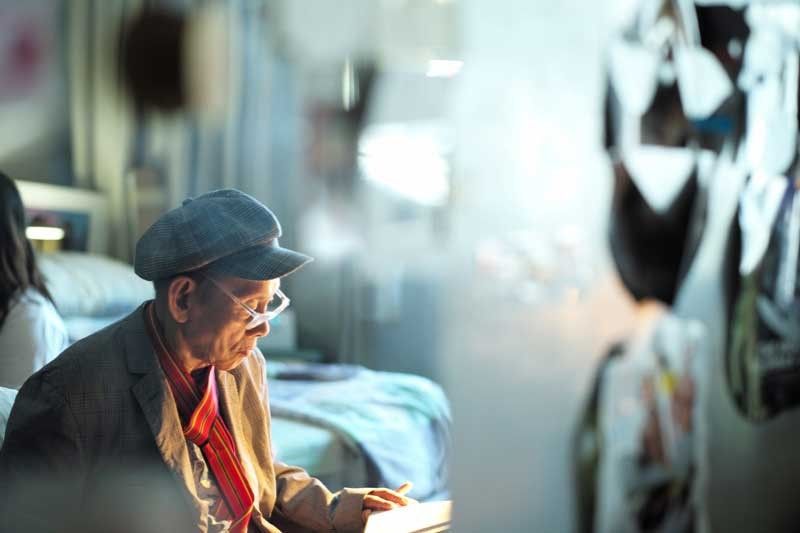 David Medalla, Botero, Malang headline ArtFairPH/Projects in AFP's 7th edition
Jessel Duque
(The Philippine Star) - January 28, 2019 - 12:00am
MANILA, Philippines — Art Fair Philippines (AFP), now in its seventh iteration, goes big this year by showcasing the works of artists whose works have made critical and commercial impact here and abroad.
ArtFairPH/Projects will feature internationally recognized Filipino artist David Medalla, conceptual artist and eminent curator Ray Albano, and Colombian artist Fernando Botero, whose rotund figures based on the daily lives of people from his hometown of Medellin. It is the first time that a non-Philippine artist is highlighted in the exhibits section of the Art Fair, as well as the first time that a collection of Botero's works will be on display in Manila. Botero's grandson will also be present to give a talk on the art that inspired popular acclaim and a term uniquely appropriate — "Boterismo."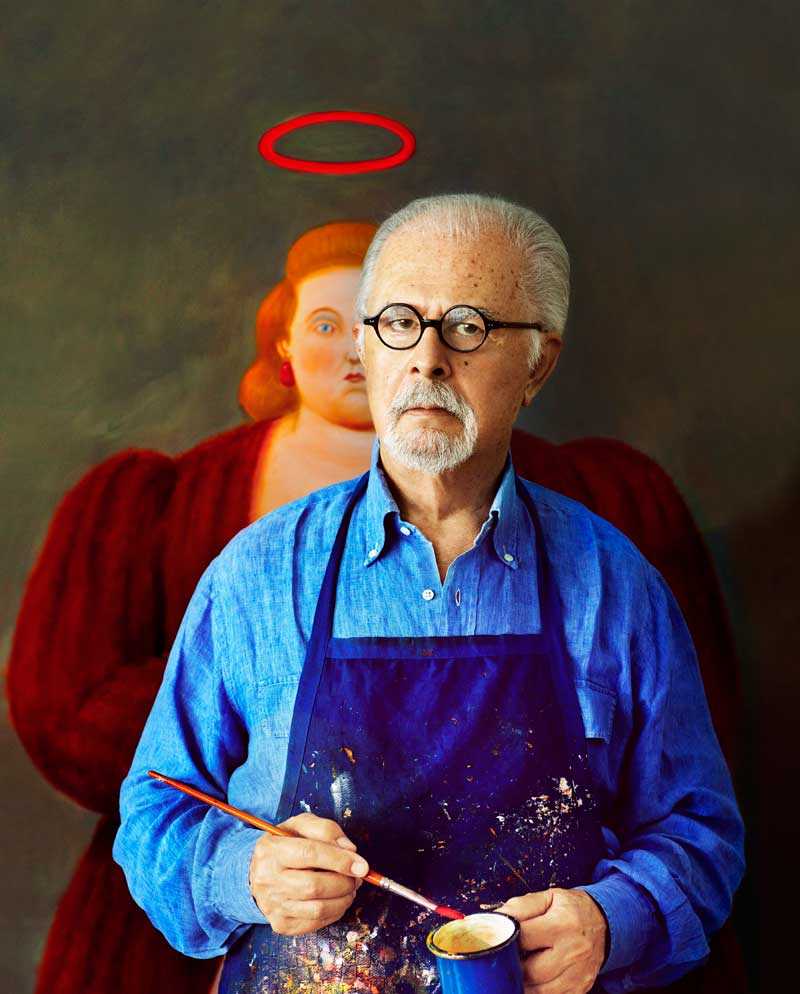 Fernando Botero
The Philippine front will be anchored by participatory art from David Medalla, who will mount a new iteration of "A Stitch In Time." First conceptualized in 1968, when Medalla would give his lovers stitched handkerchiefs as a repository of memory. The work allows its viewers to engage with the piece by sewing a trace of themselves onto the huge swathe of canvas that will hang at the fair's central exhibit space. Lisa Periquet, one of the fair's founders, remarked on the work's collaborative nature: "As the days go by, the artwork will grow more and more full." "A Stitch in Time" has travelled the world and impressed visitors at the 2017 Venice Biennale, but it has never had a Philippine run. The fair offers this unique chance to experience Medalla's work.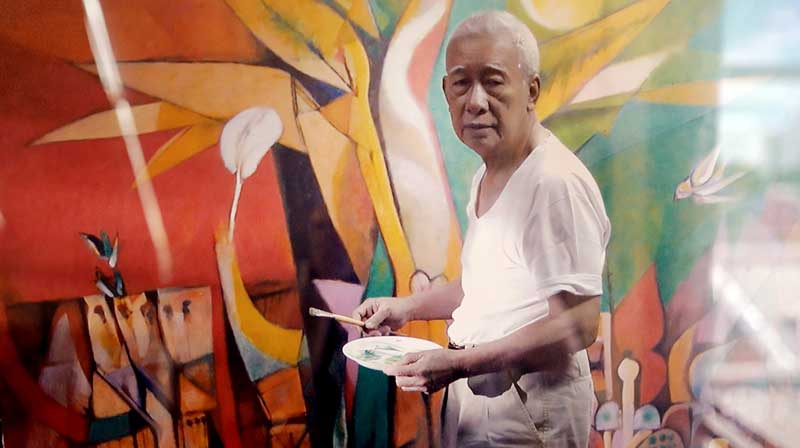 Malang
Another outstanding example of Philippine conceptual art especially commissioned for the fair will be the 1974 award-winning installation by seminal CCP curator Ray Albano, "Step on the Sand and Make Footprints." Submitted to the Tokyo Biennale, the work is straightforward enough: a box of sand that the fair-goers are invited to step in and make their own footprints. Periquet explains that recreating the work in its proper size in The Link will allow viewers to experience the work in full. Albano died before he was 40, but his influence on Philippine conceptual art can still be felt to this day.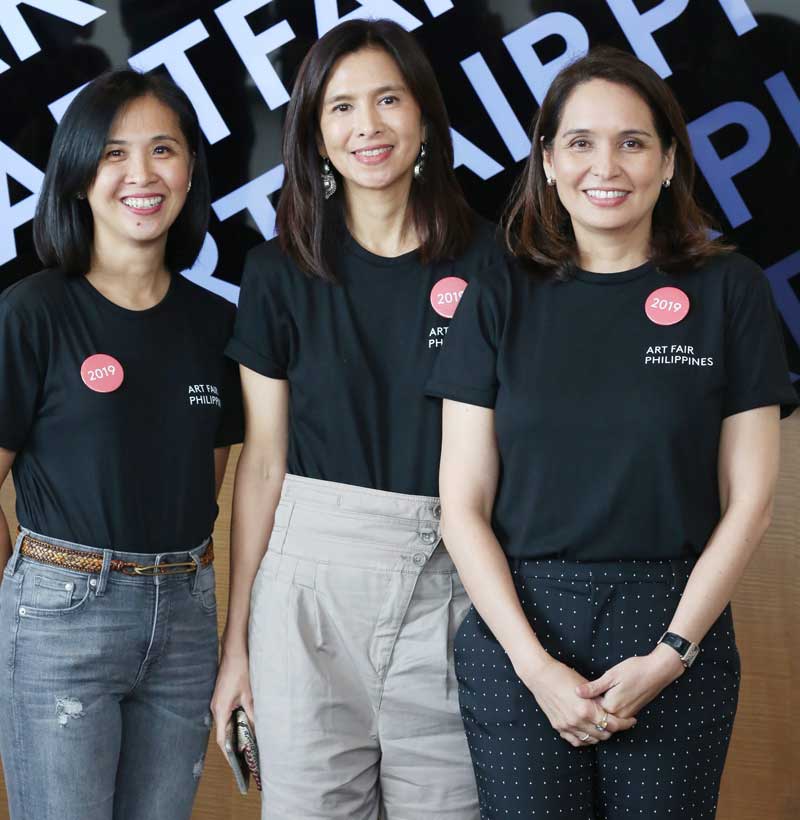 Art Fair Philippines founders: Dindin Araneta, Trickie Lopa and Lisa Periquet. Photo by Walter Bollozos
ArtFairPH/Projects will be located in one floor of The Link. Periquet explains that "by locating them together, it will present a strong curatorial vision." And on the decision to commission works from artists that have already been staged elsewhere, co-founder Dindin Araneta says each iteration of the work "can evolve and have its own nuances for different generations."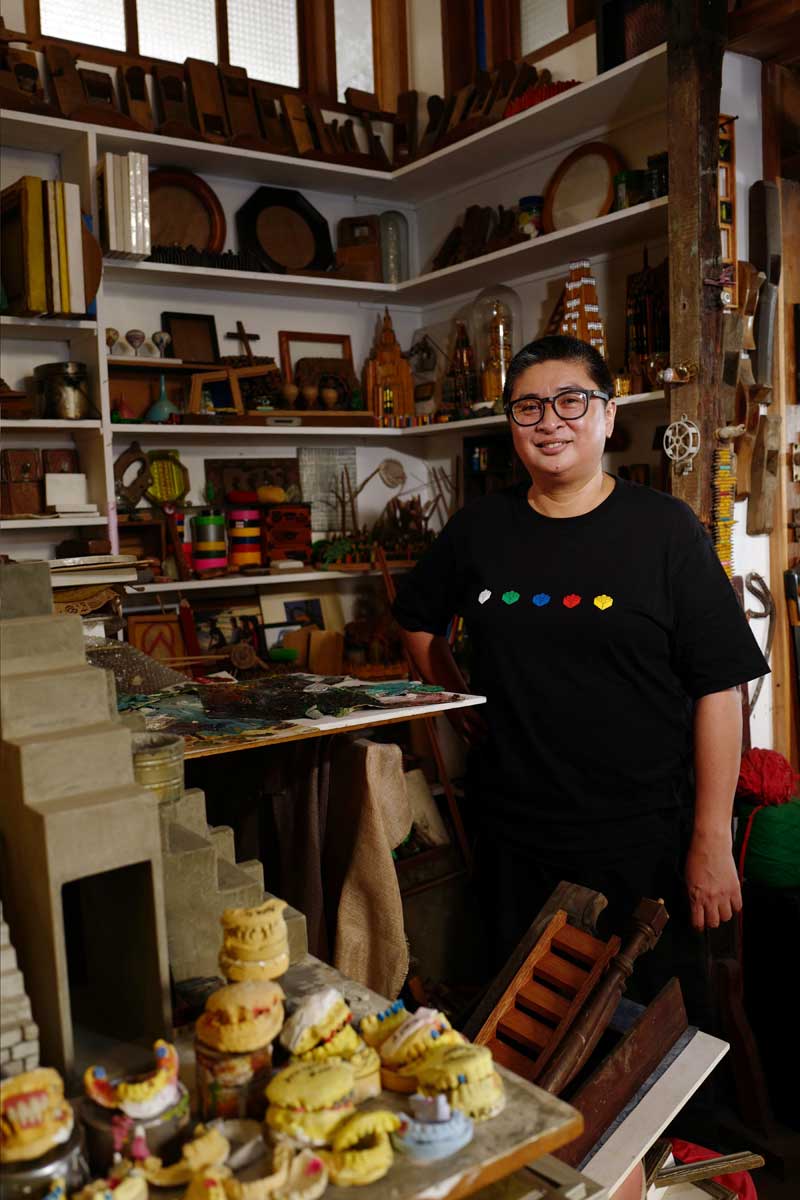 Christina Quisumbing Ramilo
There will also be a section featuring prints and drawings by Mauro Malang Santos (1928-2017) depicting female figures. Malang's son, accomplished artist and owner of West Gallery, Soler Santos selected works depicting "Malang's Women" from a collection that was previously held as family treasures.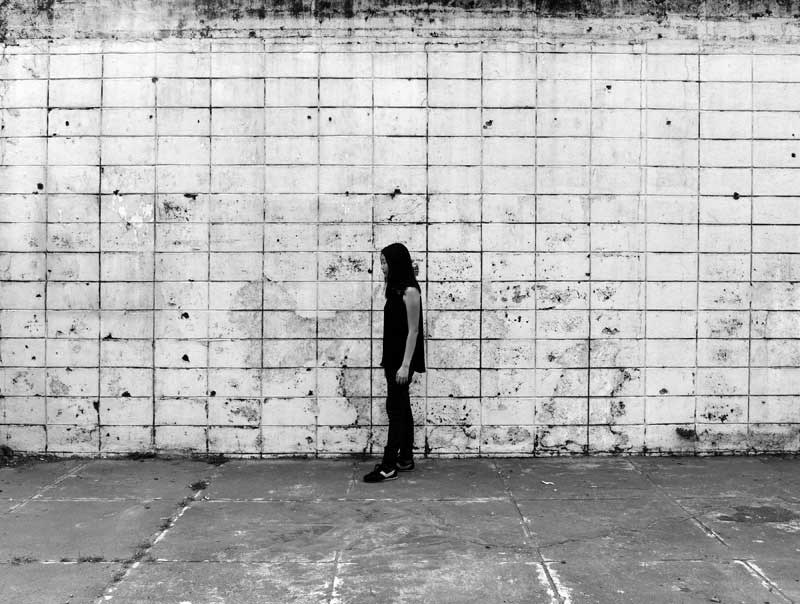 MM Yu
Other artists participating in ArtFairPh/Projects are Ryan Villamael with "Behold A City," a love letter to Manila before the Second World War; Oca Villamiel with "Cheap Medicine," which makes use of coconut shells and alludes to laughter's power; Ian Fabro with "Inferno, Purgatorio, Paradiso"; Christina Quisumbing Ramilo with "Forest for the Trees," which features a library of books made of wood; and Olivia d'Aboville with "Everything, Everywhere, Everyone."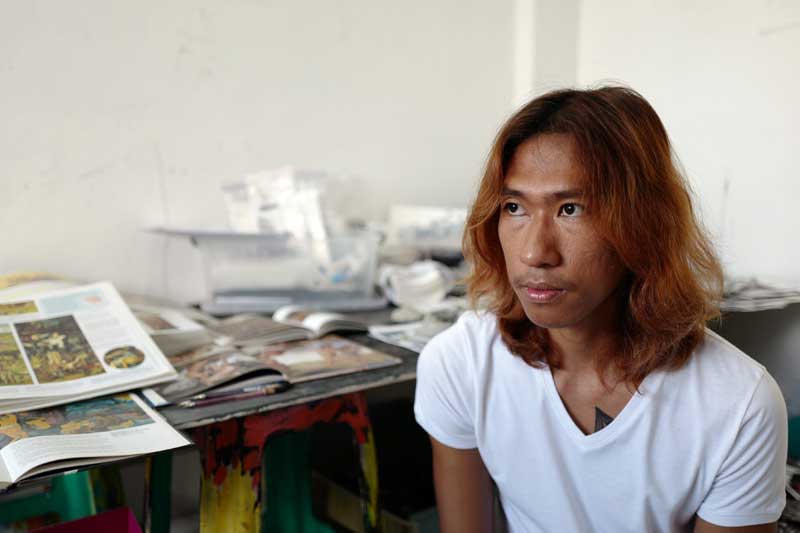 Ian Fabro
Following last year's strong reception of the photography section, the Art Fair will once again push strong works featuring photography. MM Yu's "Subject/Object" focuses objects found in artist's studies. The photos will not be captioned, and will be a fun guessing game as to which object belongs to which artist.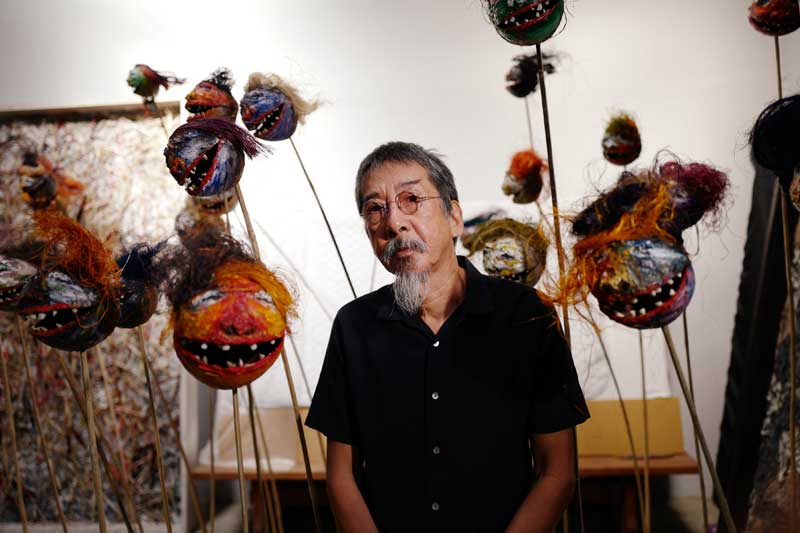 Oca Villamiel
Complementing the exhibits are a series of art talks over the fair's three days. Of note is the session by art historian Kathy Galitz, who will be brought in by National Book Store from the Metropolitan Museum of Art in New York. She will share her expertise on 18th- and 19th-century French art, as well as hold a book launch for Masterpiece Paintings at The Metropolitan Museum of Art.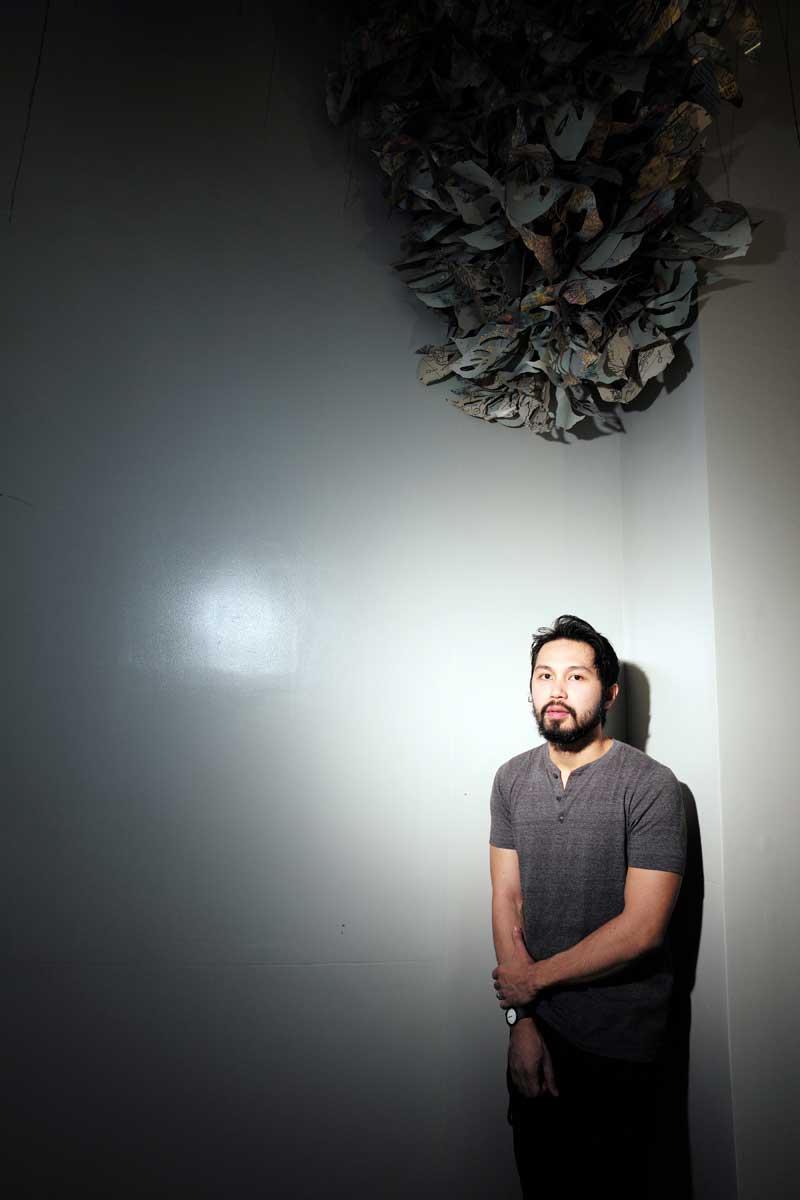 Ryan Villamael
This year, 36 galleries from the Philippines and 16 international galleries from Japan, Hong Kong, Singapore, Vietnam and Taiwan will occupy The Link from Feb. 22 to 24. The Art Fair will now occupy a more compact space in The Link, as well as smaller footprints for exhibiting galleries. But the organizers hope that this provide a stronger impact of the exhibits on display.
Olivia d'Aboville
After hearing the public calls for easier access, especially after the implementation of the three-hour viewing window from last year, there will now be three ways to enter the fair: the usual entrance on Parkway Drive, availability of the car ramp in The Link, and a newly-built bridgeway coming from Landmark's third floor. Tickets may also be bought online, in advance, to avoid the long queues. The organizers are also continuing their campaign on art fair etiquette, or how to properly view artworks. As opposed to the sprawl and the tight crowds taking selfies in the past years, this is certainly a welcome change.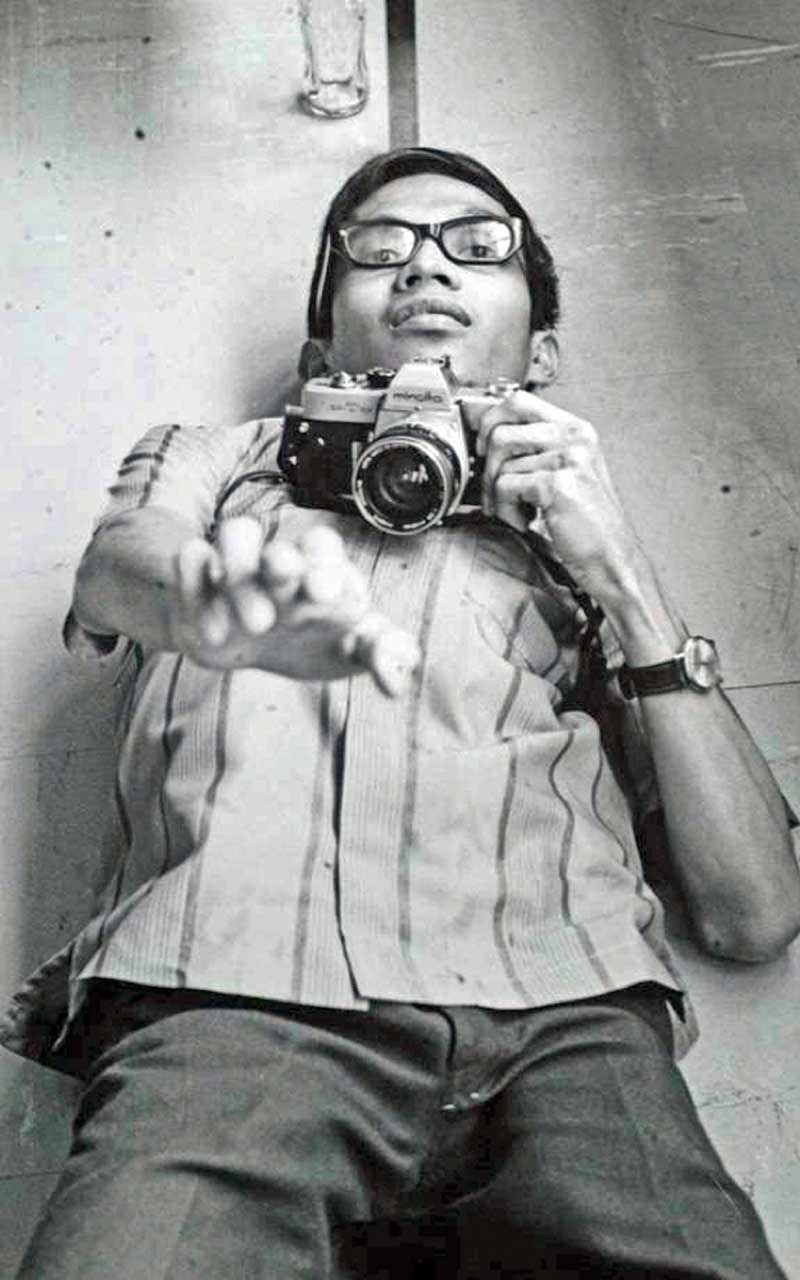 Ray Albano
In its seventh year, the Art Fair now provides us with an art itch we can now calmly scratch in peace.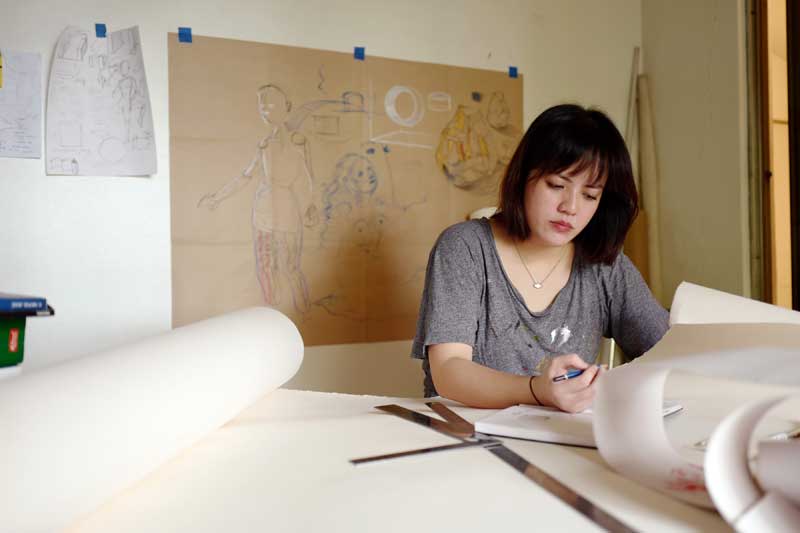 Liv Vinluan
* * *
Tickets for the fair can be purchased in advance at www.artfairphilippines.com.
For information, visit the Art Fair Philippines website and follow Art Fair Philippines on Instagram (@artfairph) and Facebook (www.facebook.com/artfairph).
Art Fair Philippines 2019 is co-presented by Ayala Land, Bank of the Philippine Islands, Globe Platinum, and Julius Baer. The fair is also sponsored by AC Automotive, Ayala Land Premier, Make It Makati, and Don Papa. Its official hotel partners are Fairmont and Raffles Makati, and Holiday Inn and Suites.
The Philippine STAR is a media partner of Art Fair Philippines.