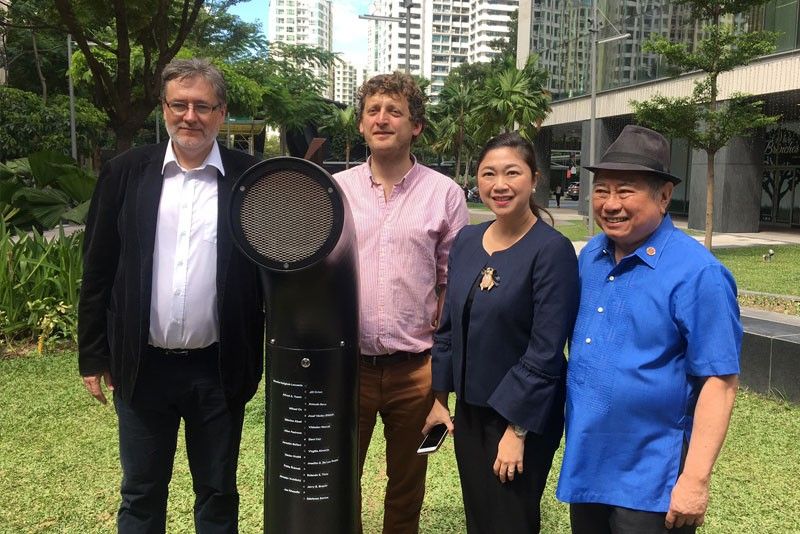 Czech Ambassador Jaroslav Olša, Czech inventor Ond?ej Kobza, Taguig Mayor Lani Cayetano and NCCA chair Virgilio Almario at the unveiling of the poetry jukebox
At BGC, a jukebox that plays poetry on demand
Yet another significant literary project that outgoing Ambassador of the Czech Republic Jaroslav Olša Jr. leaves as a legacy is the first "Manila Poetry Jukebox" — inaugurated last Thursday morning at Bonifacio Global City in Taguig.
In cooperation with Art BGC and Bonifacio Art Foundation, the installation on Greenspine in between The Mind Museum and Shangri-La at The Fort (or High Street extension) had Taguig Mayor Lani Cayetano as guest of honor for the ceremonial unveiling.
Resembling a fat black periscope protruding up from the ground, the installation plays poetry on demand!
This modern jukebox that doesn't require coins but only a finger-press on a tiny button offers a selection of 20 poems by Czech and Filipino poets in English and Filipino, as voiced by Filipino writers and artists.
Begun in the Czech Republic, the ingenious concept has been successfully exported to other countries in Europe, the USA and Israel. Metro Manila is the first Asian city to have such a poetry jukebox.
On the track listing are poems by noted Filipino poets: Gémino H. Abad, Virgilio S. Almario, Mikael Co, Joselito D. Delos Reyes, Mookie Katigbak-Lacuesta, Jerry B. Gracio, Allan Pastrana, Ildefonso Santos, Rolando S. Tinio and Alfred A. Yuson.
The poems were selected by Sarge Lacuesta, recent winner of the 2018 National Book Award for Best Book of Short Fiction in English. He also produced the poetry recordings — as voiced by Indra Cepeda, Mikael Co, Mookie Katigbak-Lacuesta, Allan Pastrana, Lourd de Veyra, Alfred A. Yuson, and Lacuesta himself.
Czech poetry is represented by, among others, Ladislav Seifert, Vít?zslav Nezval, Antonín Sova, Václav Hrab? and Jan K?esadlo — with their poems translated to Filipino by Mikael Co.
Per the Czech Embassy: "The Poetry Jukebox's main message is that the space around us is public; it does not belong to bureaucrats or politicians, but to people. It allows passersby to stop in their daily rush, listen to poems for a while, and discover beauty around them. The intended result is a mystic experience: of poetry coming to them in a 'non-poetry age.'"
Readily agreeing to its installation at the BGC, Mayor Cayetano enthused: "I loved the idea of this project from the very first moment. This poetry jukebox is a great example how people can easily make their own cities more livable. Cities offer huge spaces, which can be used for better social interaction. Taguig City will continue to care to bring life back on the streets!"
Also present was the project inventor, Ond?ej Kobza, a cultural activist and change-maker who has initiated cultural interventions all around the Czech Republic and the world. He transforms urban spaces into art works by introducing a new paradigm of social interaction in the public sphere, such as installations of pianos and chess tables on the streets, dusk concerts inside post offices, literature readings inside city courtyards, and tango dancing lessons at train stations.
Kobza says: "Poetry jukebox is a bottom-up approach to urbanism, as opposed to the traditional top-down strategies. I hope that the poetry jukebox will gain popularity among people of Taguig and the whole of Metro Manila."
As part of the celebration of 100 years of the independent Czech state, the unveiling of the Czech invention that plays poetry on demand to passersby marked the permanent installation of novel art that makes public spaces more lively and interactive.
Sadly, Ambassador Olša is due to complete his four-year term in the country by next month. It has been a most fruitful engagement with Filipino writers, journalists, artists, publishers and culture activists. He has indefatigably enhanced and promoted literary and cultural ties between the Czech Republic and the Philippines by initiating the publication of various books written and translated into Czech, Tagalog, English, Bicolano, Waray, and Minasbate.
Co-produced with the Komisyon ng Wikang Filipino (KWF) headed by National Artist Virgilio S. Almario was the translation of Franz Kafka's Die Verwandlung (The Metamorphosis), first published in 1915. Ang Metamorposis was translated into both Tagalog and Bicolano. Another collaboration was the translation of the poetry of Nobel Prize-winning Czech writer Jaroslav Seifert, resulting in the 300-page book, Sa Prága: Mga Piling Tula ni Jaroslav Seifert.
The Czech Embassy also initiated the translation of the popular anthology The Witcher, and other Fantasy and Science Fiction from Central Europe and the Philippines into Ang Manggagaway at iba pang Kathang-Agham at Pantasya mula sa Gitnang Europa at Pilipinas. Co-edited by Ambassador Olsa, Hungarian Ambassador József Bencze, and Filipino speculative fiction writer Dean Francis Alfar, with popular writers Bob Ong, Eros Atalia, Beverly Siy, and Joselito Delos Reyes doing the translation into Filipino, the collection was printed by Visprint.
Ambassador Olsa was instrumental in the writing and publication of Jessica Zafra's Twisted Travels: Rambles in Central Europe, which was launched late last month at Fully Booked BGC.
Also recently, as the special guest of Bohol Governor Edgar M. Chatto at the commemoration of the 122nd birth anniversary of President Carlos P. Garcia in Tagbilaran City, Jaroslav delivered remarks on the history of Czech contacts with Bohol and the Visayas. He is working on the translation of the letters of two Czech Jesuit priests who were in the Visayas in the 18th century — a project that will include 10 unpublished letters written in the 1730s until 1740s.
In his remarks at the unveiling of the poetry jukebox, NCCA chair and National Artist for Literature Virgilio S. Almario revealed that he had just sent a letter to the Czech president requesting for an extension of Ambassador Olša's appointment in Manila.
It's a wish shared by many Filipino poets and culture lovers, who have been most grateful that here in Manila, H.E. Jaroslav Olša has made diplomacy an art.