I was told to do this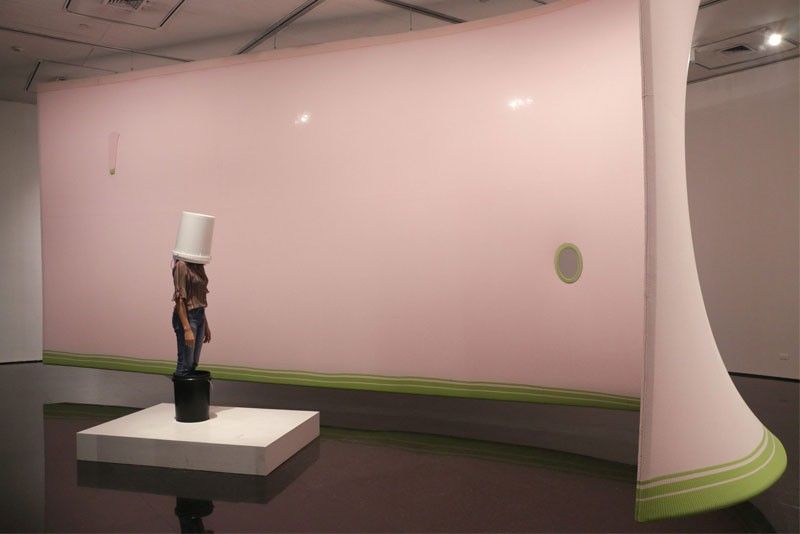 For years, art in its mainstream sense seems to have become an endeavor that is admired from afar. Viewers are often prohibited from touching or standing too close. Austrian artist Erwin Wurm questions this notion, and instead allows the viewer to be an essential element in his art-making practice.
Vienna-based artist Erwin Wurm has been challenging the conventions of typical sculpture for years. His eponymous exhibition held at the Ayala Museum in collaboration with 1335Mabini, features his "One Minute Sculptures" series, a project that began in 1996.
"One Minute Sculptures" is peculiar in that it invites viewers to come and take part in the works. Wurm scatters each pedestal with random household items and a small illustration on how to position yourself with the objects. He directs viewers to pose in unconventional ways, with buckets over heads or with elbows cradling shoes and to hold that pose for a minute. For its first iterations, Wurm would even leave a Polaroid camera for people to use while they posed.
Instruction-based art rose in popularity in the 20th century when artists like Marcel Duchamp, Sol LeWitt and Yoko Ono began prescribing a set of instructions for viewers to follow as their work. A powerful tool for conceptualism, instruction-based art led to a changing perspective on how people were viewing and expecting to experience art.
There's a rather whimsical lens that we take when looking at instruction-based art. It feels almost funny to be instructed to do someone else's work, or to position yourself in one way or the other. Duchamp once gifted his sister with an artwork that instructed her to hang a geometry textbook by her balcony so as to let the wind go through the book and choose its own problems to solve. On the other hand, Ono gives the viewer a set of poetic instructions to choose from: she invites us to scream against the wind, wall, and sky, and to listen to the sound of the earth turning.
Instruction-based art, in a way, leads us to consider art as a communal effort, not one enacted by a singular person holed away in their studio. While there may be one person conceptualizing the work, instruction allows us to consider ourselves a part of what the artist has envisioned.
The same can be said about Wurm and his "One Minute Sculptures." For a moment, we are allowed to fumble at a work in an attempt to find our balance. We are allowed to find amusement in ourselves crouching over basins. There is no sense to make ourselves want to appear overtly serious when Wurm's work instructs us to embrace silliness.
It's common to approach art seriously, to attempt to find meaning in symbols. We can treat art like a book that needs to be read to be understood or something that needs to be serious to be important. We burden works with meaning until we reach a wall when we can't find any symbolic values or lessons to gain from it.
Wurm's exhibition at the Ayala Museum invites us to embrace playfulness and to question what we know of sculpture and art. Does participating mean that we are the sculpture? Or the art? It feels empowering being invited to collaborate and participate rather than standing restlessly in front of a piece; instruction may be seen as authoritarian, but when confronted with the stillness of art, instruction is freeing.
* * *
Erwin Wurm's eponymous exhibition at Ayala Museum is held in collaboration with 1335Mabini. The show runs until June 10. Viewing hours are from Tuesday to Sunday, 9 a.m. to 6 p.m. For information, visit http://www.ayalamuseum.org/.
* * *
Arianna Mercado is the recipient of the 2017 Purita Kalaw-Ledesma Award for Art Criticism — which is presented by the Kalaw-Ledesma Foundation Inc. [KLF], Ateneo Art Gallery (AAG), and The Philippine STAR.