WATCH: Celebrity sightings, virtual tour of Art Fair Philippines 2018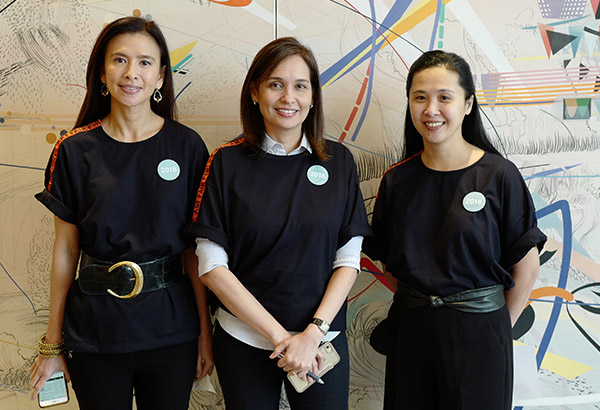 MANILA, Philippines — Celebrities and politicians were spotted at the recent opening of contemporary arts exhibition Art Fair Philippines 2018 at The Link car park in Makati City.
Miss Universe 1969 and actress Gloria Diaz; incumbent senator Juan Miguel Zubiri and wife Audrey; model and TV host Kelly Misa-Fernandez; fashion designer Mich Dulce; and blogger and restaurateur Erwan Heussaff were among those spotted ogling the exhibit, which in itself is replete with artworks by some of the art world's brightest stars: Chinoy master painter Ang Kiukok, social-realist artist Antipas Delovato, and filmmaker Kidlat Tahimik, to name a few.
This year, the exhibit shines its spotlight on photography by introducing a new section, the ArtFairPH/Photo, which aims to increase awareness for photography as a form of contemporary art and to expand its collectability among Filipinos.
A selection of photographs by 20th century press photographer Arthur Fellig, more popularly known as Weegee, will be a part of ArtFairPH/Photo.
Weegee, a self-taught photographer, is best known for his stark black and white street photography that captures the sordid aftermath of street crime. He based his work around police headquarters in New York, selling his photos of news events to publications such as New York Post, Herald Tribune and Daily News. His nickname, a phonetic spelling of the board game Ouija, was a reference to his uncanny ability to arrive at crime scenes with his camera ahead of the police.
Also on view are works by Neal Oshima, one of the foremost practitioners in contemporary Philippine photography. His exhibit, called "Kin," presents new works that pay visual tribute to Philippine tribes and indigenous traditions. He also works with curator Angel Velasco Shaw for another exhibit, "Provocations," which intends to show a range of established and emerging documentary photographers.
ArtFairPH/Photo will also feature works of Filipino-Catalan photographer Eduardo Masferre, which, from 1934 to 1956, recorded in images the way of life of indigenous people of the Cordillera Mountains such as the Bontok, Kankana-ey, Kalinga, Gaddang and Ifugao.
The sixth edition of Art Fair Philippines will run from now until March 4 and will maximize the carpark building by converting all its available space into a multi-level exhibition venue, with a floor area totaling more than 13,000 square meters over several floors. A total of 51 galleries, 36 of which are local, are participating in the fair.
For a more organized flow of visitors, the fair will have timed entry periods: 10 a.m. to 1:30 p.m., 2 to 5 p.m., and 5:30 to 9 p.m. Guests may stay at the fair and appreciate the art as long as they wish, and they may leave at their own convenience. Tickets can be purchased online up to 24 hours before the chosen date of entry.
"Last year, we welcomed more than 40,000 visitors, and we've seen how the interest in Philippine contemporary art has grown. Our move to secure a bigger space and oversee access to the fair will allow us to enhance the viewing experience of our visitors and help ensure that artwork can be properly appreciated," said Trickie Lopa, fair co-founder. — Video by EC Toledo IV, editing by Kat Leandicho