Confidently beautiful with a scarf: World celebrates Hijab Day
February 1, 2017 | 6:50pm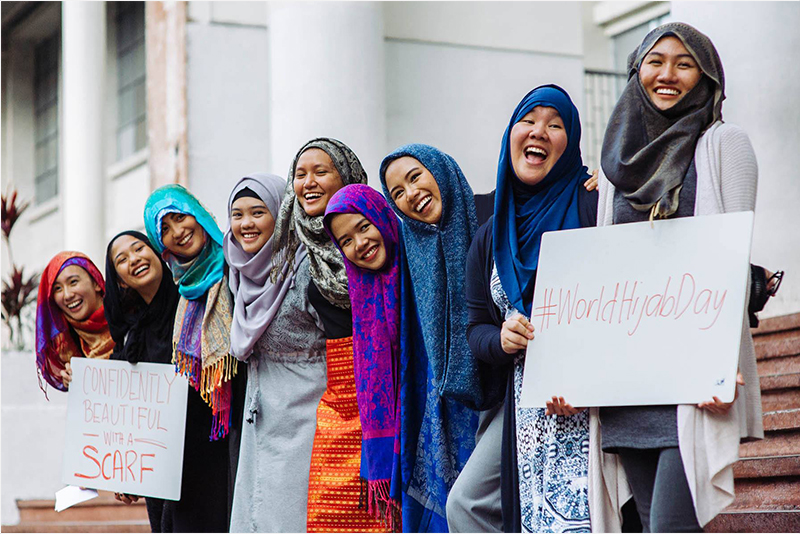 MANILA, Philipines — On the day of the Miss Universe coronation, Filipina millennials organized a photo shoot to exhibit a different face of beauty. These young women donned the hijab – or the Muslim headscarf – in support of worldwide celebrations of World Hijab Day on February 1.
"If I could answer the question given to Miss Philippines Maxine Medina, I would answer that a significant change that has happened in the past 10 years is that the world has become smaller and more connected, but that change came with costs," says Arizza Nocum, head of peace and education organization KRIS Library and organizer of the campaign.
Nocum adds, "Conflict, violent extremism, and discrimination have sadly been escalating. President Donald Trump recently barring the entry of citizens from seven Muslim-majority countries was a huge blow."
The celebration of World Hijab Day in the Philippines seeks to counter these forces by promoting one of the most well recognized symbols of Islam – the hijab. By encouraging Muslims as well as non-Muslims to wear and experience the hijab for a day, the campaign wishes to promote awareness and appreciation of the beauty and true meaning of the hijab.
In fact, the campaign wishes to express the fact that rather than covering or hiding beauty, the hijab and 'modest fashion' enhance beauty by shining a spotlight on Muslim women's faith, devotion, and strength.
Social media takes center stage in this campaign, with photos and videos taken from the beauty photo shoot uploaded to Facebook and other online channels. The campaign hopes to gain a critical mass of support with its hashtags #iStand4Hijab and #ConfidentlyBeautifulWithAScarf, in reference to Miss Universe 2015's PiaWurtzbach's unforgettable remark.
"Celebrating World Hijab Day on February 1 was timely due to the fact that it happens right after the Miss Universe coronation," adds Nocum. According to her, the campaign calls on Filipinos to embrace beauty not only embodied by Miss Universe candidates, but also embodied by Muslim Filipinas. For a diverse country that has experienced conflict across religious and ethnic divides, this is a message that cannot be repeated enough.
The event was unique in that it allowed non-Muslim women to try wearing the hijab. Majority of the young women who attended the photo shoot had, in fact, learned about the meaning of the hijab for the first time that day.
"I am aware that we live in a difficult world filled with violence and discrimination. Through World Hijab Day, I wish to show my support, no matter how small it may seem, to our Muslim brothers and sisters so they may feel that they are not alone in this battle," said TatjanaMedina, an engineering student of the University of the Philippines –Diliman.
World Hijab Day is a global movement intended to spark understanding and appreciation of the hijab. The movement was created to counteract forces of discrimination, stereotyping, and fear stirred by recent events.
The photo shoot and local campaign is organized by KRIS Library, a non-profit organization that aims to promote peace through education by building peace libraries and providing scholarships to young people affected by conflict and poverty.