Back to vinyl and The Black Vomits
Vinyl is making a comeback, as if it ever really went out of vogue. Like lipstick that leaves its mark across curio shops and specialty stores, flea markets and bargain bins across the psycho nation, four musicians coming out of the emo school of poetry calling themselves The Black Vomits, and releasing their debut album — an extended play of six songs sure to catch notice of collectors and disc jockeys for some random radio play while sidestepping the vigilante extrajudicial killers.
But these Vomits are for real, and to come up with an album in vinyl these days can alternately be interpreted as an act of bravery or preciousness, like a black and white film verging on noir, but in itself quite a feat as if stepping back into the future. Again it's like she never left. Absence is presence in a wonderful yin yang way, so we just let these wonder fellows kick out the jams.
The main songwriters or should we say lyricists are vocalist Joyen Santos and bass player Igan D'Bayan, whose name sounds familiar enough, although music is composed by the entire band including drummer Julius Sanvictores and guitarist Bryan Escueta.
Well, the album itself is already an artwork even before you slip the record out its sleeve and put it on the turntable. Reminds you of the day when music was palpable, you could actually feel it at the tips of your fingers. It brings back the time when liner notes mattered, in this particular instance a short story by the bass player in dialogue with a lady in the black mirror, a manner of coping with the hack-about world of press releases and commissioned write-ups and ex-deals, aha, sorry but we have to earn our daily bread. Excuse us while we nurture our souls. Or whatever is left of it, gypsy souls drunk on sweet burgundy.
To the music then: two songs each written by Santos and D'Bayan, and two co-written by them ending each side, X and Y, like chromosomes out of the same pod. Screaming Popes is emo to the core and should put the smile back on flooded España, and if indeed she didn't believe you back and you feel like cursing the Pope, just remember Mellencamp singing hurt so good, but Santos (bless her cords) channels the late Anabel Bosch in her phrasing, but inflections are her own sad republic.
Love Song from Purgatory, whose words are also written by D'Bayan, paints too many late nights from Saguijo to Mayric's, and when Santos sings out the lines "singing you away," we get a blurred picture of a girl in a train station fast fading à la petrified hope.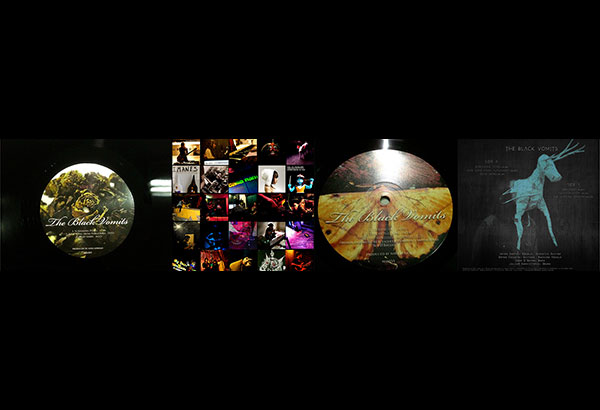 The record — pressed in the European Union — was recorded at Louis Talan's WombWorks studio, produced by Noli Aurillo, and mixed and mastered by Angee Rozul.
Santos' songs Deranger and Psychonation seem at first like music exercises to showcase the work of Sanvictores, arguably the band's most accomplished musician, but the listener cannot deny that here is a poet: "All is right with the world/God is in his heaven now/Now escape this world absurd/Though all his bastards have left you now." (Psychonation)
Or at the very least experiments in psychobabble that strangely enough, make sense: "Shall I believe you still when you say the things that will save me are the very things that will grind me down?" (Deranger)
The most compelling songs for me personally are the pair with words co-written by bassist and vocalist, Dead Verbs and The Hunting Ground, easily the standouts in this bleakly memorable outing. Both side-enders, they test the limits of the band lyrically and musically. Dead Verbs in particular has D'Bayan emerging from his proverbial low profile, any lower you would trip over it. It could also be a testament of the daily travails of the newsroom where demons have to be slain every day: "All my words are weary and weightless/ Floating away with the tide… saying everything and nothing." (Dead Verbs)
Driven by the wild colorations and shifting chord changes of Escueta, the show stopper Hunting Ground can only be the brainchild of producer Noli Aurillo, the guitarist savant who has done work with these musicians before. They practically let everything go hang, and that section with horns (by saxophonist Hector Sanvictores and trumpet player Butch Silverio) is a certified gem in the rough, the album itself waving at you from the crosshairs of Ixtlan.
Thanks to these Vomits, now we know where the music went — it keeps spinning on the turntable like some form of hypnosis or inner mounting flame, not at all downloadable or at least not that we know of. Words and music something short of an epiphany, giving off sparks of light in the difficult dark.
* * *
Postscript: I was told that Santos has left the band to pursue other interests, and that the Vomits are regrouping with a new singer. The guys are currently working on new songs. For information, visit The Black Vomits on Facebook.