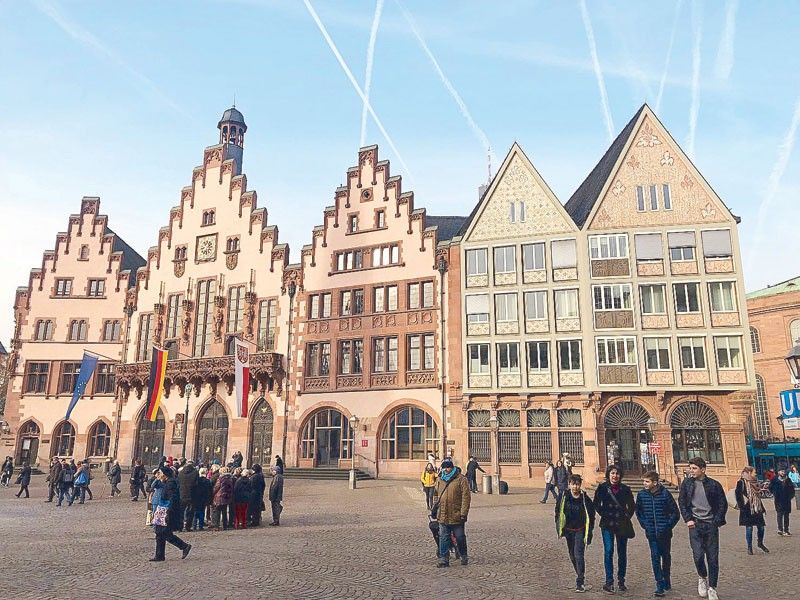 The municipal hall of the city of Frankfurt. Photos by Bum D. Tenorio Jr.
Faith keeps Ambiente afloat
Faith both in the Creator and the creators of design played a big part at the recent Ambiente, the world's largest trade fair held in Frankfurt, Germany from Feb. 7 to 11.
When Ambiente took off last month, it was cornered by two challenges: the impact of the coronavirus on traveling and the closure of air and rail traffic in Europe because of Storm Ciara. With double whammies rearing their ugly heads, faith saw Ambiente through with 4,635 global exhibitors from 93 countries.
For five days, a total of 108,000 buyers from nearly 160 countries displayed their belief and support for the exhibitors at Ambiente. They found and purchased both products and inspiration — from dining to living to giving — at the world's leading trade fair for consumer goods housed in 12 big halls with around 400,000 square meters of event space.
The Philippines had 42 exhibitors inside Hall 9. The products displayed — from baskets and hampers to candle holders and pepper shakers, from Christmas décor to paper weight and bookends, from wooden images to glass coasters, from key chains to chairs — were a cornucopia of Philippine arts and culture. In every piece, poetry in design was executed. The country's foremost artisans, knowing fully the possible encumbrance of the coronavirus outbreak, tucked the Filipino faith in their hearts and wowed the world.
"The trend in European Union is that member countries like products that are artisanal, unique and sustainable, and with cutting-edge design. The Filipino creates such products. We are not called the 'Milan of Asia' for nothing," said Philippine Ambassador to Germany Theresa Dizon de Vega.
De Vega added that the embassy, with the Philippine Consulate in Frankfurt headed by Consul General Evelyn Austria-Garcia, helps the Department of Trade and Industry (DTI) and the Center for International Trade Expositions and Missions (CITEM) and the exhibitors "in market sensing, essentially, in trying to find out what are the global trends now and what works in the market."
And what works in the Ambiente market, according to Wilbert Novero, general manager of Worldwide Exhibitions Linkage Services (WE-LINK), are products with stories to tell, aside from being ecologically safe. "These are called emotional products. These are products that are produced by Filipino artisans who have respect for the environment, for their people, for their output," Novero said. (WE-LINK is a division of Global-Link Exhibitions Specialist Inc. and the Philippines' official sales partner of Messe Frankfurt, the organizer of Ambiente.)
For example, one of the bestsellers at Ambiente was the "bird stopover" pieces of Nature's Legacy owned by Cebuano couple Pete and Cathy Delantar. The ordinary man would just walk past each of these colorful bird stopover pieces because, uhm, they looked ordinary. But not in the eye of the trained buyers from Europe. Each decorative piece, made of agro-forest debris, became coveted once the foreign purchaser learned of the story behind it: a bird in the garden also needs a safe resting place aside from the branches of the trees. "These bird stopover pieces, that could be hanged from the trees, are for birds to make sure that where they would rest is safe, no snakes or predators waiting for them," said Pete. And with that explanation, the bird stopover pieces flew off the Delantars' nest, err, stall, in an ample area that they shared with other Lifestyle Philippines exhibitors curated by CITEM, as orders were made by buyers from Finland, Denmark, Germany and Scandinavia.
The CITEM group at Ambiente was led by lawyer Anna Grace Marpuri with Berlin-based commercial counselor Althea Antonio. CITEM creative director and curator Tony Gonzales was also visible all the days of the trade fair.
CITEM also curated the booths of Arden Classic Inc., Celestial Arts Inc., Chanalli, Corzo Crafts by Tamuco, Artisan Craftmill Corp., JM Handicrafts, Klassy Collections, Marketex Handmade, Starcrest Asia Corp., Tuy Arts & Designs (whose products made from sugarcane leaves and coffee were also a hit at Ambiente), Arte Cebuana, Finalli Furniture & Home Accessories, More Than A Chair Inc., South Sea Veneer Corp. and Tadeco.
Other gifted Filipino artisans at Ambiente included A. Garcia Crafts, Anastacio Ceramics, Asia Ceramics Corp., Chrysara, Culture Sway, CSM Philippines, Dekokraft Inc., Eliano Baluyut Pottery Inc., Home Edition Mfg. Corp., Islands Accents, Jetvill Handicrafts, NVSD Global Design Cebu, Oriental Handicraft Inc., South Sea Phils., Shelmed Cottage Treasures, Terra Cotta Artworks Inc., and Vivid Designs and Concepts Inc.
"It helps to know that European businesses are family owned. Of course, they also care for profit but they also care about their relationships with the sellers. Our buyers have been patronizing us every year in Ambiente," said Pete.
"European buyers are more predictable. They know what they want. They want colors, designs, shapes. Accessories or decorative pieces that are smaller in size," said Novero. "Europe sets the trends."
Speaking of trends, one of the highlights of Ambiente was the Trends 2020 section, where products were on display in a tastefully designed booth. Every Ambiente buyer checked on this booth for trend forecasts that were made possible by experts' worldwide research. The good news is, two designs of Filipino exhibitors — Chanalli (owned by Dr. Alex Ayco) and CSM Philippines Inc. (owned by Emperatriz Manrique) — made it to the Trends 2020. Their products, a sculpture made of mango wood for Chanalli and bone china ceramics from CSM Philippines, made it to the trends' list as they were carried by Klatt Objects, a store owned by German designer and Ambiente stalwart Detlef Klatt.
"The Filipino talent is very fine. Their craftsmanship and materials are amazing. The weaving, the carving, the molding — it's not found anywhere in the world," said Klatt.
"We are happy and honored that our products are included in Trends 2020," said Manrique. She added the buyers of her bone china porcelain include Williams-Sonoma, Crate and Barrel, Anthropologie, Ethan Allen, Ballard Designs and Estee Lauder.
"Our fate in Ambiente is really up to God. You really leave it to God. We are artistic. But without CITEM, we wouldn't be here," said Ayco.
For the first time, the provincial government of Tarlac joined Ambiente by sending some of the province's best artisans: Pascasio Pottery, Pumice Unlimited Ventures, Woodinspiration Crafts, Betis Crafts Inc., Southeast Metro Arts Inc., Northshine Enterprises, Red Slab Pottery and Oricon Corp.
The Filipino spirit was alive at Ambiente. The way European, US and South American buyers ogled at Pinoy products would make one very proud. Their faith at our artisans' products was palpable. They handled the merchandise with care, with adoration, with the confidence that the item in their hands was at par with other products of the world. They have the finest Filipino soul in their hands, in their possession now.
That the Philippines shone its best at Ambiente was proof that no amount of uncertainty could bring the artisans and their products down. Perhaps next year, when hopefully the pandemic is gone, the "Milan of Asia" (when it comes to design ingenuity) will shine brighter at the highly competitive Ambiente. By that time, it will again anchor its fate on faith.
(For more information about Ambiente, call WE-LINK at 8893-7973.)
(E-mail me at bumbaki@yahoo.com.)