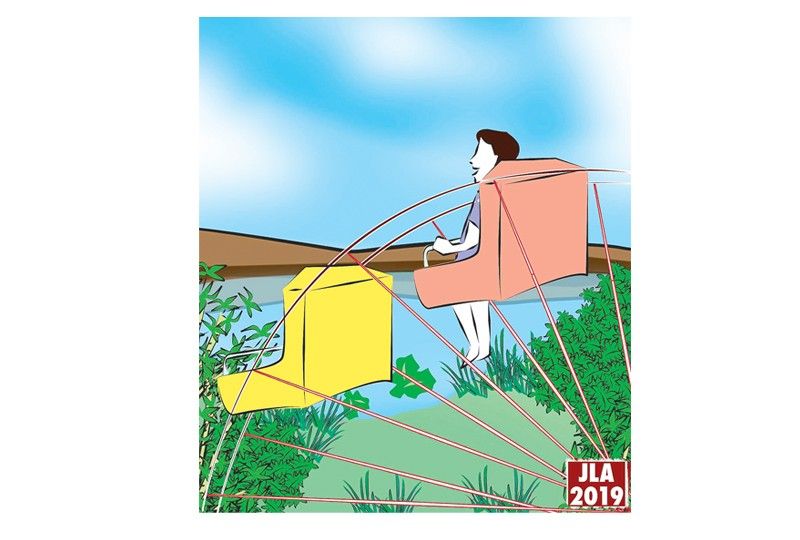 The perya of my childhood
If there's one place that always stirs joy in me, it's the perya.
When I was a kid, I grew up with a perya beside our house come fiesta time. No fiesta in Gulod, to this day, is without a perya. No observance of All Saints' Day and All Souls' Day then was complete without it — for the spacious vacant lot across the town cemetery was turned into a mini-amusement park with all the rides and games children could indulge into.
In those lean days when Disneyland was not yet part of my consciousness, the perya was my happy land. When Mickey Mouse was just a drawing on the cover of my notebook, there was already dagang Costa (white mouse) frolicking on center stage in a peryahan game.
There's simple joy that the perya instills in me. And the sight of a Ferris wheel makes my heart leap out of my chest in glee. Now that I am a grown up, when my life is subjected to an emotional wringer, I deliberately look for a perya — anywhere I am. Many times in my life, I have become a perya pursuer, a Ferris wheel hunter. I roam around it and the perya instantaneously puts me back in the mood. I find magic in the air in a perya perhaps because it reminds me of that sheer childhood happiness — pure, unadulterated. It reminds me why it is important to celebrate the child in me.
When the Star City entertainment complex was gutted by fire, I mourned for days. It was my quick fix for happiness because it was so close to my office in The STAR. Not a month would pass without me dropping by Star City. Many times I would go alone. Whenever I go to a theme park or perya, mine is enough company. In Star City's Ferris wheel I would shout to the world all my fears as the wheel went up. My fears were replaced by faith. In that case, my trip to the perya has its own spiritual bearing.
On a cruise of the Danube River via Avalon Waterways a few years ago, the lady cruise director told me that there was a Ferris wheel near where the ship docked in Vienna. We would be sailing back at noon and it was already 10 a.m. when she wished me good luck in finding my Ferris wheel in Vienna. Armed with a map, which I couldn't read because it was in German, I dashed to the site and found Wiener Riesenrad, the giant Ferris wheel with wooden gondolas built in 1897. In it, I allowed myself to be carried away by tradition. Being on it felt like riding the wheel of time. From its top, as I understood from some foreigners with whom I shared the gondola, Budapest is never far away.
My experience of Wiener Riesenrad made me dream to one day experience, too, the Ferris wheels in London, Blackpool, Paris and Chicago.
***
That's what a perya does to me: a dreamer. It makes me wish for more magical things to unfold before me. Perhaps because every ride or every game in the perya makes me excited and excitable. The Gen Z can always have their EXO and other K-Pop stars, I can always find my star in a perya.
Like how I met a lady who would become the star of my life in a perya when I was a child. She was the reason for my first ever Ferris wheel ride.
When I was barely five, I saved flower coins (five centavos) and placed them as bets in beto-beto or color game. Cheap thrill. But it was an unforgettable experience that taught me that simple joy matters.
In those days, the Ferris wheel and Caterpillar rides were way too much — one peso per ride — for my parents to provide. But at the end of the night, on the last trip of the Ferris wheel, I would get a free ride courtesy of the friendship my mother forged with the lady owner of the perya.
I still remember her name: Aling Sonia. She came from a family of perya operators from Pasig. I still remember the mole on her face and the sweetness of her voice. On the day Aling Sonia's staff had to dismantle the perya because the fiesta in Gulod was over, I saw her and my mother in a tight hug. Aling Sonia tore a leaf from her record book and wrote her number. She gave it to my mother. My mother had no way of calling her because in the '70s, there were no phones yet in Gulod, not even a pay phone in the town of Cabuyao. In time, the paper got lost but my mother always, always remembers Aling Sonia.
Up above Aling Sonia's Ferris wheel, I would shout at the top of my lungs as I nervously sat on a metal pod. I remember getting thrilled, excited, exhilarated every time the wheel would go up. I remember getting pacified, enchanted, soothed by the sight of the distant Laguna Lake bathed in the luminescence of the full moon. I can still smell the scent of gas from the generator that noisily powered the Ferris wheel. I can still smell the scent of the talahib grass as the perya was situated near the field. Everything looked small from the top. But at the end of the ride, it was always a welcome respite to keep my feet on the ground.
Times have changed and yet I still find myself drawn to the perya. Like a couple of months ago in Gulod, the usual modulated voice of the bolero in the Bingo game was still heard. Kids, with their parents watching from a comfortable distance, frolicked in the perya, joy written all over their faces. The same joy that I experienced when I was their age. There were no rides but my soul was jumping up and down in joy.
That night in Gulod, I found myself throwing one-peso coins onto the checkered board, hoping to make a score and win a plate, a ball, a mug.
I failed in every attempt to snatch a toy. But I went home a winner because I got to celebrate again the kid in me.
The perya remains my Disneyland because in it are the happy memories of my childhood. *
(For your new beginnings, e-mail me atbumbaki@yahoo.com. I'm also on Instagram @bumtenorio and Twitter @bum_tenorio. Have a blessed Sunday!)