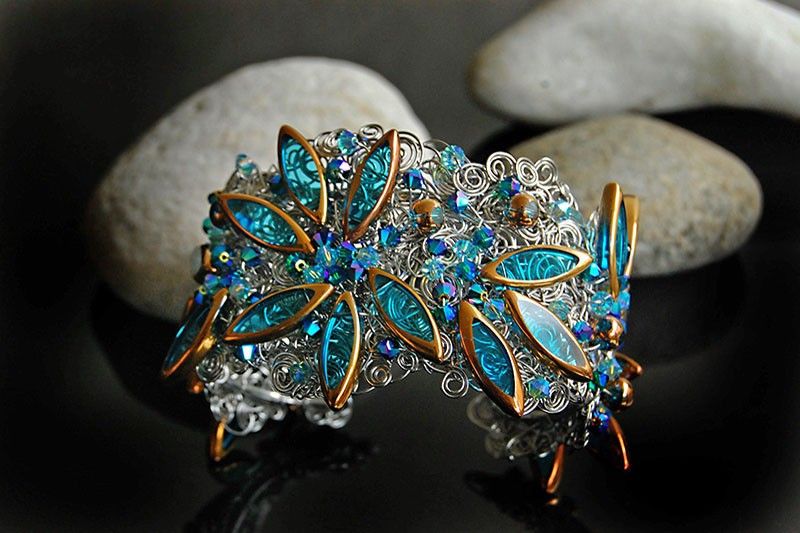 Blue glass cuff bracelet embellished with leaf-shape glass beads and Swarovski crystals.
Wild Wires' Aaron James Mabilin always had a lively imagination. In his younger years, this University of Santo Tomas College of Fine Arts and Design graduate would often imagine how to transform into magnificent objects.
Aaron shares, "I had a hyperactive imagination and see things from different lenses, mostly in a more elaborate and splendid fashion. I always knew that I wanted to be an artist. My fascination with colors, perspective, the little details, inspires me to create new things, regardless of the complexity. Drawing from my innermost feelings and being."
Apparently, artistic inclinations ran in the Mabilin home. "My mother was an artist herself, but she was more into product development. Watching her making different crafts for a living further influenced my love for fine arts. It made me look forward to going to college to learn more about my passion. Though back then, I was not as interested in fashion accessories but more into home decor and crafts, creating and/or enhancing furniture. But the world showed me so much more to learn and create, and that has always been key to my 'Happy Place'."
Aaron discovered the endless possibilities of wire in 2001 when a professor in Three-Dimensional Art class asked the students to make an infant mobile (the dangling toy moms put on the cribs of their babies) made of wires. The following year, Aaron participated in a fashion show for a Fashion Design class where he and his classmate used wires as accessories. The attraction to wire as a medium for wearable art stuck.
At first, Aaron dabbled in wire accessories as a hobby. "I started with just one long nose pliers as my tool and I just want to make beautiful things," he says. "After college, I continued to make pieces like simple necklaces, bracelets, rings and earrings. Unemployed, I just wanted to do something while looking for a job at the same time. I further developed my skills by experimenting. I intensified my research about jewelry. There was no YouTube then so I had to draw inspiration from books and references that were available at that time. I discovered different types of wires, their properties, and other materials such as semi-precious stones, crystals and different beads that I could incorporate as embellishments to produce the designs that I had in mind."
As he progressed, Aaron's design became more intricate and distinct. Designing became his stress reliever from office work. He invested in different hand tools and other equipment to make work faster. Eventually, he discovered good and dedicated people to help him with some production stages. He also developed and shared operation flow systems to his workers for fast and efficient production.
When he finally decided to go full time in making accessories in 2009, his friends recommended him to their friends for commissions. "Wedding accessories like headpieces and wedding cords. Brooches, men's accessories like lapel pins, bow ties and neckties. The possibilities never ceased," he shares
Apart from design, Aaron chose to pursue his passion for teaching. He heads the Fashion Jewelry class in the Institute for Creative Entrepreneurship of Fashion and Design (ICE-FAD) on the lower ground level of the East Wing of Shangri-La Plaza in Mandaluyong City. He proudly recounts, "Every class is a new learning experience for my students and myself. Even though I teach them the holistic approach to the business of fashion accessories, I see to it that every session is a meeting of the minds. Everyone is free to express their ideas because that's how we learn from each other. Aside from the skills that the students need to develop, the strategies that they need to do, and other information that they need to acquire and understand to run their business, I also focus in teaching them how to be different aesthetic wise. Because that is the whole point of the class. To offer something new to the market. To showcase their artistry and be distinct from the rest even though they are using the same exact materials."
Aaron explains his concern for quality work. "Many of my items are custom-made requests, which I do myself. Quality is the No. 1 priority. Every piece of Wild Wires is finished by me. I always make sure that it is carefully scrutinized and client's specifications are followed regardless of the price of the artwork. Sometimes, I even make the packaging myself."
Aaron's accessories burst with color and character. They are perfect to wear as standout, accent pieces to a plain outfit. Aaron's faith in his works emboldens him to dream of even bigger opportunities for his craft. "In the next few years it is my hope that Wild Wires grows into an even more sought-after brand of wearable art.
"I also hope to use my experience to inspire future artists to reach for their dreams. That there is no hindrance in achieving your goals if you focus on them. I won't retire from making beautiful art pieces, instead I will use every God-given talent that I have to let the world know that having a purpose in life is the greatest key to success and being a man for others is the best value you can live by. That will be my legacy." *
(To see Aaron James Mabilin's Wild Wires creations, visit www.facebook.com/WildWiresByAaron and @wildwires on Instagram.)