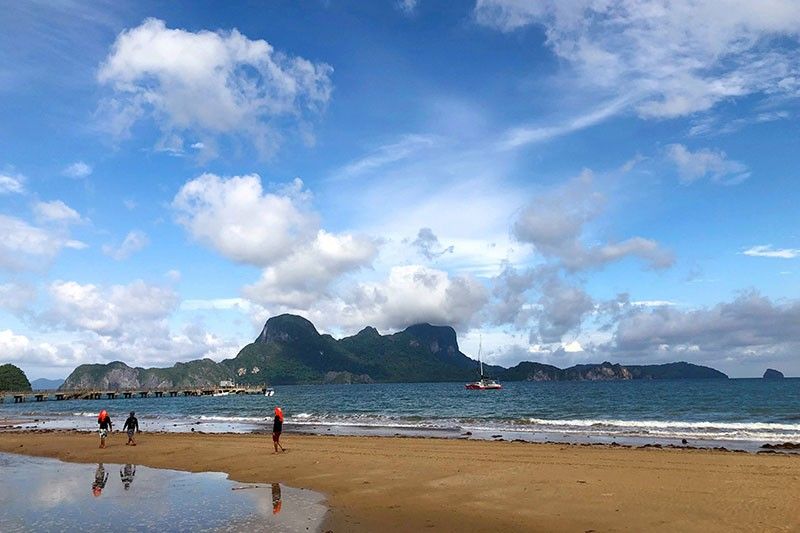 Lio Beach in El Nido, Palawan.
Photo by Büm Tenorio Jr.
Like a soothing refrain, Lio Beach in El Nido, Palawan calms the senses. The balmy breeze is the lilting strain of a song that kisses your soul, leaving you with sweet, intoxicating feeling. You frolic with the frothy waves that gently lap the shore. The clear, turquoise waters of Bacuit Bay refresh the weary body. From a distance you gaze at the towering limestone cliffs, jutting above the waters like loyal sentinels. Everywhere you look, you are lulled to paradisiacal glee. Your spirit sings as it celebrates the sea, sun and sand in Lio.
Lio is a 325-hectare resort community. It is owned and developed by Ten Knots Philippines Inc., a wholly-owned subsidiary of Ayala Land Inc. Known by its complete name as Lio Tourism Estate, the community has resorts and hotels, commercial establishments, residential communities, amenities and facilities for eco-adventure and leisure travelers.
"The Lio development abides by the principles of sustainability and inclusive growth. We make sure the community benefits from the development and the environment is protected," says Joey Bernardino, the group director of sales and marketing of Ten Knots, which has been operating in Palawan for more than 30 years. (Ten Knots also operates El Nido Resorts in Miniloc, Lagen, Pangulasian and Apulit.)
In Lio, Ten Knots is in charge of four resorts and hotels: Casa Kalaw (with 42 rooms perfect for families and individual travelers), Balai Adlao (with 20 well-appointed rooms of earth-toned interiors with touches of Filipino weave and fabrics), Hotel Covo (with 20 chic and eclectic guestrooms) and Huni Lio (a 50-room hotel with tropical architecture). These resorts are very near the Lio Airport, which also looks like a resort.
I stayed at Huni Lio, named after the Filipino word for "the hum of the sea." I heard the humming of the sea from my room. Below it was an inviting pool. Outside my door was a forest, where I heard the humming of the birds. Huni, that moment, was a taste of paradise on earth.
Because Palawan is home to many of the most artistic people in the country, it is a treat to visit Kalye Artisano, the cultural hub of Lio in El Nido. There are stalls that sell everything about Palawan, from clothes to furniture and home decor. Even kasuy!
Kalye Artisano is the brainchild of Paloma Zobel. Palo, as she is called by friends, has made Lio her home and has devoted her time and effort to elevate the standard of living of the people in Palawan.
"I love the Philippines so much. I don't see myself living anywhere else. That's why as much as possible, I love to give back to the country that has done so much for my family," says Paloma.
Aside from Kalye Artisano, the estate also has Shops@Lio (with 14 food and nine non-food merchants; 50 percent of merchants are from Palawan). Shops@Lio offers unique shopping and dining experiences by the beach. (Lio also has Inigtan Farm where organic livestock are raised and vegetables are grown sans fertilizer and pesticide. These produce are used for the operation of the resort community on the island.)
Experience a food crawl on the beach. Say, grab a bucket of seafood at Red Crab or margherita pizza at Pizza & Amore and enjoy to your heart's content. The mushroom chicken soup at Fat Choy is a must-try dish on the island. Also the inihaw na liempo and grilled seafood at El Nido Grill. At night, "chillax" at Jungle Bar with its cocktails and comfort food. (I fell in love with Jungle Bar's Piopio drink and blood croquetas that I brought to my room an extra serving of both. That night, I slept like a baby, a luxury I didn't enjoy for a while.)
The following day, I woke up to a day at sea on a yacht to unlock the other secrets of El Nido. I experienced the island in style courtesy of Seacret, a 50-ft. catamaran owned by the El Nido Yachting Club. As I lounged on a red bean bag, my heart leapt out of my chest as we sailed past limestone cliffs or came close to Cadlao Lagoon or Snake Island to have our lunch by the beach. There was exhilaration and bliss in the experience. My heart will remember that moment for a lifetime.
Lio is a song my heart will sing. In its embrace I will return. *
(For more information, call Lio Beach at +632-7902-5964 or visit lio.ph.)
(E-mail me at bumbaki@yahoo.com. I'm also on Instagram @bumtenorio. Have a blessed Sunday!)