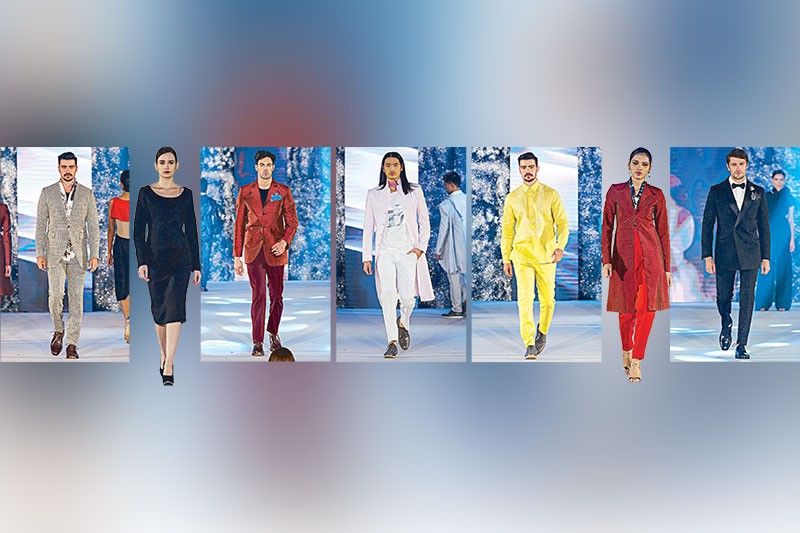 MANILA, Philippines — For its latest collection dubbed "Seasoned," fashion house Bergamo tapped Jojie Lloren as its guest designer.
To mark the debut of its women's suit, the Bergamo team also sourced ideal jewelry pieces from Cebu's Ma. Elena Jewelry. The made-to-measure women's suits in wool and linen materials will soon be available at all Bergamo branches such as its flagship store at Greenbelt 5, Osmeña Highway in Makati City and all Rustan's outlets.
Bergamo's "Seasoned" collection was part of "Brilyante 2019: More Luminous Through Time," a benefit gala dinner featuring the creations of some of the country's top designers and fashion houses, including Albert Andrada, Michael Leyva, Edgar Madamba, Bergamo and Rustan's Active Wear. Directed by Robby Carmona, the fashion show featured top models from the Professional Models Association of the Philippines alongside brothers and sisters belonging to the Mu Sigma Phi Fraternity and Sorority.
Sorority sisters belonging to the Mu Sigma Phi staged the benefit gala dinner at the Marquis Events Place in Bonifacio Global City, Taguig for the benefit of the National Institutes of Health's Institute on Aging. Organizers hoped to shine a light on the country's growing number of elderly people by spreading awareness on the importance of health and wellness among geriatrics.
Thus, Rustan's Active Wear's collection, "Ageless," sought to remind guests that age is not a barrier and that anyone at any age can conquer almost everything.
Madamba's Filipiniana collection and Nina Inabel's mother-and-daughter pieces, "Timeless," showed textile and textures that have withstood ever-changing trends — styles that transcend generations as well as traditions.
Rajo Laurel's black and silver collection, "Classic," showed "versatile and classic pieces that symbolize elegance and brings out a woman's finesse and grace at any age."
This was followed by Mak Tumang's collection, blue and silver, which consisted of "timeless and classic pieces that symbolize majesty and show maturity that comes with age and experience."
Leyva's collection, fuchsia and silver, showcased "classic but unique pieces that symbolize confidence and embody youthfulness and joy."
Lastly, Albert Andrada's collection, red and silver, showed "powerful, feminine and classic pieces that represents passion and determination that last a lifetime."