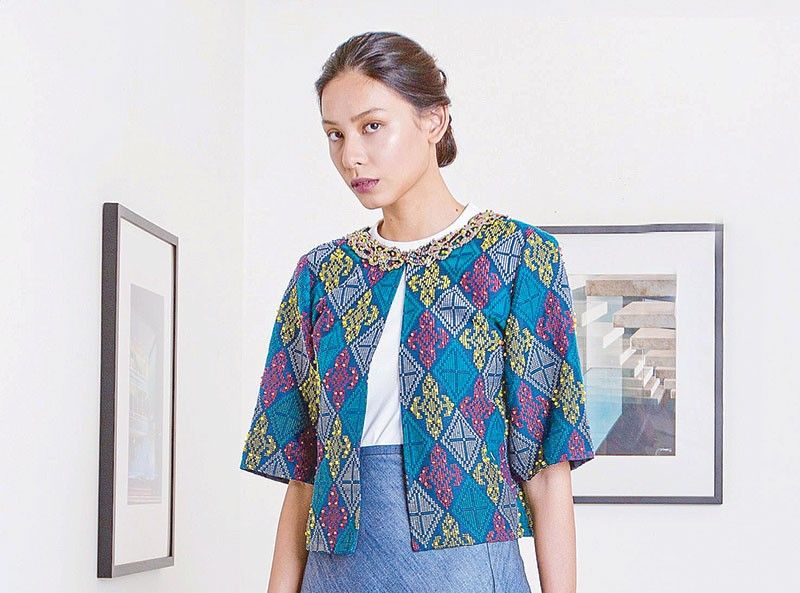 Yakan beaded capelette jacket.
Weaving dreams and realities in Philippine fashion has recently regained its crown. A welcome development for the survival of culture and tradition.
Thanks to the movement towards patronizing local and the comeback of artisanal ingenuity into the spotlight, hand-woven and handmade textiles are back. Endless meters of woven wonders from different parts of the country form masterpieces of textiles made by outstanding local artisans. Patterns, colors, symbols and origins have stories to tell that reflect and define the richness of a place, its people and their culture. But these outstanding textiles will never survive today without the strong influence of contemporary design.
In the Philippines, Great Women is a brand platform and social enterprise spearheading the inclusive business of the textile supply chain creating sustainable livelihoods and market access for women microentrepereneurs and indigenous peoples. The brand is doing a great role as a catalyst of change for instigating the creation of contemporary textiles. Through constant interaction with partnership with communities and the grassroots, Great Women has introduced new components to tradition. One great example is the Bagobo creations that traditionally use abaca and now has successfully innovated fabrication with the use of cotton. Furthermore, they have also introduced new colors to add on to the classic signature hues.
The birth of new and innovative textiles by Great Women is unfolding creative opportunities for fashion retailing. The creation of hand-woven collections, whether limited edition pieces or bigger scale retailing, presents high commercial viability that goes beyond our traditional costumes. Yes, modern Filipino fabrics today are no longer limited to table runners, home decor, handicrafts and the like but more on practical and fashionable everyday clothing.
Local hand-woven textiles are conquering jet-setting fashion as Great Women presents its travel wear collection. Jackets, blazers, coats and everyday pieces are proudly made from beautiful hand-woven artisanal textiles. Forward design is executed in modern cuts and silhouettes that complement today's relaxed lifestyle and fashion's current mood for comfort dressing.
Chic weaves are passport ready to create a style statement all over the world. It's about time for our textiles to become a travel staple.
The whole world is relevantly redirecting to conscious fashion that is slow, sustainable and responsible. Great Women is currently one of the stewards and pioneering social enterprises that continuously support the creation of modern hand-woven textiles. It weaves into the artisanal psyche a deep sense of patriotism and a promising future for both culture and tradition. It not only makes women great — it makes a nation great as well. *
(The Great Women showroom is located at G/F Chemphil building, A. Arnaiz Ave., Legazpi Village, Makati City. For more information, visit @greatwomenglobal and @gwbygreatwomen on Instagram.)