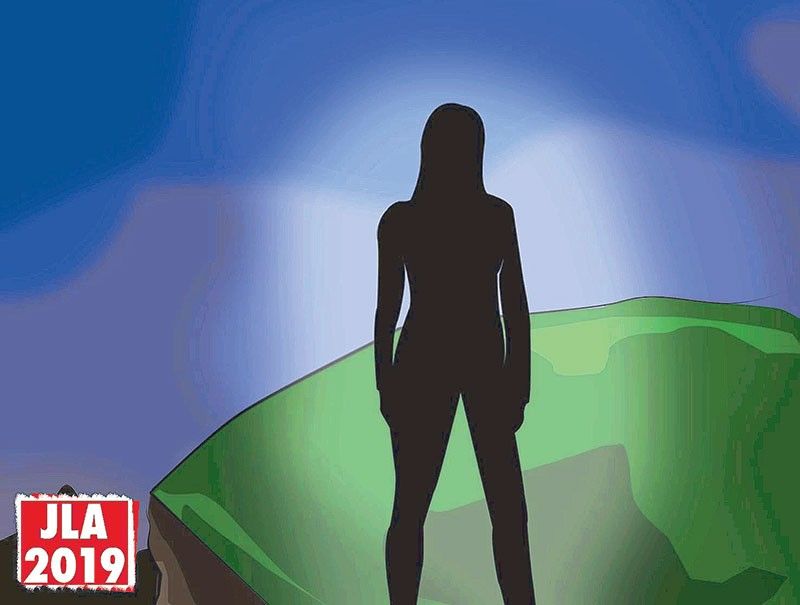 Illustration by Jaymee L. Amores
Beyond the dark night of our collective soul
I believe we are in what is called the "dark night of humanity's soul." I can't think otherwise when trying to describe the state of our world today. No doubt there would have been other periods, too, in the past similar to this if we study world cycles. And now it returns. In our exterior world, everything seems to be going downhill with climate change, chaos of hurricanes, floods forcing mankind as refugees like sardines crowded in shelters, ego-blinded world leaders battling to control humanity and its resources for gain and power. There's unsustainable over-consumption and over-production is the norm. The rich have more, those with less are dehumanized in their poverty. As illusions of the world stirred up, what is furiously seeping through into our collective psyches is that it's business as usual. It is not.
What we can try to recognize through all this is that we are in the middle of a cycle changing. And that more and more people are undergoing aspects of the "dark nights" seen with the rise of mental illnesses trying to cope with the stress and changes happening.
In the Roman Catholic tradition, the 14th-century Spaniard St. John of the Cross is best known for having written about the dark night of the soul. He described his spiritual crisis, a mystical experience, using the metaphor of the ladder with 10 rungs. Each rung is a step of challenges that sum up to the soul's journey back to union with God. But St. John was influenced heavily by the 6th-century mystic and philosopher Dionysius, the Areopagite who also studied the esoteric traditions of alchemy, Hermeticism, Kabbalah and other mystery schools that also describe the dark night as the alchemical transformation of spiritual forces. These dark nights strip the soul of old spiritual ideas and attachments, and through radical spiritual disorientation, abandonment, and annihilation, the process forces an awakening to a world beyond the material.
In astrology, independent dark night cycles can be traced by the movement of the planet Saturn, the planet of Karma and rectification, that signifies the constriction, discipline and process of transformation by peeling away that which is no longer essential to one's growth. In a way, Saturn's transit is always a kind of initiation, taking us from one phase of life into another, with the challenge for us to enter life more fully and awakened.
Our spiritual growth is punctuated by dark nights of the soul — periods of difficulty, despair, disillusionment and disappointment. Heavy, yes? Well if we believe in the wisdom of what is inside is also outside us, then everything happening in the world now is about the maturing process of our collective world soul. Today, we are faced with the vulnerability of our existence and the hyper fragile state of what we hold on to as our reality: our loves, our personalities, our possessions. There is an underlying collective anxiety with the state of the world. Sanskrit Vedic traditions speak of the "Kali Yuga," the final age of darkness and ignorance characterized by consciousness locked into gross matter, the environment polluted, with scarcity of clean food and water. People become slaves to their passions and knowledge and wisdom is lost. So familiar, right? However, some scholars believe we are entering the next age already called "Dwapara Yuga," which can be called the Energy Age because humanity can comprehend "fine matters and electricities" that comprise matter. This is exactly what quantum physics is showing us now. The shifting cyclic ages have been astrologically calculated via constellation movements since ancient Vedic times. This ties in nicely with the esoteric philosophy of the astrological movement out of the Piscean Age (the energies marked by the qualities of idealism and devotion) to the Aquarian Age with energies marked by qualities of order, balance, synthesis and beauty. And we see this now with the clash of consciousness between the fundamentalists/conservatives and the progressive/futurists. It's also about the higher and lower energies battling to gain supremacy. The exterior world parallels our collective spiritual life progress. Marked by crisis, majority are seeking new ways of being, new ways of thinking because the old way just is not working. It cannot be business as usual.
American Trappist monk and teacher Thomas Moore detailed the study of the interior dark night with a psycho-spiritual counselor's lens, "Faced with a dark night, many people treat it like an illness, like depression. They may take medication or go into counseling looking for a cause. It can be useful to search for the roots of a dark night, but in my experience, the best way to deal with it is to find the concrete action or decision that it is asking for." This concrete action being asked for is a shift in consciousness: to take the spiritual-energetic perspective and not the physical-material perspective.
So what to do? The Vedic Scriptures, of course, recommend meditation, yoga and various spiritual practices as natural antidotes to find balance. I would recommend life practices that bring on higher, more positive energies to make one become more wholesome, honest and generous. And living a clean authentic life aligned to the soul, and not the personality's calling. Plus choosing relationships that are life-giving. And making clear choices for all various parts of the physical body, emotional and mental states, and our spirits.
One book I recently read is Beyond the Dark Night of the Soul by Master Del Pe. It summarizes a step-by-step process of understanding the dark night and offers practical "how-to" guide on understanding the stages of evolving. In the master-student tradition, he gives lesson plans, and diagram directions to guide the student through the various levels of enlightenment. Inspired by Gnostic teachings but also receiving his own personal channeled downloads, Del Pe's book is an interesting read on the practical next steps of what-to-do to go beyond what he calls the dark night syndrome (DNS). It outline philosophies but is not a philosophy book. It gives solid information but is not written in a scholarly manner, therefore, easy enough to understand deep esoteric truths, and readers can actually attend his talks and life mentoring sessions if further interested. It is written from the perspective of a healer-therapist-teacher who maps out the terrain to be taken for one of the paths to light. *
(Beyond the Dark Night of the Soul by Master Del Pe is available at www.masterdelpe.com or Amazon.com.)