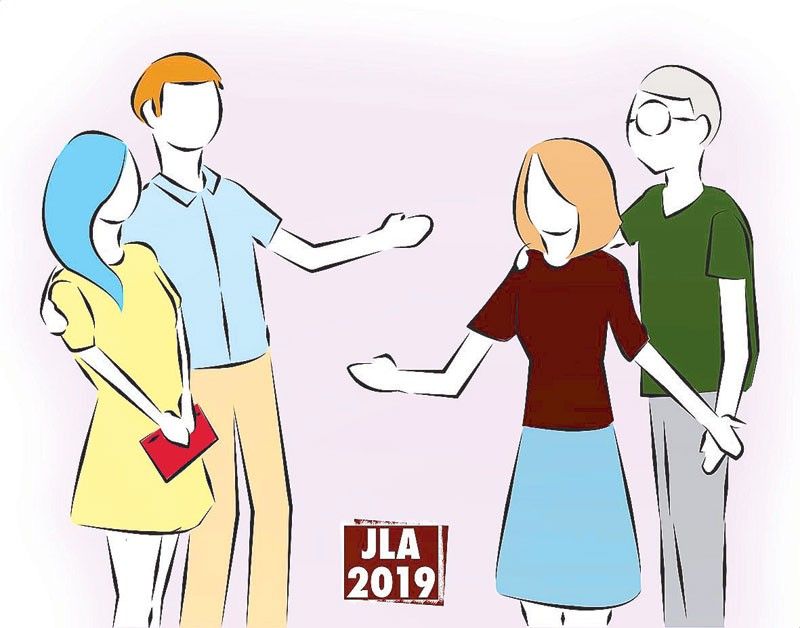 Illustration
by Jaymee L. Amores
How to win over your future in-laws
Whenever I counsel couples, I always recommend a longer courtship period before settling down. Courtship is not just for the couple to learn more about themselves but also for the couple to get to know their possible in-laws better. The courtship stage is also the right time for them to start emotionally bonding with their future in-laws.
I advise the bride-to-be to show her fiance her excitement in meeting his family. Most of the time, it takes a while to feel at ease with them so when he brings her to family gatherings, she should take this opportunity to learn more about them — their likes and dislikes, activities that they enjoy doing together, etc. Whenever she is with his family, she should learn to be a good listener and let them see that she is glad to listen to their stories about their lives or about how her boyfriend was when he was still a child.
Avoid starting a conversation on controversial issues like politics. Be respectful, courteous and non-confrontational. Also, negative criticisms about their home are not in order at this point. The bride-to-be should show her partner's parents her true self and keep a positive attitude towards them.
It's also a no-no to start talking to one's possible in-laws about one's problems with one's partner. Work out such problems directly with your partner and not with his family. What you can work out with his family is having joint activities between them and your family. Invite them at your parents' home on Christmas Day or during your parents' wedding anniversary party.
As early as the courtship period, it is important for the future bride to earn the trust of her partner's family. Frequent visits to their home is one way of gaining their friendship, acceptance and trust. Always convey to them that you are available for them and that you are just a call or text away. Perhaps, you can even accompany them to their appointments with their doctors. You can do favors for them like surprising them with their favorite fruits or helping out in their gardening. Accompany them to theater shows, sports activities, or whatever their interests are.
For the groom-to-be, it is best that he start to get to know his partner's family during visits to their home. Through this, he'll be able to learn more about their likes and dislikes. If his girlfriend's dad loves to play golf, learn the sport so he can accompany him. If her mom loves to plant flowers, bring her flowering plants to add to her garden. Regular visits will strengthen his bond with them and his physical presence in their family activities is a plus factor. The future groom's voluntary generosity during such activities will be greatly appreciated by his fiancée's family. They will start to view him as a new addition to their family and as a person they can rely on. Maintaining open communication lines with them and verbalizing his availability when needed will endear him more to her family. He should always respect and love his fiancée's family like he respects and loves his own.
To the future groom, I say, "Always relay to your partner's parents your best intentions for their daughter." If you are already engaged, discuss with them your wedding plans and get their ideas and suggestions. Present to them your budget for the wedding. Ask them for their preferred guest list, setting the limit according to your budget. Once invitations have been sent out, try to take charge of monitoring the RSVPs. By tradition in the Philippines, it is the family of the groom that shoulders the financial aspect of the wedding. Of course, if this is not possible, the groom may need to compromise with the bride and her family.
Yes, love, trust and respect are essential elements of a relationship but the groom's financial stability and capacity to start a family is of equal and utmost importance so that after wedding, the groom and bride can settle down on their own. This is the ideal scenario so that the couple's families will be relieved of supporting the couple. Money problems sometimes ruin relationships so I advise couples that each should have a career to make their new family more stable. *
(For questions on love, looks and relationships, e-mail this author at nina.halilijao@gmail.com.)