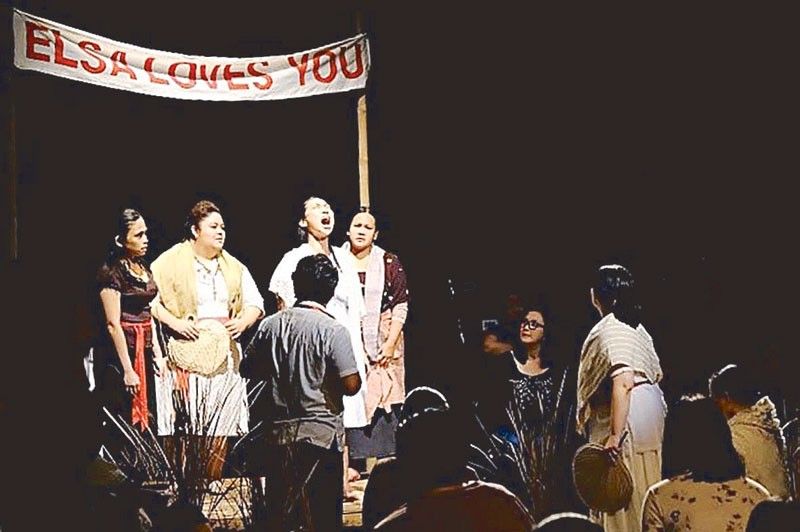 Aicelle Santos as Elsa in the transcendent Himala: Isang Musikal.
Celebrating our theater scene
Philstage recently announced the nominations for the 10th Gawad Buhay Awards, with the awarding ceremony happening on May 28 at Onstage Greenbelt. For those not familiar with the Gawad Buhay Awards, it's the closest we have to the Tony Awards in New York; and it recognizes achievements in our local theater scene — from directors, actors, actresses and ensemble performances, to playwrights creating original works or translations/adaptations, to production, set design, costume design and choreography. And it distinguishes between outstanding work in a musical, and outstanding work in a play.
My love affair with theater finds its roots in childhood, when my parents brought my brother, sisters and me to New York, and we watched Oliver! (I was nine years old). This was my very first time to watch a stage musical, and I was in awe from the moment we entered the Broadway theater lobby, and my parents couldn't stop me after from singing Food, Glorious Food and You've Got to Pick a Pocket or Two non-stop. I was hooked; and to fully appreciate drama and comedy plays at an older age was revelatory — studying in England in the mid-1970s, Tom Stoppard was the Boss dramatist for me, and I would descend to London to catch all his new works.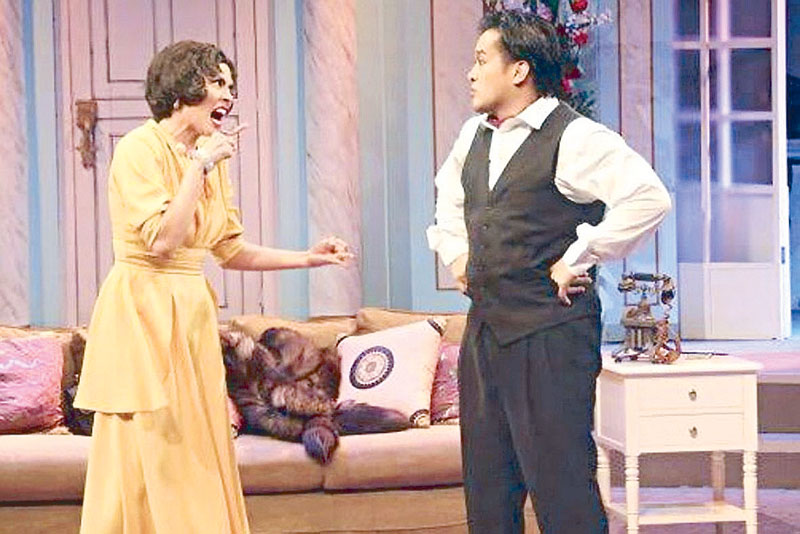 From A Comedy of Tenors, Issa Litton and Lorenz Martinez.
So when some years back Audie Gemora asked me to join Gawad Buhay, it was a pipe dream come true; my getting as close to the theater scene as I would ever be. And it's a joy to see how our local theater scene has evolved, matured and diversified over the last decade. Sure, musical comedy still sells the major tickets; but to find more and more dramas and comedies being staged, and succeeding, is very encouraging.
For this 10th edition, celebrating shows that ran last year, the musicals lord it when it comes to most number of nominations; Himala: Isang Musikal (Sandbox Collective/9 Works) and Ang Huling El Bimbo (Full House) enjoy 12 nominations each, while Eto Na! Musical nAPO! (9Works/Globe Live) has 11. And in the Play category, Silent Sky (Repertory Philippines) copped 10 nods.
I'm not going to make any predictions, but I've always been a sucker for the "small stories," and you've got to love how in a neat reversal of roles, noted film and stage director Carlitos Siguion-Reyna is a nominee for male lead performance in a play for A Doll's House, Part 2 (Red Turnip), and that his niece, actress/singer Cris Villonco, is the one who directed A Doll's House, and is up for outstanding stage direction for a play.
My other "small story" would be how two actors from a comedy, Rep's A Comedy of Tenors, sneaked in through the back door, and received nominations — Lorenz Martinez for male lead performance in a play, and Issa Litton for female featured performance in a play — the two were sustained comic timing and hilarity, with their Italian-accented English and physical comedy. Too often, we downplay comedies, too easily impressed with the crying, histrionics, or big emotional scenes of dramas; when in fact, creating successful comedy can be more difficult. Nancy Meyers (who has produced, written or directed such films as Father of the Bride, What Women Want, and most recently, The Intern) has said, "Drama works within a pretty broad range. Comedy is about hitting the bullseye." And if you can say that about filming comedy, imagine how much more difficult that is on stage, where there are no second takes.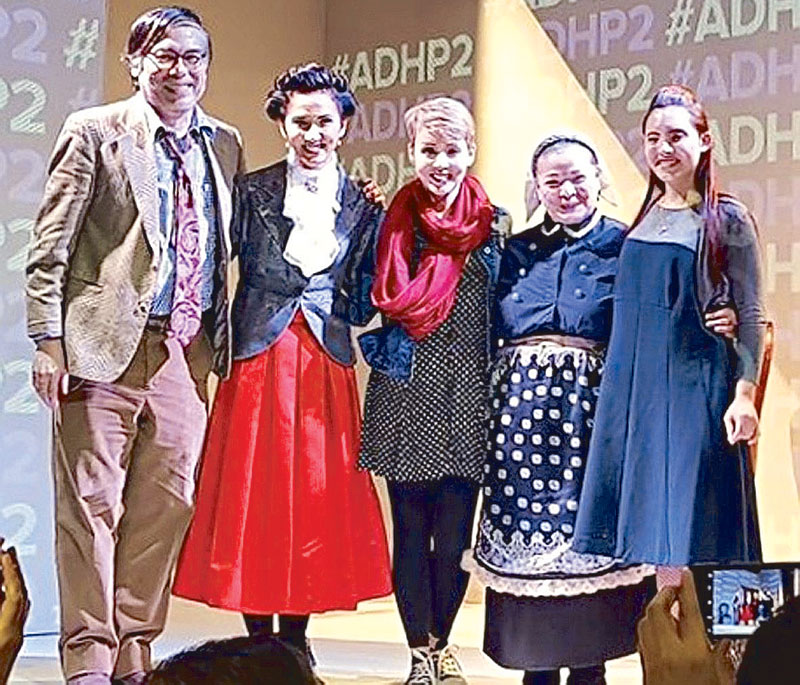 Curtain call at A Doll's House, Part 2. (From left) Carlitos Siguion-Reyna, Menchu Lauchengco-Yulo, director Cris Villonco, Shiela Francisco and Rachel Coates.
In a comedy play, it's so easy to fall flat, for jokes and asides, for subtle movements and gestures to pass unnoticed. In the end, it's the audience that judges whether you pulled it off or not. And I know for a fact that the audiences of A Comedy of Tenors left the theater beaming, having thoroughly enjoyed the experience. Malu Francisco brought her mother and said her mom couldn't stop laughing; and Elena Coyiuto was raving about it afterwards, having watched with a posse of friends. So it's great to see Gawad reward a "small" comedy with these nominations.
I loved all three of the big musicals (Bimbo, Himala and Eto Na!), and who comes out on top will most likely grab the headlines covering the awards night. But if you ask me which is my personal favorite, it would be Himala. A re-staging of what was first presented in 2003, this Ricky Lee-Vince de Jesus collaboration transitioned last year to a stage design that was both minimalist and super-immersive. This design, along with the impressive ensemble led by Aicelle Santos as Elsa, made watching Himala an unforgettable transcendent experience. It made you proud of Philippine theater, and the people behind it. Bimbo and Eto Na! were fun, theater-going nights; but they did follow the formula of taking the songbook of an established musical act from yesteryears, and weaving a story around said songs — something we've seen from Mamma Mia! to Rak of Aegis.
And can I nitpick before I close? One pet peeve I have is how so many productions here have actors who establish we're in some foreign land, or establish the nationality of the character, with an accent that suddenly disappears by Act II, as they rebound to their default American accent. For me that's plain lazy. And thats why I loved and salute the Scottish burr that Naths Everett put on as Williamina Fleming in Silent Sky, and wish she had been nominated as well! That isn't a common accent around here, so I admire the study and effort she put into it, staying true to the true-to-life nationality of Fleming — when we, the audience, probably couldn't have cared less.
It's such dedication to their craft, the innate talent of the Filipino thespian, the resourcefulness, ingenuity, and imagination of the directors, designers, and choreographers, that make these such exciting times to be witnessing Philippine theater.