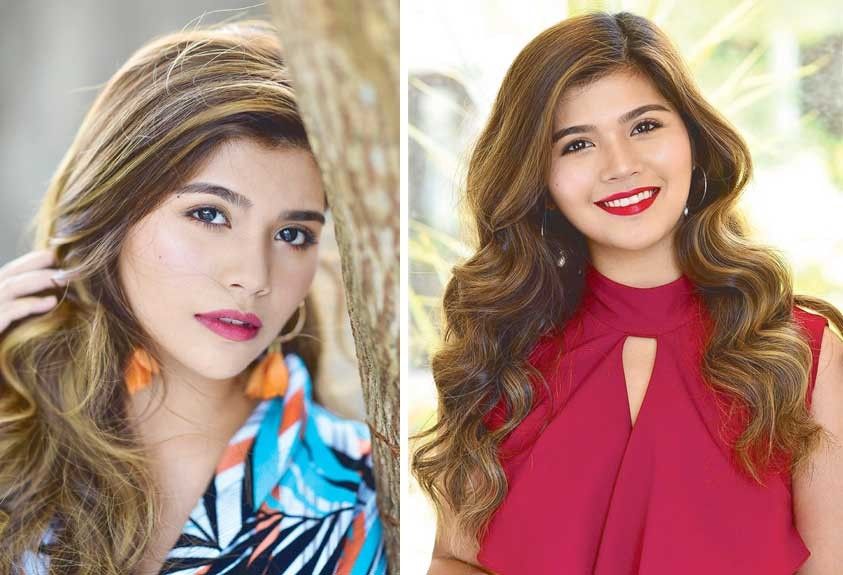 MANILA, Philippines — There is beauty in Anykka Asistio's unshakable resolve that allows her to face challenges. With her strength comes a grateful heart that appreciates the abundance of life's gifts.
Anykka, daughter of actress Nadia Montenegro and the late former Caloocan City Mayor Macario "Boy" Asistio, embarks on a journey to realize her dreams. She fills her heart with invaluable lessons she has picked up along the way.
Anykka has tried her luck in show business, following the footsteps of her mother and sisters. After a string of stints in movies and TV — including 100 Tula Para Kay Stella, Amnesia Love and the upcoming dance musical film Indak — she realized that she was meant to follow a different career path.
"I've been in showbiz since I was 14 years old. And through the years, I realized that maybe the industry is not for me or it is not a career path that I should pursue. I learned that when you want to do something for yourself, you have to move and make it happen," shares Anykka, 23, who graduated from Centro Escolar University with a degree in Political Science.
Always ready to take on new challenges, Anykka, after taking a job as a business support executive at a sales and marketing company right out of college, decided to finally fulfill her dream of becoming a lawyer. So, today, she takes the Philippine Law School Admission Test (PhiLSAT), a series of aptitude tests, as one of the first steps to make that dream a reality.
While Anykka is more than determined to ace the PhiLSAT, she also believes that the world is full of promises and possibilities and it is unwise to just pass up opportunities when they present themselves. "I'm the type of person who likes to do a lot of things," shares Anykka, who, while reviewing for PhiLSAT, also tried applying at an airline company to be a flight attendant.
"I believe my calling comes when God gives me a sign. Like right now, He showed me a path that leads me to becoming a lawyer; and another path where I could be a flight attendant, so I am grateful. With all these in my life right now, my mom guides and supports me. My siblings are also there to keep me motivated."
* * *
With the many things that Anykka dabbles in, including helping out in her mom's and sister's businesses, one thing that will never fade in her is her love for dancing. When she dances, may it be hip-hop, g-style or contemporary, Anykka owns the stage.
Perhaps her passion, discipline and desire to better herself in the craft allows her to dance her way through life with so much gusto.
Whenever she has performances, Anykka makes sure her look is on point. And her overall look is not complete without makeup.
"I only wear makeup when there are events," says Anykka. "Usually I use earth tones for my look. I put eyeshadow under my lash line to emphasize my eyes. I also like to highlight my nose and use contour for my face."
Those makeup needs of Annyka are taken care of by Careline Multi Stick. First, the Rose Stick, a reddish-pink cream stick that can be used as a blush, lipstick or even as an alternate for eyeshadow. Second is the Strobe Stick, which is a creamy highlighter used to illuminate the cheek bones, brow bone, bridge of the nose, or any other area/feature that will benefit from a little shimmer and glow. Last is the Contour Stick, which is used to define and sculpt areas like the hollows of the cheek, jawline, sides of the nose. It can also act as a an alternate for eyeshadow.
The Careline Oil-Control Liquid Makeup in Oriental, a lightweight liquid foundation, is best for Anykka. It evens out the skin tone while providing moisture and oil control. This product is made especially for teens and for those with oily or combination skin types.
For Anykka's perfectly arched brows, the Careline Best Brow Liner in Brunette makes them standout even more. This dual-ended retractable brow pencil features a spoolie on the other end to impeccably groom and shape the eyebrows. It also comes with a built-in sharpener for sharper lines.
* * *
Anykka sees fulfillment in doing many things and working hard to excel on them. At the end of the day, whatever life may bring her, she knows that the fire in her to succeed is fuelled by the people most important to her — her family.
"I love to work and do so many things because this makes me happy. It makes my family happy. As I go through another career path, I am moving forward wherever this takes me. If I am able to reach the point that I really want, I will thank God and continue pursuing my passions for me and for my loved ones," Anykka concludes.
* * *
Photography by Claudine Cervantes Callanta of Larawanmo • Makeup by Mary Jane Arpa and hairstyling by Petchi Ombrosa for Ever Bilena • Fashion styling by J-em Sta. Ana, assisted by Niña Fabian • Jumpsuit by Jamila Paz and wrap dress by Clothes Candy