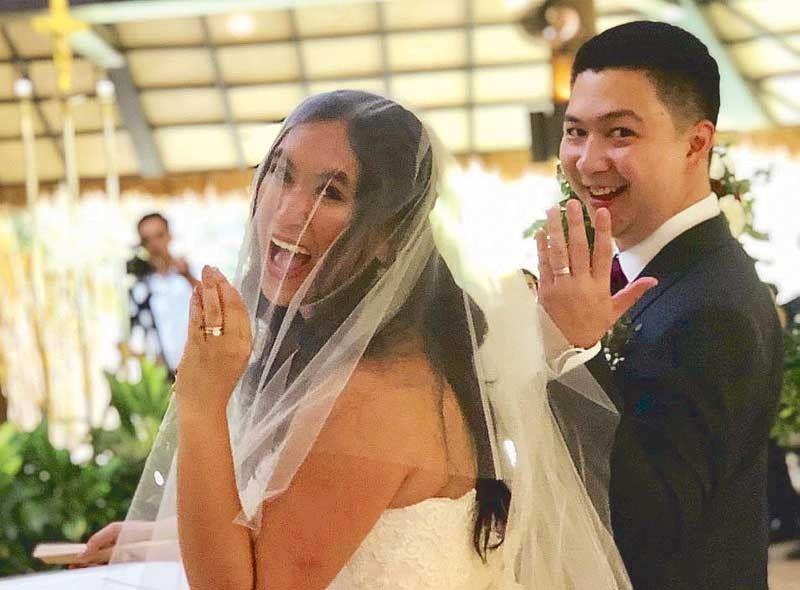 Happy newlyweds Benj and Rina Ilagan.
One of the happiest events in a family's life is a wedding. It revolves around the love of a couple, their families and friends all blessed by the grace of a loving God. Each one has a unique love story that is a joy to share.
The island paradise of Balesin, 60 nautical miles east of Manila, is a magical place for Benjamin Jose Silva Ilagan and Regina Victoria Antonio Andres who chose this venue for their wedding.
On Feb. 15, 2019, the much-awaited day arrived. A glowing bride, Rina walked down the tropical garden aisle amidst a profusion of blooms accompanied by her parents Ricky and Bubu Andres. Surrounded by the special people who mattered most in their lives, Benj and Rina exchanged marriage vows in the chapel in a beautiful ceremony officiated by Father Adolfo Dacanay, SJ, a close friend of the family.
"This is a very rowdy group," Fr. Dacanay teased the crowd as they laughed and clapped at his humorous homily opening. "I had the pleasure of knowing Benj even before he was born, in a manner of speaking, with his father being my student in Theology in 1983. I officiated the wedding of his parents Raul and Carmina Ilagan and baptized all of their five children, Benj being the eldest. Interestingly, Benj and Rina first met in a Marketing class in Ateneo and so did his parents."
According to Fr. Dacanay, Benj and Rina were classmates in his Theology class. They were seated together in the last row of the classroom. He clearly recalled that one time, both of them were absent in his class. Fearing that they might elope, he immediately alerted Benj's parents. To his surprise, they did not seem to panic, which said much about how they trusted Benj and Rina.
Wedding homily
"Establishing honest and open communication between husband and wife is one of the great joys of married life. It is also one of the most effective means of strengthening a friendship that is so important in marriage. Benj and Rina, there is nothing to lose when you talk, there is much to be lost when you don't," Father Dacanay began his homily.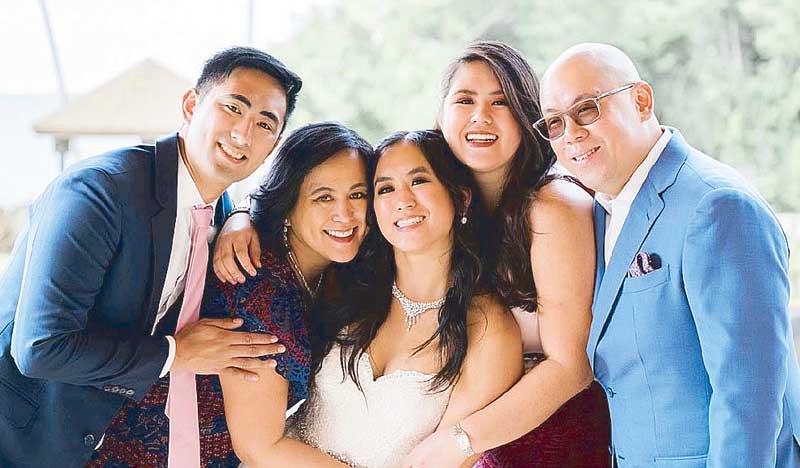 Rina with her family (from left) Robbie, Bubu, Rissa and Ricky Andres.
He solemnly said, "You are establishing an intimate community between yourselves, one that is blessed and consecrated by God because in this unity you will be witness to God's love and fidelity."
"There will be difficulties along the way," he gently warned them. "Nothing worthwhile ever comes easy. But if the costs are steep, and they are, the returns are even better."
Fr. Dacanay continued: "Marriage is a transformation you choose to make, then the real miracle of marriage can take place. It's a miracle not because it's magical but because the fruit infinitely exceeds the effort made."
Proposal
My youngest sister Yvonne, one of the ninangs whom Benj fondly calls "Tita Shiny" because she personally helped him pick out the engagement ring and wedding bands, was so awed by the holy Mass and wedding ceremony altogether. It made her feel like wanting to get married to her husband Pael all over again.
She swooned over the proposal being such a romantic highlight. It was a surprise, which Benj joyfully set up in the Andres family home. He first requested the presence of all their closest friends to witness his love and staged the living room to make it look like heaven filled with stars. He then got down on his knees, presented the ring and asked her to marry him. Rina's heart soared and she said yes!
Vows
The couple prepared such loving wedding vows, which they shared as the teary-eyed guests sighed.
Rina began, "When we met, my life was so different. I was standing up on my own. I wasn't looking for love that would change my life. And then I met you, my college plot twist.
"We started out as friends who just got along so well. I was never an affectionate person but you taught me that there is comfort in holding hands, in asking how you're doing, in saying good morning and good night and saying I love you every day. You showed me that life can be so much better when you open yourself up to someone and accept that love in return," she said.
"Looking back, we were never about lavish gestures or fancy dates. Our love was in the everyday moment — lounging on the sofa while watching our friends, sharing spaghetti. It was in the nights of working. It was in the way you routinely picked me up from office. It was in the way you always made me laugh, no matter what happened. That was always my favorite thing about you.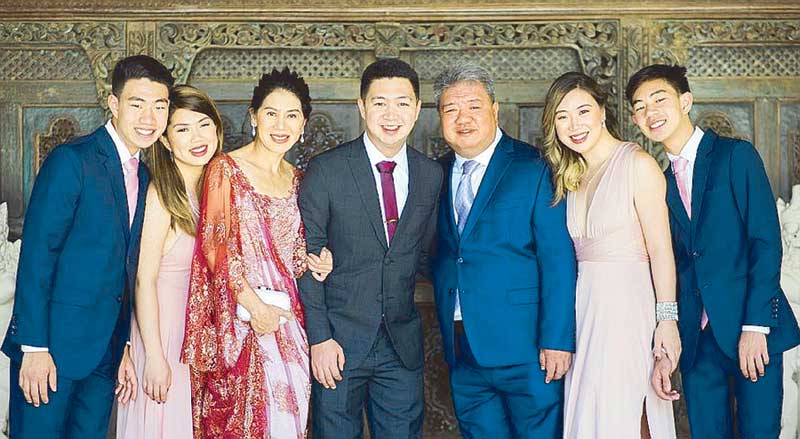 Benj with his family (from left) Carlos, Marianna, Carmina, Raul, Gabs and Diego Ilagan.
"The next few years is going to be a challenging ride and I can't promise you that we won't fight. But I promise to be by your side through every passing wave, to continue to be your fave teammate, to listen to your wild ideas, to cheer you on and to always work together no matter what life throws at us. I promise to treasure every single moment, every struggle, every triumph in this next chapter of our lives."
Benj had four vows:
"A famous Jesuit priest once said, 'Fall in love, stay in love, and it will decide everything.' I always liked that saying, always agreed with what it meant. Thanks to our excellent Theology professors, love is a choice — in fact, the greatest choice. Which is why my first vow is to love you, always and in all things for the rest of my life. You are my best friend, my inspiration, my partner in crime, and I choose you over everything," Benj told Rina.
"I always say that true love is the kind of love that sets your world on fire — that turns your head, takes you out of your comfort zone and changes everything. It's the kind of love that changes a person, as you have changed me. I love how you have brought out the best in me, not by demanding it from me but simply believing it's there. That's why my second vow is to always make you laugh and do whatever it takes to make you all kinds of happy. As happy as you have made me over the past seven years.
"My third vow is to stand by you come what may. No matter what challenges come our way, I'm confident we'll be able to face them together with the support of God, our family and friends."
Last but not the least was Benj's final vow to his wife: "To always ask myself as your partner, your best friend and now for the rest of our lives, as your husband: 'What more can I do to make you happy?'"
Such love! Best wishes to the dear newlyweds, Benj and Rina!
* * *
(Would love to hear from you at miladayjewels@yahoo.com.)