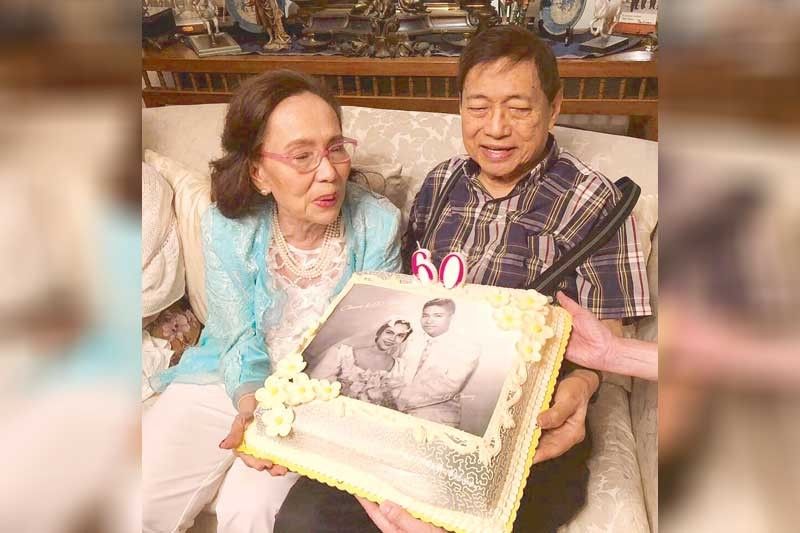 Ofie and Willie Soliven on their 60th wedding anniversary.
FAMILY JEWELS
-
Michelle Dayrit-Soliven
(The Philippine Star) - February 24, 2019 - 12:00am
Guillermo "Willie" Soliven had just come home from Manila after three years in New York, finishing Graduate School and working for an American bank. The first thing he did was to call on then Central Bank Governor Miguel Cuaderno in Intramuros. Little did he know then that his life was about to change forever.
The governor offered him a job at the Central Bank's department of economic research, which he accepted. It was there that he met the girl who was going to be the love of his life.
Ofelia Gaerlan was a very pretty working student who held the position of division chief at research. She spent her days working at her job, and her nights attending classes in UST before hurrying home to her family in Malacañang. Her father was chairman of the Board of Medical Examiners and personal physician of President Carlos P. Garcia. Her mother was the constant companion of first lady Inday Garcia because they were classmates and best friends in school.
At 22, Ofie was the youngest division chief in Central Bank, whose division was destined to nurture two of Central Bank's most eminent rising stars (Amando Tetangco Jr. and Nestor Espenilla Jr.) who both became governors of the bank in their own time, recalls Willie.
"She was the kind of woman," swoons Willie, "whose stance would readily command the attention and respect of any man, like the lady who had inspired poet William Wordsworth to pen the immortal words of his ode to love, She was a Phantom of Delight."
In spite of her hectic schedule, Ofie still found time to devote to the finer things in life. On most weekends, she became the star pupil of National Artist for Dance Leonor Orosa Goquingco in classical ballet.
"I was so smitten by her beauty and grace, that I resolved then and there to win her trust and deepen our relationship. I knew it wasn't going to be easy. Others, too, had taken note of the sterling qualities in her that had impressed me," shares Willie.
The odds against him were formidable. Among her admirers were scions from political clans of Eastern Visayas (she is a Cebuana), three doctors, a prominent engineer and a property developer, not to mention uncounted colleagues from the bank.
Ofie and Willie easily slipped into the groove of two young professionals trying to learn more about each other through doing things together like watching concerts and basketball games, catching snacks at fast food restaurants and doing fine dining every now and then when they could afford it.
"For our dates, I would borrow my younger brother's car, a second-hand Nash sedan. At office dismissal time, I would try to get on the Bundy clock line right behind her, from where I could breathe in some of the fragrance of her pony-tailed hair," laughs Willie.
Willie's work required him to travel frequently, often at a moment's notice. He remembers being sent to New York and Washington, D.C. just to sign documents on the government's behalf, with immediate turnaround, at a time when Xerox copies were not accepted as original.
"Signing alone would take a whole day, plus three days of travel time with all its attendant risks. I would spend more time in air than on land. Flying may be the quickest and safest way of getting from Manila to Milwaukee and everywhere else in between. But add to that my childhood fear of heights, and an even more vivid fear of flying. I simply had to steal my nerves and take off with eyes shut tight. But I never turned down an assignment no matter what the risk. Any girl considering me to become her partner in life would have to think again," he says.
How then did this brave young man fare in that score? Reality has a way of trumping both statistics and fantasy, says Willie, who is quite a storyteller.
"Try to imagine all these...I was on a Piper Cob with the Romanian Ambassador on our way to sunny oil drilling operations in Northern Cebu when our single engine suddenly conked out, forcing us to crash land in a sugarcane field," he sighs.
"I was on a Paris-bound jumbo jet when part of our wheel assembly fell off over Dubai, grazing the underside of our wings. We barely managed an emergency touchdown in Athens, just in time to avert what could have been a major disaster.
"I was on a DC 10 approaching Changi Airport in Singapore with one engine burning fiercely just outside my window.
"I was on a Delta Airliner over Missoula, Montana when one of our twin engines exploded in mid air. I try so hard but cannot forget. The screams of terror-stricken travelers and children still resonate strongly in my mind. But where was God? God was there, too. I sensed his presence right beside me, ready to clasp my hand and calm me."
After two years of arduous courtship, while sipping coffee together one afternoon, Ofie whispered that she was choosing him, above all others to be the love of her life. Willie could barely hold back his tears, because they were tears of pure joy.
From that time on, Ofie trimmed down her social agenda and patiently waited for each of Willie's returns, greeting him with a small party of relatives and close friends.
Their wedding was as elegant and grand as any couple could wish for. In their excitement, someone forgot to provide for the wedding cake. So, the bride and groom had to feed each other from a piece of cake put hastily together by an ingenious Manila Hotel cook who started to bake it as the couple exchanged vows. It turned out so delicious!
"Sixty years have come and gone since that day," recall Willie and Ofie. "God blessed us with six wonderful children who have done us proud by reaching the highest levels of success in the career paths they had chosen for themselves. Thirteen grandchildren have followed not far behind."
"We enjoy to the full any occasion that brings as many of us together in one place to celebrate the wondrous continuity of life. The family is typically close knit as God wants it to be. Jesus himself was born into a family, with loving parents, aunts and uncles," says Willie.
According to this music-loving couple, "Families do things together with love. Love is like a violin. The music may fall silent now and then, but the strings will always be there, just waiting to be played."
"We keep close touch with the few of us who live abroad. After all, distance means so little when one is loved so much. We demonstrate our feelings for each other in any way we can. There is no surprise so magical than the surprise of being loved. It is God's finger on our shoulder. Every child is born with a need to be loved, and never outgrows it. Yet we also realize that the most important thing that parents can teach their children is how to get along without them," says Willie.
In the meantime, Willie and Ofie pray that until God calls them home, they will be around to help their children care for their grandchildren whose time for love has come.
"One thing I know and am sure of is that I chose the best partner in life I could ever have had, and the wonder of it all is that she had chosen me, too," Willie happily concludes.
Happy 60th wedding anniversary to my parents-in-law, Papa Willie and Mommy Ofie!
* * *
(Would love to hear from you at miladayjewels@yahoo.com.)